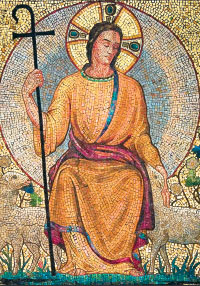 This week is National Vocations Awareness Week and the U.S. Conference of Catholic Bishops Office of Media Relations will be posting guest blogs by a young priest (ME!!) or religious January 15-19 at http://usccbmedia.blogspot.com.
I was very happy to have been asked by the USCCB to write a little piece for this. Things have been hectic here at the parish and I haven't been able to update much here at the blog. Such is the life of a newly ordained. It's wonderful. It's crazy. I wouldn't change anything!
I pray each day that I can live up to the call I've been given. No man can do this on his own. Priests need the continued assistance of the angels and saints and of the people of God. We rely upon the help of the Lord. At times it is awesome, for priesthood is serious business. Yet it is also fun because it is delightful to become a part of my people's lives. As a father looks forward to seeing his family at the end of the day, I look forward to Sunday to see my family in the parish. I thank the Lord for calling me to this life. There's nothing else like it!
Go take a look at the rest of what I wrote over there. Check back to the media blog each day this week for a new vocations-related post.
http://usccbmedia.blogspot.com/2013/01/pursuing-vocation-and-living-dream.html
Make sure you pray for vocations this week. At every Mass I've said since coming to my parish I have included a petition for an increase of vocations to the priesthood and religious life especially from this parish.
Encourage someone to think about the priesthood or religious life. Most men don't think about a vocation because they've never been asked to. Lets not make that mistake!