The Author: Fr. Michael Duffy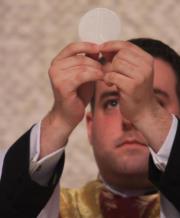 Father Michael Duffy was ordained a priest for the Diocese of Rockville Center on June 9, 2012, by Bishop William Murphy. He is 29 years old, and a graduate of Fordham University and Seminary of the Immaculate Conception, Huntington, NY. This blog is Father Duffy's response to the advice of Pope Benedict XVI, who has called on priests, religious and Catholic lay people to advance the New Evangelization through New Media — a chance for the faithful to look at the Church through the eyes of a new priest, and hopefully find themselves, in the light of Christ, reflected back.
Fr. Michael has written for Patheos in the past, you can read his articles here:
The Collar as A Yoke and Witness
You can E-Mail Fr. Duffy at: MDuffy@drvc.org.
The Blog: Father, Where Art Thou?
A blog for Catholics of all ages and backgrounds, but particularly young, college-age Catholics.