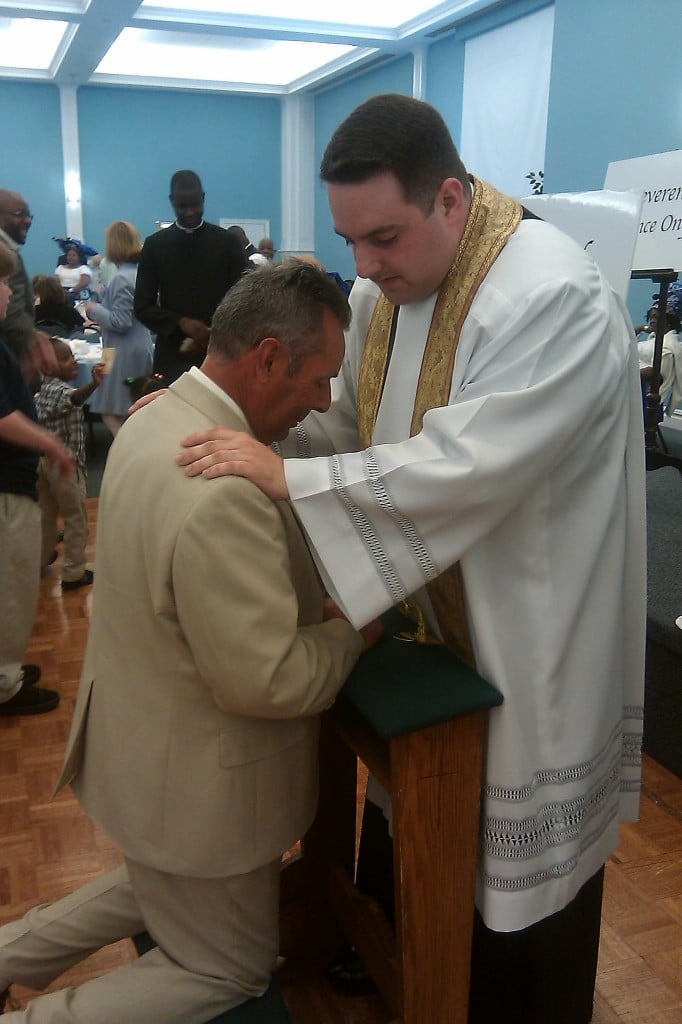 Permit me to share with you the homily I preached at my father's funeral this morning:
Holy Mother Church has been blessed with the example of Pope Francis these last three or so years. He has reminded us to never forget the downtrodden and especially the poor. Mother Theresa was famous for using her five fingers to remind us that whatsoever you do for the least of these brothers and sister of mine "you did it to me".
I was blessed to have in my father a man who never forgot the poor. Not only did he never forget or ignore the poor he actively sought to make their lives better one person at a time. My dad was a complicated man with a checkered past. He was a recovering addict and alcoholic. He was proud of his sobriety to his last days. He prayed every day. He embodied the famous phrase every saint has a past and every sinner has a future. Boy did dad have a past. I think it was his past that made him care so much for the poor and the homeless. Dad worked for many years in Manhattan, taking the train from to and from grand central every day, working most of those days at the port authority bus terminal. Anyone who has every been to either of those places knows how many homeless individuals there are. Dad was famous for stoping and talking with them. Wanting to know their story, often giving away his own lunch money. One morning my father met someone on the street that terribly needed a shower and a meal. His first thought was how can I help this person. Dad did what his heart led him to. So, that thanksgiving morning dad called my stepmother to inform her that he was brining a guest home to dinner.
Back when I was in seminary Dad took my sister Amanda on a trip to Las Vegas. For obvious reasons, I couldn't go. After looking for dad for a while Amanda said to my step mom "I bet he's outside talking to a stranger". lo and behold they walked out to the last Vegas strip and there was dad. Sitting on the curb talking to a homeless person. Not talking down to them, sitting next to them. He wanted to get to know them. In each of these people dad say his own past. And even more importantly, he saw the person of Jesus Christ.  My father was a complicated man. But he had a most Christian heart. His ability to see past the dirt and grime, the smell and the tattered clothes is I think the greatest legacy and challenge my father could offer to each of us.
The Lord Jesus calls Each and everyone of us to live not for ourselves but to live and die as the lords.  It is impossible for the Christian to live his or her life ignoring those in need around us. We are called to unite ourselves to those in need through the corporal and spiritual works of mercy. We are each called to assist in some way, most especially through our prayer. And above all we are called to see the person of Jesus Christ in those who are so in need.
That last morning with dad was terribly difficult. Dad was heavily sedated but was fighting letting go. His eyes were fixed, not reacting to anything. He hadn't looked at us or anything in over a day. As he drew to the end we stood Amanda, me, my stepmother Mary and my step sister Marie around him, Amanda holding his hand and me beginning the commendation of the dying. As I said the words "go forth Christian soul" my father opened his eyes, looked directly at me, grasped my sisters hand and breathed his last breath. His death was truly beautiful and holy.
His death gave me the consolation a son truly needs as he says goodbye to his father. But his death was also a reminder to me. At that very moment dad wasn't afraid or scared. He was at peace. And after we washed his body and we sat with him he had a smile on his face.
How beautiful that my father died during this jubilee year of Mercy. A year in which we are called to reflect upon that beautiful gift of God, his merciful and tender care and love for each of us. My father received the mercy of the lord through his life. Over and over again he received the grace from the lord to pick himself up after each of his struggles. Dad knew suffering in his life. He knew difficulty. But he also knew that the lord loved him. That the Lord died for him and that the Lord saved him.  Its with that same confidence that we gather  here in this holy place today. We gather with the confidence that the lord was present at my fathers bedside. We have confidence that the Lord is here with us now and hears our prayers.  We know that death has no power over us because of the saving passion of our Lord.
As we approach this holy altar then, as my father's son I offer this sacrifice of Calvary for him, that the lord may hear our prayers and receive dad into his heavenly kingdom.  What we do here matters.  It has an effect.  It is good that we are here together.  How blessed I feel to have been with dad in those last moments, not only as his son, but as a priest.  As a son I love him, as a priest I can help him on his journey to paradise.  Dad had every rite and prayer the church gives to the dying.  I didn't leave a page unturned.  Those prayers aren't  there to just make us feel good, but they have a serious effect on our souls. Anointing, absolution, viaticum, The Apostolic Pardon.
While the doctors couldn't heal his body, the church through his son was able to heal his soul. How grateful I am to be a priest.
As we washed my fathers body and prepared him to be taken from us after his death I wrapped the stole with which I heard my first confession around his hands.  It is that stole, that tradition tells us Saint Peter sees first and recognizing it takes dad to the judgement seat of Christ. Christ the judge then will ask my father the same question that he will ask each of us.  "I have given you life, what have you given to me?"  And handing the Lord that purple confessional stole my father will say to the Lord Jesus "I have given you my son as a priest"
Dad, may you rest in the loving embrace of the savior.