by Reed Metcalf
When I was a child, I thought that Lent was about making a sacrifice for God. The kids in youth group would all come up with something to give up for forty days, from soda (which was tough) to broccoli (which was playing the system) to television (which was impossible). The thought that prevailed—though probably not taught to us—was that we were doing this as a sort of "see how much I love God?" thing. Many Lenten seasons later, I know this was (perhaps) an honest but misguided attempt.
This is not what Lent should be about—some sort of menial punishment that shows that we care for God and is broadcast to the wider world around us. Lent should be about preparation.
Lent has many streams of tradition that feed into its current form, but most scholars recognize that it was the earliest celebrated part of the Christian calendar following Easter. Every area and school of Christianity was behind Lent a full three centuries before we all got on board about Christmas. It was seen as a time of preparing for baptism, repenting of sins, and showing penitence. The new converts would be baptized, those repenting of heinous crimes would be welcomed back into community, and all the believers would be reminded of and energized by God's goodness and promise of resurrection on Easter Sunday. But first, our foremothers and forefathers would traverse Lent, remembering their frailty, mortality, and utter reliance on God.
Ash Wednesday is the first step in the yearly journey to the Cross and the Empty Tomb. We enter a season of penitence, repentance, and devotion with a small cross marked on our foreheads in ashes. We start towards the cross by remembering and declaring that we are mortal, and the wider world stares as we walk by.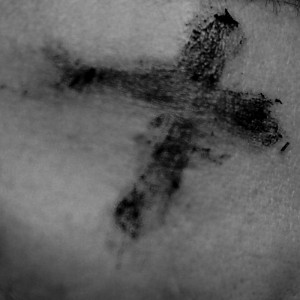 In this way, Lent and Ash Wednesday are ultimately prophetic. Old Testament scholar Walter Brueggemann writes in his book The Prophetic Imagination that part of the prophetic task is to give hope to the hopeless. But that is only part of it; the latter part, to be exact. The first part of the prophet's job is to bring the people to grieving. For true hope in something else to be embraced, the current way things are must be recognized as insufficient, phony, decaying. We must mourn the old world to which we clung so dearly in order to let it go, looking forward instead to God's promises of something new, something greater.
Jeremiah publicly grieved Jerusalem to drive home the fact that it was dying, that the way the Judahites had tried to live and perpetuate themselves had failed. Second Isaiah would give hope of a New Jerusalem, but first the human-made, corrupt, idolatrous Old Jerusalem needed to be mourned and declared dead. Only then—when their own efforts were shown to be futile—could the people of God hope in God to make them a new and everlasting city and nation through his efforts, his faithfulness, his power.
Jesus has promised us a new heaven and a new earth, a life everlasting, a body that does not decay or grow tired. The Triune God has plans for humanity and creation, to make them new and perfect. Christ's own resurrection is the promissory note, the preview, the assurance that someday all things will be made right.
But before we can cling to that hope, we must admit that things now are not right.
We have to mourn the current world. As the monarchs of Judah ignored the decay, corruption, and death of their own world, we carry on in the modern world as if things are fine. "Progress is being made!" we say. But poverty, slavery, violence, corruption, and racism are still present and pervasive. Pollution, poaching, and agricultural over-reaching are running rampant.
Humanity is still a mess, and making a mess of creation while we're at it.
Ash Wednesday is about admitting that truth as a community who would seek God's face. Our own ways of doing things are not leading to life for all, nor are they stopping death for any. We cling to our ways as right and good and say that if we had a little bit of God's help we would get along just fine. Ash Wednesday is a day to admit that we can do nothing without the help of God, not even keep on living. We cannot save ourselves.
This is all preparation for Easter. On that Sunday morning, we rejoice at the empty tomb and look forward to our own empty tombs. We know that we too will be raised to life everlasting on the day of resurrection and that all things will be made new. This is the hope we cling to, not some flimsy optimism that someday things will "get better." There will be a new heaven and a new earth. God will dwell with us and wipe every tear from our eyes, and there will be no more death or mourning or crying or pain any more, for the old order of things will have passed away.
Ash Wednesday is repenting of the old order and recognizing its brokenness. We put on sack cloth and ashes, knowing that our mourning is preparation for something else; the grieving and repentance will give way to the prophetic and messianic hope of Easter. But for today, we remember that we and all our ways are dust, and to dust we will all return.
---
Reed Metcalf works as a Media Relations and Communications Specialist at Fuller Theological Seminary. He writes for and curates the Fuller Blog and contributes regularly to FULLER magazine. He graduated with his MDiv from Fuller in 2014 and is an ordination candidate in the Free Methodist church. When not neck deep in biblical languages, theology, and writing, Reed is often surfing, skating, or hiking with his wife Monica. Follow him on Twitter and Instagram at @reedmetcalf.
Follow Fuller Seminary on Twitter at @fullerseminary.