By Michael Wright
I feel like the wrong person to write about suffering. I'm a white middle class male with a masters degree, and when I read whatever new tragedy pulls at our hearts (Oh God, we grieve with Kenya) I'm reminded that whatever suffering I've experienced, it's doesn't reach the levels of sorrow of my neighbors. But then I remember what a close friend told me: "Michael, don't use the suffering of others to dismiss your own." It's hard to do, but I think he's right: we've all had our share of suffering.
For me, it's been depression, an interior suffering I've struggled against for over a decade. At it's best, I was living a normal life with good friendships and a loving family. On the darker days, I would walk the halls dampened and alone, as if I was moving through an opaque fog. In the middle of my time at Fuller, the depression flipped in the opposite direction, and I had my first manic episode. I didn't know what was happening at the time, and it was only until the second episode that I was diagnosed Bipolar II. Now with the help of medication and a handful of loving relationships, my depression has lifted considerably, but there are still days when the fear is palpable and I wonder if the mania could be triggered again.
That might not be your experience, but as the saying goes, everyone's cup of suffering is full. We all have darkness; we all have thorns in the flesh that may never quite heal, and I know that the more we share those experiences with one another, the stronger our relationships will be and the sturdier our hope.  As Douglas John Hall say in God and Human Suffering,
To find oneself befriended in one's suffering is not only a more believable "answer" to the pain of suffering; it is also more profound…The only satisfying answer is the answer given to Job—the answer that is no answer but the presence of an Answerer.
That's what I want. And in my darker days when I was rocking in the shower just to feel warmth in my bones, that's what I needed. That kind of companionship through our dark nights of the soul is what we all need and—for reasons that baffle me—the institutional church often seems incapable of providing.
Too often, I see Christians using hope as a veil to assuage anxieties and to avoid suffering. We sing praise songs with strummy crescendos and major chords. We spin the wheel of theodicy looking for answers to evil. We overemphasize the salvific benefits of the cross and lose sight of its violence and ugliness. But when the tragedy hits, I don't know anyone who clings to penal substitution when a spouse dies or repeats Jeremiah 29:11 as a mantra as she's diagnosed with a debilitating disease or feels encouraged by the empty tomb as he loses job and house in the same week. There's an avoidance of pain here that's often perpetuated in the deep structures of the church, and the result is we have little to offer people in the midst of their suffering.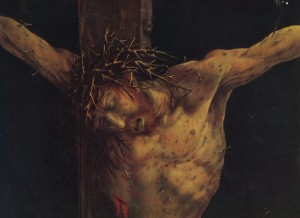 This is why Good Friday is a gift we both need and are afraid to accept. On Good Friday, Christ himself experiences forsakenness and suffering that rends his body and threatens his trust in God. And still, he prays for the people executing him and loves the thieves hanging beside him. Where did this kind of love come from? How can we cultivate within our own hearts space that is as wide as Christ's wounds? That kind of expansive and ragged space where our suffering is transfigured into love?
When we stay with Good Friday, the cross becomes an icon of suffering and a bedrock example of Christ's love. If we can stay here and resist the temptation to skip to the empty tomb, Christ can teach us the meaning of suffering well and the deep truth that regardless of the pain we carry, we are not alone. If we can stay there, the cross can burn away our delusions and our avoidance of pain until we can join Christ in praying, "Father into your hands I commit my spirit."
---
Michael Wright is an associate editor for FULLER Magazine and also manages Fuller's social media. Follow him on Twitter @mjeffreywright.
Follow Fuller Theological Seminary on Twitter at @fullerseminary.