This is the fifth installment of a ten part series by Dr. Scott Sunquist on what trends in missiology we can expect in the coming years.
Trend #5: Migration and Displacement
Scott W. Sunquist
In recent decades the importance of migration (and diaspora) in mission has been a growing field of scholarship. Migration has always been important in mission (it has been important for all of the history of Christianity and Judaism), but it is just now getting the attention and study it needs.[1] From Adam and Eve's expulsion from the Garden, to Israel's exile in Egypt and later in Babylon, to the displacement of the Messiah in his first years of life, to the persecution and exile of Christians in the Roman and then Persian Empires, movement, migration, and displacement have been central to Christian life and theology. Today we are recognizing the complexity of migration and displacement. Immigration to Europe has meant a decline in the percentage of Christians and an increase in the number of people to be reached with the Gospel. Immigration to the United States has meant an increase in the Christian population along with greater diversity of cultures and languages in American Christianity. In urban areas of North America Christianity has become more Asian, more African and more Latin American.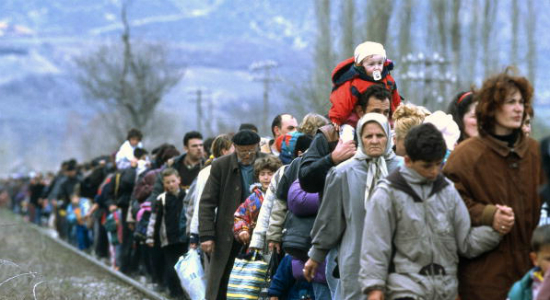 In our globalized world the poor immigrants are being received by nations far away, and wealthy immigrants are choosing to bring their gifts and talents mostly to the West. The poor displaced populations today include about 30 million children.[2] Never has there been such a multitude of needy children separated from their homes and the support of the local villages and extended families. There is no sign that this massive number of children at risk will abate in the near future. Christian mission must make such suffering and hopelessness a top priority for missiology. Most major communions today are working on this problem but most notable is the work of Lausanne Committee.[3]  Migration is complex, and comes to us today as major crisis for the exposed and defenseless, as well as opportunity for those who have resources.
---
[1] See Jehu Hanciles, Beyond Christendom, Globalization, African Migration and the Transformation of the West. (Maryknoll, NY: Orbis Books, 2008). J.D. Payne, Strangers Next Door: Immigration, Migration and Mission (Downers Grove, IL: IVP, 2012). Michael Pocock, Diaspora Missiology: Reflections on Reaching the Scattered Peoples of the World (Pasadena, CA: William Carey Library, 2015). Enoch Wan, Diaspora Missiology: Theory, Methodology, and Practice (Create Space Independent Publishing Platform, 2012). Ed by Chandler H. Im, Global Diasporas and Mission (Regnum Edinburgh Centenary) (Eugene, OR: Cascade Books, 2014)
[2] Jake Silverstein, "The Displaced" in The New York Times Magazine (November 8, 2015; pp 44-86).
[3] See the "Quito Call to Action on Children at Risk," https://www.lausanne.org/content/statement/quito-call-to-action-on-children-at-risk  accessed December 7, 2015.
---
Dr. Scott W. Sunquist is the dean of the School of Intercultural Studies and professor of World Christianity at Fuller Theological Seminary.
This blog post was taken from The State of Missiology Today by Charles E. Van Engen. Copyright (c) 2016 by Charles E. Van Engen. Used by permission of InterVarsity Press, P.O. Box 1400, Downers Grove, IL 60515-1426.www.ivpress.com. Pre-order the full book here (expected October 2016).
Follow Fuller Seminary on Twitter: @fullerseminary
Follow Fuller's School of Intercultural Studies on Twitter: @fuller_sis