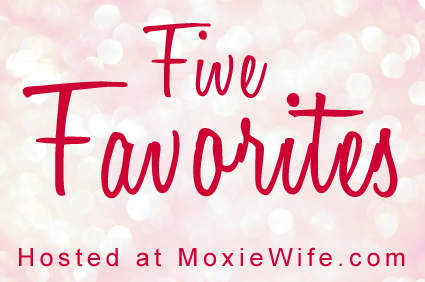 I love the Health and Beauty area of every drugstore and Target institution. Love it. Like a child in a candy store, I can spend an absurd amount of time looking at lipsticks, lotions, and nail polishes.
So today here are my five favorites from the drugstore beauty aisle.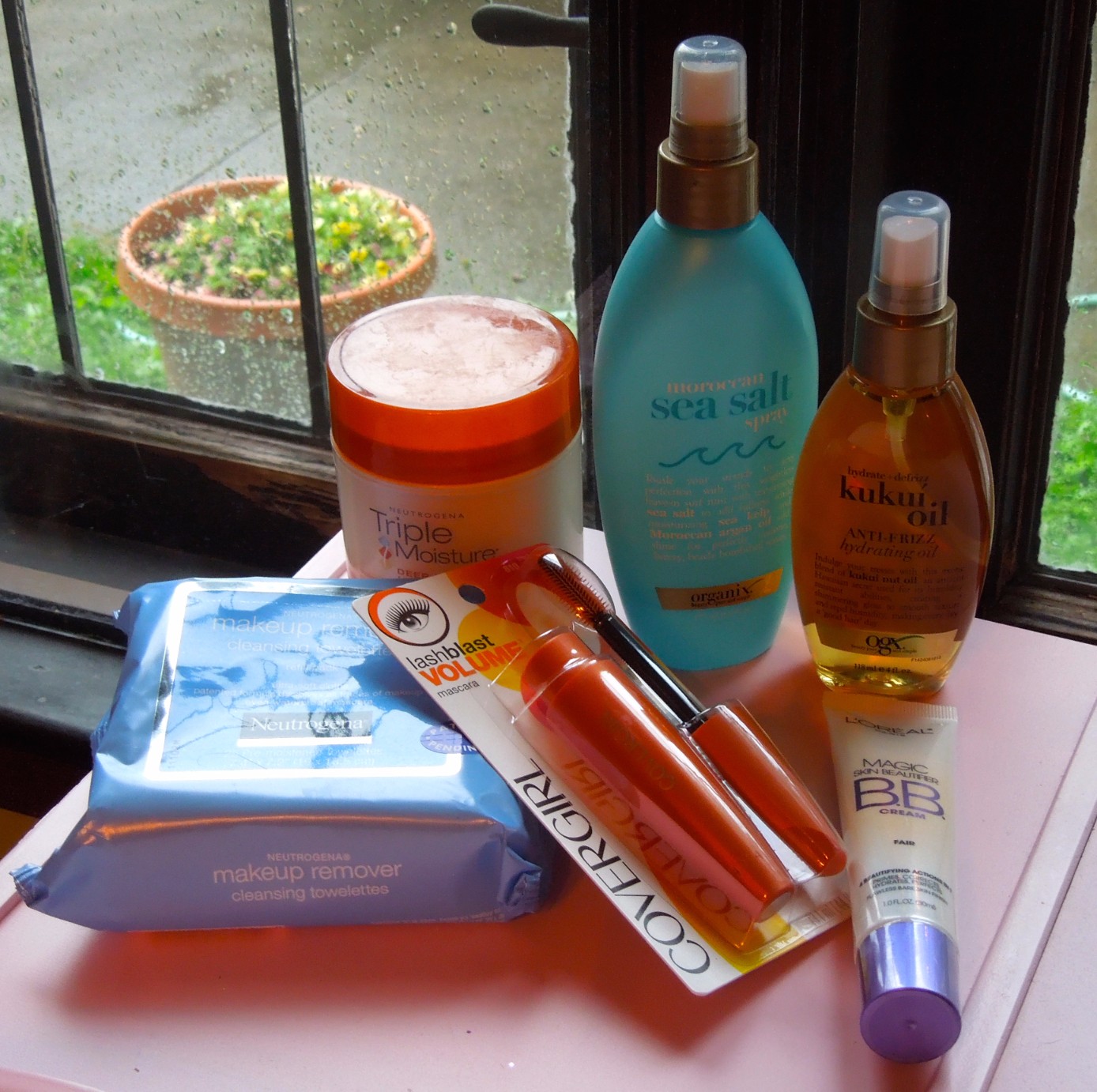 The goods.
5. Mascara
I have tried no less than one thousand different mascaras in my makeup wearing  years. I've tried Clinique, Dior, and spent 25$ and 5$ on it.
About 5 years ago I tried Cover Girl Lash Blast volume mascara. It's my all time favorite for my very long, not very thick eyelashes.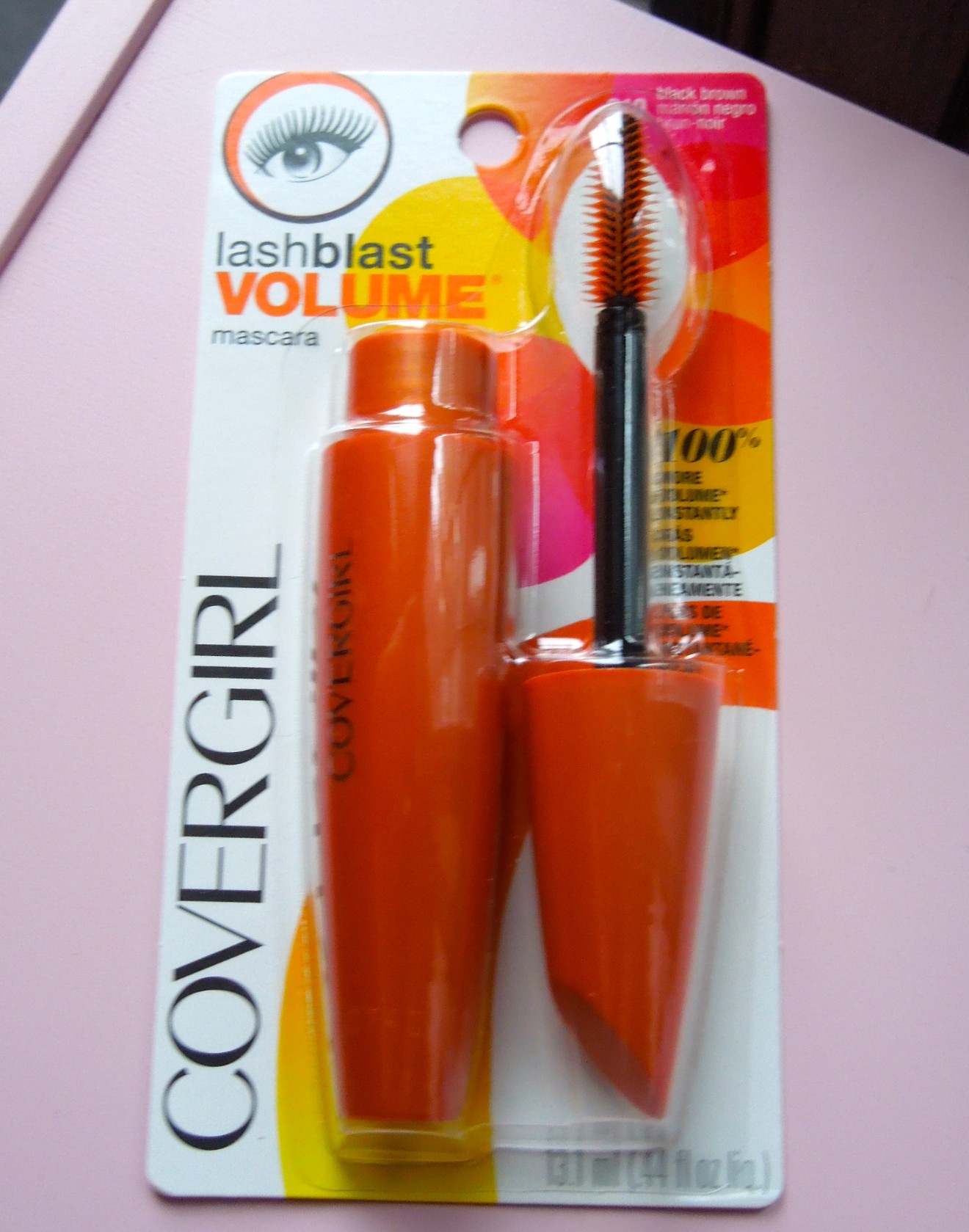 Makes even this tired mommy look wide-eyed and ready for the day.
Cover Girl Lash Blast Volume mascara $6
4. Hair Mask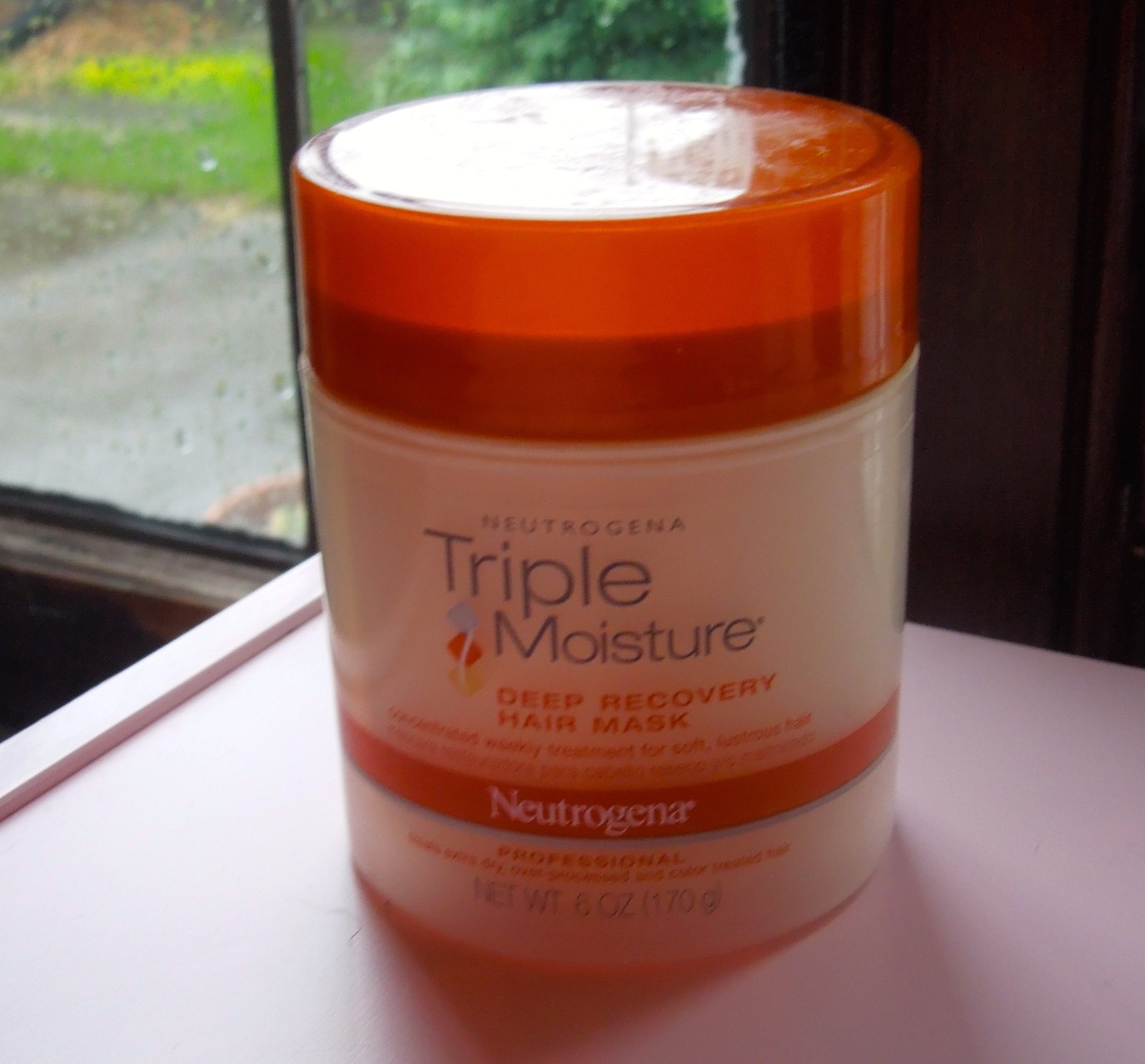 My hair loves this.
I love this Neutrogena Triple Moisture Hydrating hair mask. I use it about once a week, and wash my hair first thing in the shower and put the mask on, then leave it on while I finish showering (about 5-7 minutes) then rinse it out last. It always leaves my hair soft and shiny. It's one of the most affordable masks I've ever used for the quality of the product.
Hair Mask $8
3. BB Cream
Last year I jumped on the BB cream bandwagon. I have two different ones that I really like, the Bobbi Brown SPF 35 BB cream and the L'Oreal Magic Skin Beautifier BB cream.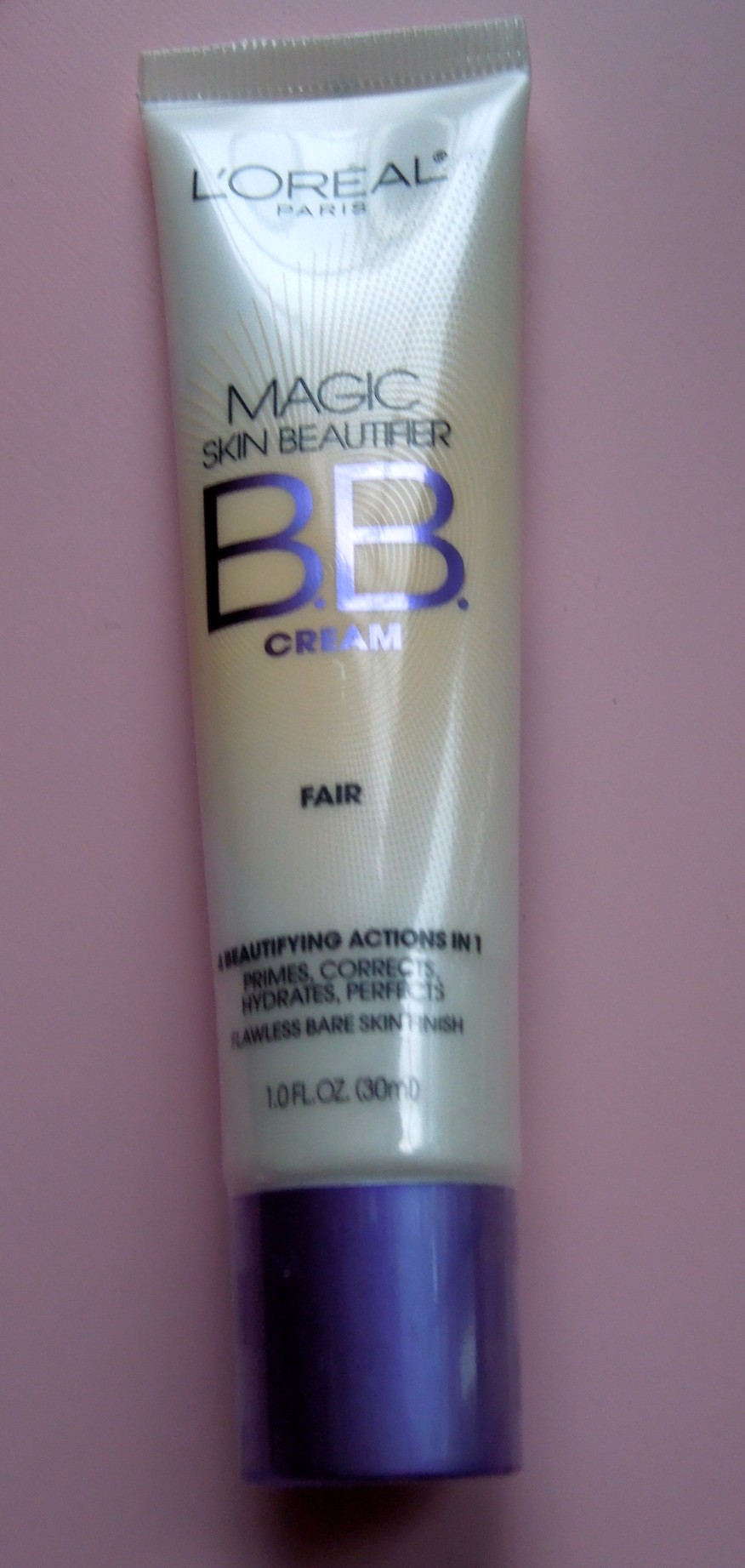 BB – beautiful
What I like about this BB cream is that it comes out white, but turns to the shade as you apply and rub it in. I also love the matte finish this gives your skin. And it's an absolute steal at $9 at Target. I like it as much as the $35 dollar Bobbi Brown BB cream. I'm a makeup snob, and I really love this one!
L'Oreal Paris Magic Skin Beautifier BB Cream $9
2. Beachy Summer Waves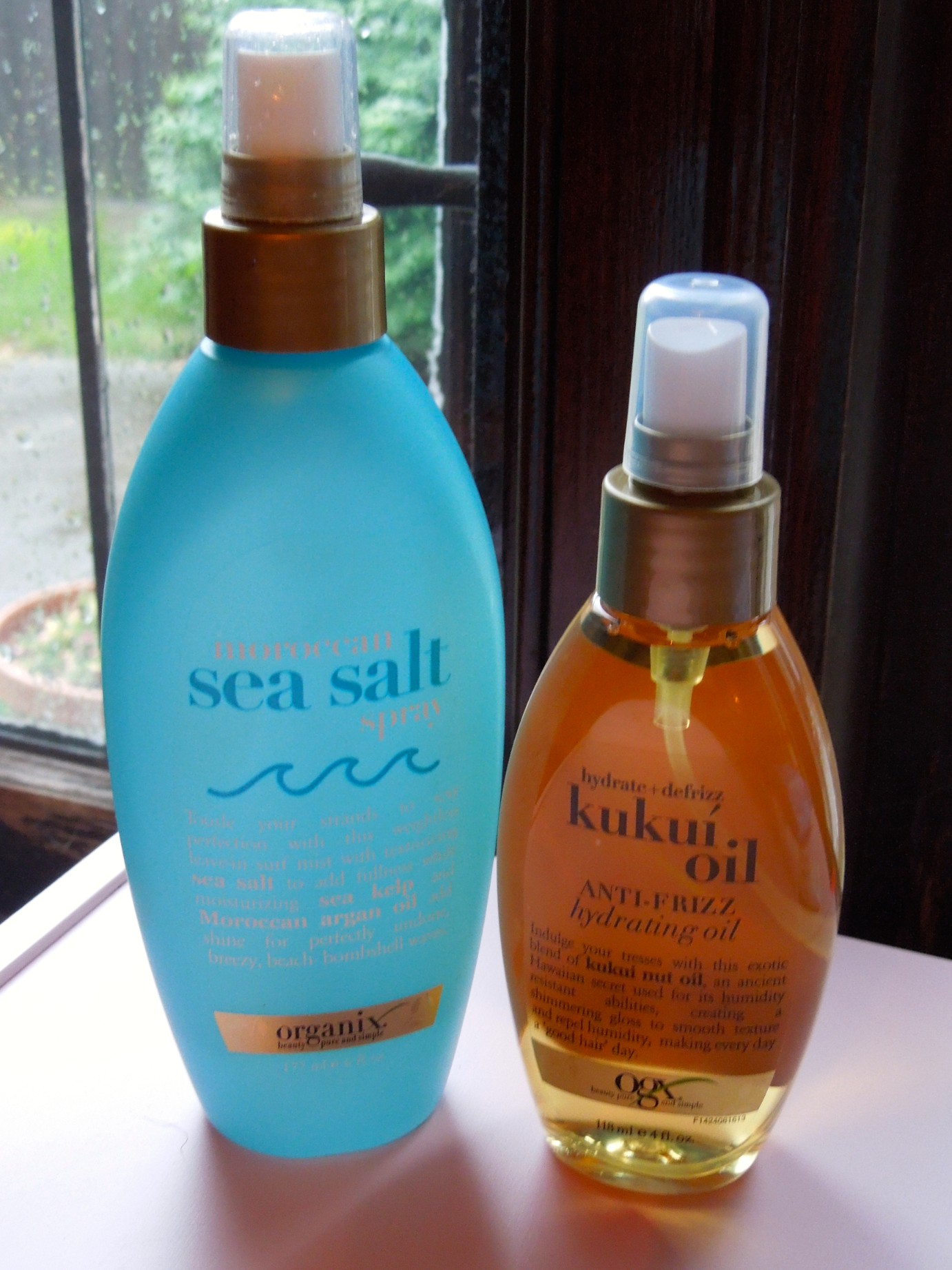 my hair styling (not-so) secret weapons
I have naturally wavy hair, very fine hair, which means it can pretty easily be styled either curly or straight, but also gets very frizzy in humid weather. Usually in the colder months I will blow-dry and straighten my hair, but I almost never do that in the summer. After spending the better part of my life trying to figure out what to do with the mess on top of my head, I have finally found some products that I love, and the best part is that they're cheap drugstore finds.
What I need is something that is very lightweight because my hair is fine, but also has a tendency to frizz because of the curl. I have the hardest time with most styling creams/lotions because they are too heavy. Enter the dynamic duo.
Organix Moroccan Sea Salt Spray and Organix Hydrating Kukui Oil Spray 
I comb out my wet hair with a wide-tooth comb. Add the sea salt spray, comb through. Then I spray the oil into my hands and rub it through my hair. That's it. The best part about the oil spray is that you can use one or two pumps on dry hair to tame fly-aways or frizz.
Organix Moroccan Sea Salt Spray $6
Organix Hydrating Kukui Oil Spray $8 
1. Take it All Off: Makeup Remover
I've been using the same makeup remover cloths since college (ie the stone age). They're super basic, nothing fancy, and very gentle. The Neutrogena Makeup Remover Cleansing Towlettes  have been around for a long time, and they're so popular because they get the job done.
Taking off my face since 2003
These are so great for busy moms (or busy anybody!) because you only need about 30 seconds to clean your face. They're so gentle you don't even need to rinse after you use one (though I do because I like the feeling of the water on my face). I'm so exhausted that when I collapse in the heap, at least I've washed my makeup off.
Neutrogena Makeup Remover Towlettes 5$
These are just my top five favorites of all my drugstore cheapie faves.
What are yours?
To see more five faves or to add your post, go visit Hallie!