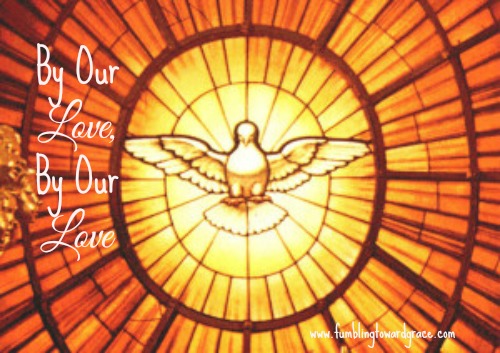 I've been watching the series on the early Church, A.D.:The Bible Continues, since Easter. It's quite well done, not 100% accurate, but very compelling and entertaining since after all, it is a network TV show.
In the show, you see the Sanhedrin and Pharisees a lot, since it is basically telling the story of Acts of the Apostles. I've had this image in my mind for a while, because of the show, of all the leaders of Judaism together in the temple discussing the minutiae of the law while life in the city swirled around them.
They argued with one another, sometimes very heatedly. They abused non believers, up to and sometimes including stoning. Ask Stephen, the first Christian to die for his faith in Christ.
With me in the back of my mind as I sat down to prayer this morning, I was struck by the words of the Gospel:
"And I have given them the glory you gave me, so that they may be one, as we are one, I in them and you in me…that the world may know that you sent me" (John 17)
Immediately two things sprang to mind: that image of the Sanhedrin pouring over the minutiae of the law and the very old hymn
We are one in the Spirit

We are one in the Lord

We are one in the Spirit

We are one in the Lord

And we pray that all unity may one day be restored

And they'll know we are Christians by our love, by our love

Yes, they'll know we are Christians by our love
Could it make more of a contrast?
They'll know we are Christians by…
the combox on Catholic blog posts?
our first reaction when we say "well, what was she wearing/drinking?"
our ambivalence towards the violence that permeates every pore of our culture?
our indifference to the poor in our midst, our willingness to humiliate them as a condition of receiving service?
dedicating much time and bluster to admonishing the tiny fraction of Catholics who use NFP, presuming to know their sinful hearts and minds, and accusing them of selfishness?
turning away from those in need because its too messy, too complicated, and what if they wreck my plans?
Listen friends, I am or have been guilty of most of these at one time or another. I'm not talking to anyone else more than I'm talking to me. But, you know its true.
They'll know we are Christians by our love isn't so much a statement as it is an indictment.
The members of the early Church drew people in because they were open. They fed people without asking them who was at fault for their hunger. They shared with people without waiting to see if they deserved it. They baptized and entered into community with anyone who asked to belong.
They offered the kind of radical charity and openness that God offers us every day of our lives. He feeds us his very self knowing we have put other hungers before him. He shares his body, blood, soul and divinity with us, knowing that we could never be worthy of the gift. He welcomes into community of his Church all who ask and seek with open hearts.
The early Church did this because they allowed themselves to be filled with the radical love of the holy Spirit, which descended on Pentecost and filled them with the fire of God's blazing love for humanity and all of his creation. This same spirit stands ready to fill us and send us out fearlessly for the work of offering radical charity to a world that is hurting and lost.
I'm convinced that the only way we will ever see our unity restored, the only way they will know we are Christians by our love is through the sanctifying, transforming power of the holy Spirit. May it descend upon us this Sunday, the feast of Pentecost and remain. May the Spirit "annoy" us (as my pastor is fond of saying) until we are moved to more love, more justice, more reaching out.