When I set one of my intentions for the year as travel, I had no idea I'd manifest it so well.
Must be all those caramel lattes I've offered Hermes over the years.
In February, my sweetie and I went to Nevada. A friend chose me as her "primary guest" for her company's annual awards trip to Boston. I'm leaving today for a weekend museum and baseball trip to Chicago, also with the Shy Engineer. And at the end of the month, we take a long-awaited trip to Seattle so that he can meet my sister.
While I'm "pinch me, I'm dreaming" thrilled to be able to see so many parts of the country, I also am conscious of how much this is adding to my carbon footprint. Even though air travel is a form of mass transit, it also is very energy intensive per person. I'll be adding more carbon to the atmosphere with the Seattle trip alone than I will in a year of car travel.
In Boston, my friend and I got around solely by mass transit and walking. Boston is very well suited for both. We stayed in the Back Bay area, and were within walking distance of the Boston Public Garden and its Swan Boats, the Boston Common, the bar that inspired the television show "Cheers," the library . . . you get the idea. Just a little more walking took us to sites associated with the Revolution.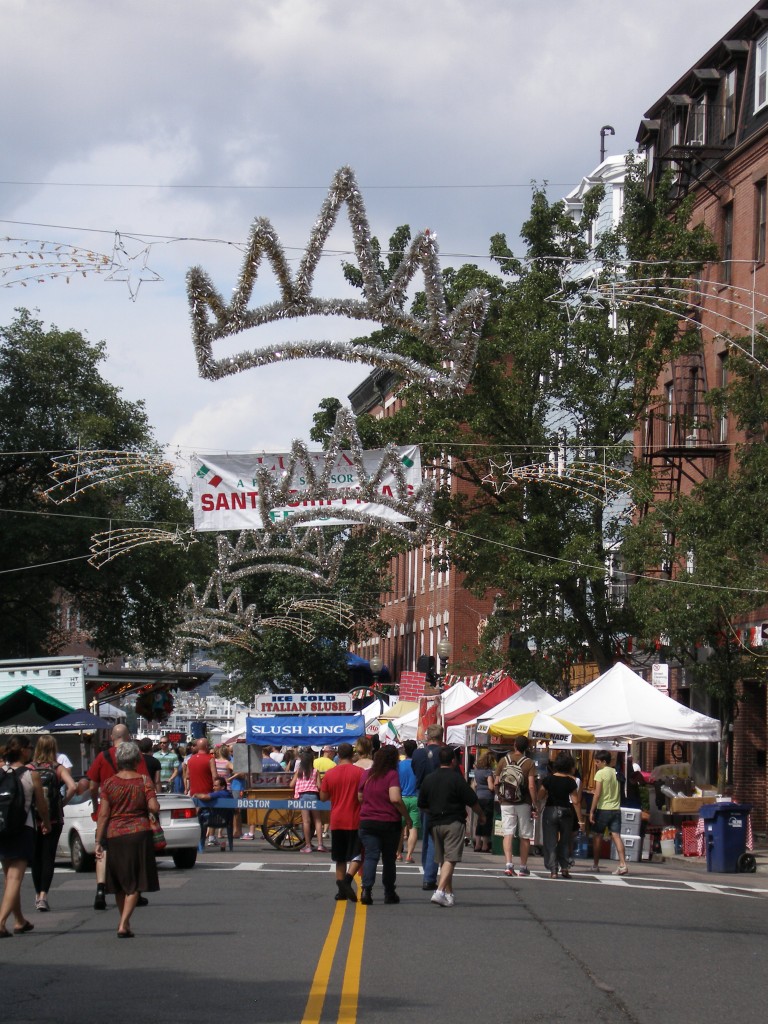 I enjoyed being able to walk the winding streets of old North Boston, I got lost a few times (no one had yet told me to follow the red brick sidewalk line to keep to the Freedom Trail), but loved it. It was on those winding side streets that I felt at last that I'd connected with Boston. Farmer's markets, an Italian street festival, people coming home with arms full of flowers and bread—that's what I wanted to see.
I did miss being able to spend some time on the coast. Boston is a seaport city. And on the last day, when I took the water taxi back from the U.S.S. Constitution Museum across the bay to the aquarium and the train back to the hotel, I realized I'd spent hours just a couple blocks from the water. And had had no inkling of it.
If my friend hadn't gotten the convention crud (a brutal cold, which I got a touch of when I returned home) we would have taken a commuter train up the coast to either Salem or Cape Ann. We discovered by talking to a friendly local gentleman that we could get to both for a fraction of what a tourist boat or bus would charge.
I think that even though I did spend some time walking through the city's network of parks, missing the ocean connection impacted my ability to connect with the spirits of place. I also wondered if I'd get any ancestral spirit hits. I discovered recently that in I'm descended in part from a family called Kirkland that immigrated to Massachusetts in 1625.
The most profound spiritual connection I got was in the Granary Burying Ground. I was fascinated by the old tombstones and their winged skulls. The guide explained the iconography symbolized the spirit flying free from the body. I didn't see any stones marked "Kirkland." However, as we walked the grounds past Alexander Hamilton's obelisk and Sam Adams's granite boulder, I felt a sense of joy in the air. It was as though the people buried there enjoyed and appreciated that they were not forgotten.
It's that kind of energetic experience that we can't get from the deck of a tour bus.
While in Chicago this weekend, we're planning to get around entirely by mass transit. Because we're a technophilic couple (him more than me), we've downloaded an iPhone app that will help us navigate bus and train routes. We'll take a train in from the airport, then hoof it the six blocks from the closest stop to the hotel. We'll do a return walk to the stop to head up to Wrigley Field. And the next day, we'll take a train over to Grant Park and walk between the Art Institute of Chicago and the Field Museum of Natural History. I want to see an Impressionist exhibit, and a Paleolithic art exhibit. We're hoping to get through the entire weekend without a cab ride. It's good to have goals.
I haven't researched mass transit for Seattle yet. My sister will pick us up at the airport, as it's almost an hour's drive to her house by car. I know Seattle has excellent mass transit, so I am hoping we will be able to use it for many of the sights we wish to see. I confess that my past trips there have been very car-centric. I am hoping to do better this time. My sister is as devoted to eating local as I am, so we'll be able to minimize our impact in that way.
If anyone else has ideas for making our travels as green and carbon-friendly as possible, please share! It's a beautiful planet and I'd like to see a lot of it in person. But without being more a part of the problem than the solution.