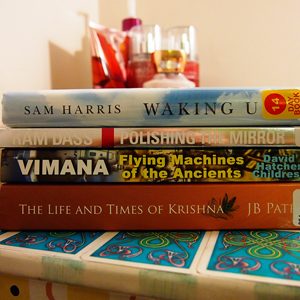 The religion books at my local library are usually 80% Protestant, 15% Catholic, and a few "other" that range widely in nature (they have a book on ISKCON, for example, but it's entirely about a scandal from decades ago). I was surprised, browsing their new books section recently, to see a few titles of possible interest.
Sam Harris's Waking Up: A Guide to Spirituality without Religion is the only one that I put on hold instead of finding through browsing. I had high hopes for it, but on first glance I saw that he used the phrase "the nominally Hindu tradition of Advaita Vedanta." Uncool. I'll see how the rest of the book goes.
Polishing the Mirror: How to Live from Your Spiritual Heart by Ram Dass looks promising. It has chapters on bhakti yoga and karma yoga, along with decades of wisdom and reflection (Ram Dass has been involved in Hinduism longer than I've been alive).
Vimana: Flying Machines of the Ancients by David Hatcher Childress is a total wild card. I expect nothing from this book except entertainment.
The Life and Times of Krishna: The Deity Who Lived As Man by JB Patro is over 400 pages long and looks devotional (rather than scholarly). It's the one I was most surprised to see on the shelf and I hope it lives up to the subject matter.