I have a bit of a love-hate relationship with Christmas. I bake a lot of cookies, and people get excited about those. I like to watch Rudolph and Frosty. My guru likes Jesus — some Hindus are more enthusiastic than others. Shree Maa does Jesus Puja and sings beautiful Jesus kirtan at Christmas and Easter. It's lovely and I often watch by webcam. But she's not from the Midwest; she's from Kamakhya. She doesn't have the same baggage. Plus, she's just not the angsty type. That's why she's a guru and I'm…not.
The other day, my younger son asked, "If Christmas is Jesus' birthday, why isn't it a religious holiday?"
I explained that, just like we go to temple for a midnight puja when we celebrate Krishna's birthday, a lot of Christians go to a midnight mass for Jesus's birthday. I told him that it has a lot of the same things, like singing. I've heard some churches also have a candlelight service, but I've never been and I don't know if it's common.
One thing I don't have conflicted feelings about is books. I read just about anything I can get my hands on. Here are two particularly interesting Christmas books that aren't Christian at all.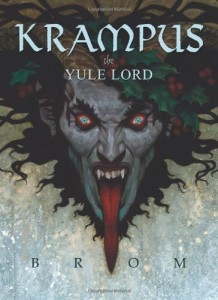 Krampus the Yule Lord (Brom)
When I first read this book last year, I hadn't really heard of Krampus. I vaguely knew there were holiday traditions that involved beating the bad kids in addition to rewarding the good kids. That's why Santa has to make the list and check it twice, I guess.
This is a novel with a bit of a dark side (subject matters include meth, fracking, police corruption) and a bit of a frolicking side. It delves into Norse mythology (with a twist). If you watch Once Upon a Time, Krampus reminds me a bit of Rumplestiltskin as the Dark One. If there was a movie of this book, I'd love to see Robert Carlyle as Krampus. I didn't like the dark places the story went, but some of the realizations Krampus made were worth it. I want Krampus to come back in style. His holiday, Krampusnacht, is December 5 (the night before The Feast of St. Nicholas).
There were some full-color illustrations in this book that I wouldn't mind owning as art prints.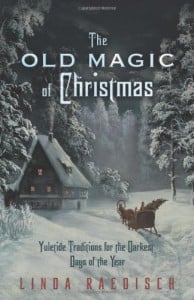 The Old Magic of Christmas: Yuletide Traditions for the Darkest Days of the Year (Linda Raedisch)
This is not a novel. It's a nonfiction book full of folklore, crafts and recipes. Though it has the word Christmas in the title, it's published by Llewellyn Publications, and Pagans could get a lot of Yule inspiration from it.
If you've ever heard the lyrics to "The Most Wonderful Time of the Year" and wondered why:
There'll be scary ghost stories
And tales of the glories of
Christmases long, long ago
this book will answer that. Apparently people used to tell stories about those who didn't go to mass on Christmas Eve. Some were never heard from again.
There is a lot of elf lore in this book. She warns,
The elves…have no interest in making toys (or becoming dentists), nor are they particularly small.
She explains a Swedish Pagan ritual to worship the elves, known as Álfablót.
Krampus makes an appearance, as does The Bellsnickle (whose name, if not mythology appears in Krampus: The Yule Lord).
I don't do a lot of crafts from these kinds of books (I prefer full-color instructions or even video, neither of which this book has). I am probably going to try the recipe for Icelandic Snowflake Breads, though.
If you like folklore and fairy tales (which I do) you will love this book. I know almost nothing about the myths and stories of the lands she writes about but now I'd love to learn more. In the spring I plan to read her previous book Night of the Witches, which is about Walpurgis Night, and she's apparently coming out with one in a few years ("just in time for Halloween") that I will also inevitably read.
So if you don't do Advent, and you feel left out of all the holiday goings-on, you could curl up on the couch with a cup of hot cocoa and read a novel about Krampus or a book full of stories about people like yourself, who stayed home from church on Christmas to read all night, alone. I doubt you'll have the same experience they did. But who knows?
What about you? Do you have any December/winter/holiday favorite books/movies/songs that aren't necessarily Christian?