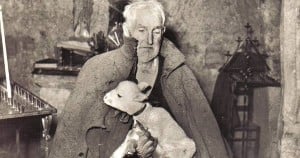 Jesus Christ, the Good Shepherd, both knows and leads His sheep. But this knowledge (which is love) and this leading (which is love by serving) means that the Good Shepherd also gives His life for the sheep (verse 11 and 15).
Jesus, the Good Shepherd, loves His sheep: He loves you more than father, mother, husband, wife love you. Ultimately, He loves you and leads you by being willing to die for you. He gave His life for you by becoming like you. The Incarnation is not merely a necessary stepping stone to the Crucifixion. God gave His life for you by becoming like you that you might become like Him.
The entire life of obedience of the Son, even the 30 years before His public ministry, were given for you that He might fulfill the Law for you and become obedient that you might become obedient. This life is not a life of obedience by compulsion, as if He were forced to obey, and it wasn't a life of automatic obedience, as if since He was also God the human Christ didn't have to choose to obey. No, this life of obedience was a life of love and submission, willingly undertaken for the joys set before Him. One of those joys was our redemption that we might join Him in His life.
But He also did give His life by becoming obedient, even to the point of death, even the death of the Cross. The Good Shepherd sacrificed His life that the bad sheep might become good sheep and live.
But this life of love, this knowledge of us and service for us cannot be one-sided. What should be the response of the sheep whom He has delivered from wandering and starvation and wild beasts, from sin and death and Satan?
If we want to be His good sheep, we must follow Him in all things. All things. This means the Resurrection and heaven, but it also means the Cross and humiliation. To follow the Good Shepherd, you must be willing to follow him even to the point of death, even if you don't feel like it.
You want to know something? He didn't "feel" like being crucified either. He asked for the cup to be taken from Him 3 times, and 3 times the Father said "No." Do you think it felt good to be nailed to the Cross and have the blood and life drain from you? Do you think He had a good time when He took upon Himself the sins of the world? But in spite of His own desires and human feelings, He obeyed the voice of His Father. He could have said, "Because I don't feel like it, I won't do it. Let men die in their sins – but not me."
The Cross which you see in your church and on your Bibles and in your lives is Christ's shepherd's staff, turned into an instrument of death . . . but then into an instrument of life. The Cross, wherever you see it, is a symbol of Jesus Christ your Good Shepherd.
But now you must be the good sheep. As He gave His life for you, you must give your life to Him. It's unlikely that you will die a martyr's death for Him: most are not called to this. Instead, you are called to something much more difficult: to learn to love and serve Him as He has first loved and served you; to obey the will of the Father as Christ and the angels and saints in heaven obey it; and to stop wandering and going your own way each day but instead follow wherever He leads you.
Jesus Christ is your Good Shepherd, who knows you better than you know yourself. There are many dangers in this world – and many of them lie within ourselves. But the Good Shepherd will lead you safely through all of them. Learn to hear His voice and learn to follow. But follow, wherever His steps lead, even if they lead through the valley of suffering, because He will lead you to greener pastures on the other side.
Yes, the steps of your Good Shepherd led to the Cross, but it is by following those same steps, that you shall also follow Him into heaven. And there you will find heavenly food and living water to refresh you. There you will find safety and peace forevermore.
Prayer: Lord Jesus Christ, the good Shepherd of the sheep, who came to seek and to save that which was lost; I beg you to be present today in your power with the sheep for whom You gave Your life. Show forth Your compassion to the helpless, enlighten the ignorant, protect those in peril, and bring home the wanderers in safety to Your fold. Feed those who hunger and clothe those who are naked, with the food and clothing that You are; who lives and reigns with the Father and the Holy Spirit, one God, world without end. Amen.
Point for Meditation and Resolution: In what ways in the Good Shepherd asking you to lay down your life for Him? It might be in the sins that He is directing you to repent from during Lent. There might be some thing in this life that you are too attached to that is distracting you from Him. There may be some form of seeking and worshiping Him that He is calling you to. Choose one of these and resolve to follow Him in laying down your life for Him today.
Shepherd and Sheep – U.S. Public Domain