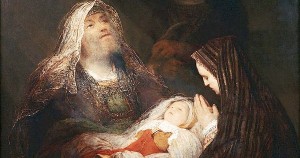 St. Luke is the only one of the Gospel writers to mention Sts. Simeon and Anna, and I'm glad that he does.  To me, they are patterns for our lives.  In both brief stories, Simeon and Anna live out the same pattern, which is a model for our lives.  It happens like this:
You wait for God
You come to His holy Temple
You see Jesus Christ
You praise and thank God
You receive His blessing
You depart in peace
Look back at the lives of both Simeon and Anna, and you'll see this same pattern.
I imagine what it must have been like to be Simeon, to live a just and devout life and to wait for the Consolation of Israel.  Probably, he had been waiting a long time, and yet he continued devoutly waiting for the Lord.  Suddenly, the Lord enters into His Temple, and Simeon is invited!
When the Spirit prompted him, Simeon came into the temple.  What does Simeon do when he enters into the temple?  He finds Jesus Christ and takes Him in his arms and blesses God!
What does he say?  What could you possibly say that would bless the All-Blessed One?  You praise Him for what He has done for you.  "Praise be to You, O Lord, because you have let me depart this life in peace.  Praise be to you because I have now seen Your salvation in my life.  Praise be to You because You have revealed Your light and glory to all people now."
Having seen Jesus Christ, Simeon can now die in peace.
Anna's life is very similar.  She, too, was just and devout, serving God with fastings and prayers night and day.  She reminds me not only of Simeon but also of Cornelius, who was a devout man and who was fasting and praying when Peter came to him with the Good News of Jesus Christ, who was the Light who brought revelation to the Gentiles.
Having waited for the Lord and waited upon the Lord, she, too, came in that instant to the temple and found Jesus Christ.  Having found Him, she gives thanks.  After receiving Jesus Christ, partaking of Him, and giving thanks, she goes and distributes Him to all who looked for redemption in Jerusalem.  It's as if Anna is at the feeding of the 5000 and she knows what it means to be a disciple of Jesus Christ!
This is the pattern of our lives.  I hope that each one of you is waiting for the Lord, eagerly waiting for His next visit to you.  But don't just wait: go, run, to God's holy temple, His Church (which is His people), where He loves to come visit His people and bless them.  When you come to the Lord, in His holy Temple, look for Jesus Christ.  Don't get distracted by the nice building or nice clothes or the latest fashions or your social clique: look for Jesus Christ.  Where is He in your church, and where is He in your life today?
You must go and look for Him.  If you look for Him today, you will see Him, even if only a little more than yesterday.  And when you see Him, I hope that you remember to respond to His presence with you.  Praise Him for who He Is.  Praise Him for what He has done in your life: He has shown you His salvation because He has shown you Himself.  Give thanks to Him for coming to you to bless you today.  These are not optional responses for the super-pious among us: they are the true and faithful responses that should spontaneously gush out of us if we have truly seen the Lord!
After you have sought the Lord, and after you have seen Him, and after you have responded with praise and thanksgiving, then the Lord
will
bless you.  His blessing may take many different forms, but if He has been present with you and you have faithfully acknowledged Him, He will bless you.  Don't expect it to be with money or possessions (though sometimes He will bless you that way).  His greatest blessing is simply His presence with you.
The presence of God cannot help but bless those who come to Him and see Him with faith.  One of the greatest blessings of all is the blessing of the peace of God in your life.  This is what holy Simeon found.  God had promised him that he would not die before he saw the Lord's Christ.  Having seen him, Simeon could then say, "Lord, now You are letting Your servant depart in peace."
Holy Anna found the same blessing.  This woman who was of great age also found the Peace that passes all understanding when she sought Him in His holy Temple.  But Anna, who was at least 84 years old, did not simply go home and die in peace.  This woman didn't consider herself too old to go out and spread the Good News of Jesus Christ.  What do we find that this old woman did when she found and received Jesus Christ?  She went out and spoke of Him to all who looked for Him.  This woman who had received the Prince of Peace went out and passed the Peace to others.  And having done this, she could die in peace, only to live in peace eternally.
Where are you this morning?  Wherever you are, whoever you are, come to Jesus Christ today.  Go and look for Him, wherever He may be found: look especially in His holy Temple, the Church.  Do not give up, do not rest, until you have found Him today.  And when you find Him and He comes to you, remember to praise Him and thank Him.  Ask Him for His blessing, which is especially His continued presence in your life.  When you find Him and He blesses you, then go in peace to show Him to someone else today.  Think about who else may be looking for Jesus Christ today, whether someone who has already seen Him before and is actively seeking Him, someone who has seen Him and has forgotten Him, or someone who has not really seen Him.
Having done this, you may depart in peace to the remainder of your day.
Prayer:  Lord, let my eyes see You and Your wonderful salvation today: let me see Your Son, Jesus Christ today.  Give me a greater desire to see You and greater vision to see You.  Come and bless me again, especially by coming to Me.  Having come before You, let me depart in peace to go and serve you today.  Amen. 
Points for Meditation:
Respond to God's presence in your life today with a hymn of praise or thanksgiving. Pick one of your favorites today!
Who is one person that you should speak to today about Jesus Christ?
Resolution:  I resolve to truly seek Jesus Christ today.  I resolve not to give up seeking Him today until I know that I have found Him and spent time in His presence. 
Simeon's Song of Praise by Aert de Gelder – U. S. Public Domain