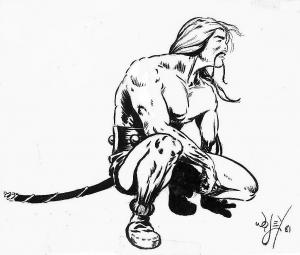 Sometimes God returns your gifts.
Idolatry is a substitution of a lowercase good for the uppercase Good. I'm not referring to an impersonal Platonic good, I'm referring to what Jesus was getting at when he asked rhetorically, "Why do you call me good?, no one is good but God." (Luke 18:19)
For new converts some sins are easy to identify, renouncing them may be difficult, but their sinfulness is not hard to see. Things like lying, stealing, fornicating all have to go. But there are sins of another sort, more subtle in nature, and as particular to each person as each person is particular. (Here's where that snowflake analogy won't work.) I'm talking about idolatry.
Idolatry is making too much of a good thing. And this is what makes it subtle and hard to see. What we're talking about here is a good thing taken too far. It is a matter of emphasis.
It isn't a small problem, even so. You could say it is the mother of sin. Going back to lying, and stealing, and fornicating–what you've got is a good thing that's jumped the fence. Take stealing, for instance. Possession of a desirable object is a good thing. Stealing it in order to possess it is not a good thing. And the only way you could bring yourself to do that is by overvaluing it, idolizing it, in other words.
The problem here for a new convert is self control. When you overvalue a good thing you need wisdom to see when you've gone too far with it. Then you need the strength to reign yourself in. And since new coverts generally are not good at either one of those things, sometimes the best course is the clean break.
For me the good thing that had to go was art.
Nothing drew me more powerfully than drawing. I cherished a dream of going to New York and making it big in the comic book scene. In my own eyes, and in the eyes of many people around me, this was a live option, not crazy at all. I was both good at it and proud of my work. But pride wasn't the snare. It was the art itself. I loved it too much.
I had invested a lot in it. I lived in public housing as a teen. I walked wherever I had to go. I even walked to work, sometimes late at night. But most of my earnings went into my art instead of a car. I remember buying an art desk from a little art store about 3 miles from my home. When it arrived I carried it the whole way. The box it came in was too large to carry under an arm, and too heavy to balance on my head. So I pinched it, and shuffled along with it, setting it down every city block or so. Then picking it up and shuffling again. If I remember correctly it took a couple of hours to make the trek.
But I gave it up, along with hundreds of dollars in books and art media after I was converted. No one told me to do it. I just knew I had to. (Some people even tried to talk me out of it.) It all went into the dumpster: drawings, paintings, everything. I suppose you could call it a gift to God.
That was nearly 40 years ago.
Imagine my surprise at having it returned.
I've been dabbling of late. After a hiatus of nearly four decades in which I drew practically nothing, I've picked up the pencil and inks again for fun. I was delighted to see that it is something like a bicycle. After a while my old skills came back. I even seem to have acquired some facility with expression that I didn't have as a young artist.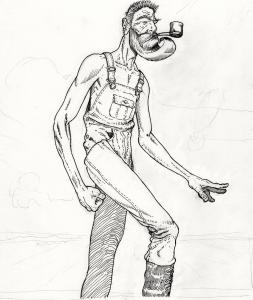 Now this wouldn't be worth noting if this was all there was too it. But things have taken an interesting turn. This is now more than a hobby. I'm actually working on illustrating a children's book that I've written.
Initially I thought it should be illustrated by one of my friends in the world of commercial art–you know, a professional illustrator. But my agent had a different idea. And when she saw my preliminary sketches, she strongly recommended that I do the illustrations myself. Since she's represented several children's authors and some Caldecott winners, I tend to follow her advice.
So I'm back to the art desk each night, enjoying myself like I haven't in nearly 40 years. And its made me wonder about the ways of God. Perhaps we really will get everything back we've given up, but purified and better than before.