Long-suffering readers, I apologize for the infrequent posts as of late. It has been a busy time. The good news is there are a number of good things to share.
I'm on The Dean Abbott podcast.
The first is I was interviewed by fellow Patheos blogger, Dean Abbott for his podcast about my book, Man of the House. I think it went pretty well. You can listen to it right here:
I've been asked to speak at the next Touchstone conference.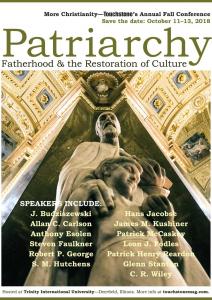 Set aside the date because this looks to be something truly special. I will be joining a great list of speakers in Deerfield, Illinois October 11-13 for Patriarchy, Fatherhood, and the Renewal of Culture. Touchstone conferences are always first rate, if nothing else than for the book table set up by 8th Day Books.
I'm working on creating on on-line seminar based on my book, Man of the House.
Stay tuned. I hope in the near future to share information on a live, interactive seminar that will be able to bring men together electronically to discuss themes relating to recovering the productive household.
I've begun work on a follow up book to Man of the House.
I'm currently in conversation with a publisher. Hopefully I'll have a book proposal in the mail soon. I'll keep you posted on how this goes.
A great video review of Man of the House recently appeared on YouTube. And here it is!
That's all for now, I'm about to head out of town for a few days. But as soon as I return I'll hopefully get back into a regular routine of posting new content.
In fact, I intend to use this blog to work on my follow up book to Man of the House. The idea is that you'll be able to look over my shoulder as I post inchoate ideas and preliminary chapters. You may even have an opportunity to contribute your questions and ideas to the composition.