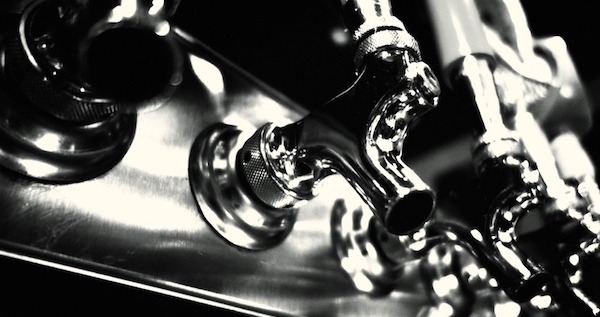 VOICE OF GOD: SOMEBODY ASK A QUESTION.
JT EBERHARD, (atheist blogger at What Would JT Do?): Okay, I'll start. Jason, what is your quest/favorite color?
JASON MANKEY (Patheos Pagan Channel manager, blogger at Raise the Horns): My quest is to overcome my colorblindness so I no longer go out in public with unmatching clothes. On a larger scale, my quest these days is to escape the madness of social media and the never-ending gun-control debate.
JT: Man, this has got to be a shitty time for you then.
Jason: Yeah. What about you?
JT: Um….my favorite color is green because it's statistically the one people claim the least. My quest changes from time to time.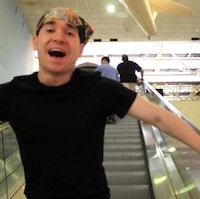 Between the Bernie-or-busters and the way a lot of atheists are behaving right now, my quest is currently to not be depressed and to make more music. I used to be an opera singer, and am totally pitch deaf…so….I guess that's kinda my color blindness.
Jason: I have been paid NOT to sing on a number of occasions. My favorite color is always gray because it's the one I see the most.
JT: Where's Mark?
Voice of God: MARK'S NOT HERE YET, SO HE'S IN CHARGE OF SNACKS FROM NOW ON.
JT: Good idea.
Voice of God: COURSE IT'S A GOOD IDEA.
JT: So what do we hope to get out of this little experiment?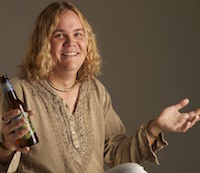 Jason: I'm just still a bit in shock and awe that a Pagan has been invited to the party. Our opinions are not taken all that seriously the majority of the time. Yes, Patheos has always been very good to us, but when was the last time you saw a Pagan on Bill Maher or even on Don Lemon's CNN show?
JT: Good point. How many Pagans are out there? Also, I heard that Pagans cast spells that make Dungeons & Dragons real. Should I just keep assuming that's true?
Jason: There might be, what, two million Pagans in the United States? That's the stat I hear most often, but it may be more. I'm rather sure it's not less. I have never played a game of Dungeons and Dragons. Seriously.
Voice of God: WERE YOU RAISED IN A PAGAN FAMILY?
Jason: I grew up in a nominally Christian household, though my father (the primary care giver) was never all that religious. I was president of my church youth group and even gave a sermon one Easter morning. So no, not raised in a Pagan family, though my father always supported my strange reading habits — Bigfoot, Loch Ness Monster, Greek myths, comparative religion. I discovered Paganism in my early twenties.
JT: What sold you on it?
Jason: I liked the idea of a religion that revolved around the natural cycles of the earth (our holidays are solstices, equinoxes, and the cross-quarter days in between them) and that deity was interpreted as being both male and female. I've never understood why Yahweh was so devoted to bachelorhood.
I realize that talking about goddesses and gods with atheists is not always the easiest conversation to have, and although I'm a believer in such things, it's not a requirement in Paganism. There are atheist-Pagans. I've just had enough experiences that make me believe that deity is real.
JT: I'll be honest, any pseudo-internet notoriety I have is likely derived from being pretty stringent about expecting evidence for what people believe. Just know that even if none of us ever change our minds, friends forever — even if we criticize the other person's beliefs. Still respect you. Here's an atheist hug to prove it: ('"\('-_-')/'")
Jason: Your emoji skills are so much better than mine!
JT: Yeah, well, you've probably done productive things with your life. I, in turn, have emoji skills.
Jason: I've never really cared if other people truly accept my beliefs or not, as long as they can be respectful it's all good.
JT: *nod* Can be respectful, even in disagreement.
Jason: And "Paganism" is so nebulous anyways, there are about 100 different interpretations of deity/the cosmos/everything out there for every 90 Pagans. We don't even agree amongst ourselves, why should I expect people outside of my community to have any belief in or notion of what I believe?
JT: Disagreements among other Pagans on minutiae? Sounds like all the "inherently consistent" religions out there, just more self-aware. 😛
Jason: I think Pagans, especially the Pagan blogosphere, is full of people who know their religious history. So we are very aware of our differences, and then there are people who yell out those differences at the top of their lungs.
JT: Dude! No joke! Pew Forum on Religion and Public Life in September 2010 published a study showing that atheists, on the whole, knew more about the various religions than the average adherent. If I recall correctly, Pagans were right underneath us. So yeah, I'd buy that you guys know your religious history. Do you think most Pagans are people who previously held a different religion, left, and found Paganism? Pretty sure most atheists are that way.
Stage Whisper of God: (WITH ALL RESPECT TO THE ATHEIST, PAGANS WERE NOT A GROUP IN THAT SURVEY. BUT YES, THEY WOULD HAVE DONE WELL.)
Jason: Yeah, I think that describes most of us. There are children currently growing up in Pagan households, and I even know some adults who grew up in Pagan spaces, but for the most part it's something you have to find, like atheism. One thing about Paganism though — people who find it don't have to leave what they did before. There are "Jew-Witches" out there and "Christo-Pagans." Paganism is pretty flexible and can be used with other religious traditions.
JT: "Jew-witches." I'll take "Terms I Never Thought I'd Hear in my Life" for a hundred, Alex.
Jason: Atheo-Pagan was the one I never thought I'd hear, and one of the best Pagan bloggers at Patheos mostly identifies that way. I think he prefers "Humanistic Paganism" but you get the idea. But yeah, I'm full of surprises.
JT: Lmao! So what are your hobbies? What do you do when you're not, I assume, launching curses at everything that is good and holy?
Jason: I'm a big sports fan, which makes me a weirdo in Pagan circles, and I love scotch, good wine, and cider. Paganism, and religious history, gradually moved from being a hobby into being a job, but it still feels like a hobby sometimes. And my Penguins won the Stanley Cup which had me dancing on air for a few days. What about yourself?
JT: Well, eating babies, obviously. I also house-husband for my wife who's about to start med school — undergrad in neuro, going for psychiatry/neurology. I blog, I teach a studio of 20+ voice students. I sing in the shower and just try to keep myself interested. Oh, also a sports fan, basketball/football/esports, and gamer, primarily League of Legends and Overwatch.
Jason: I'm also a house husband. My wife is not in med school, but does tissue typing for solid organ and bone marrow transplants. I'm a big music fan, though I have no musical talent. Led Zeppelin was my gateway into Paganism and remain my favorite band. The last few years have seen a revival in 70's style occult metal, which has become a favorite.
JT: Nice! And your wife sounds rad. I'm all about women who are smart. And pfft, everybody has musical talent, but that's not even important. You know who wins at karaoke? People who can't carry a tune to save their child's life, but who own it, don't give a shit, and have a good time. The best singing isn't done at the Met, it's done in the shower.
OMG…maybe we should have a friendly bet: if you change my mind on something on this blog, I'll watch a Penguins game — I hate hockey. If I change your mind first, you have to sing me some Doors.
Jason: I'm down with that. Wait, atheists use OMG? Who knew?
JT: We cross our fingers when we do. Hard to type.
Jason: I like to use "Oh my gods!" The plural surprises people.
JT: Funny story: In college I worked at a sandwich shop with a fundamentalist Christian, but she was cool, and we had good, deep chats at work. One day I said "oh my god" and she, quite seriously, said, "AHA! Why do you say that if you don't believe in god?" I responded, "When I'm going for a snack at 2am and stub my toe in the dark I yell 'Fuck!' — but it doesn't mean I want to have sex." Looked up to see a customer listening.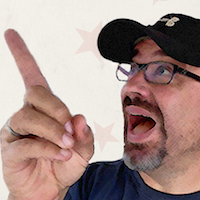 Voice of God: LET'S CALL IT A NIGHT. I'VE GOT A THING.
Jason: Okay, this was fun. Sorry Mark didn't make it.
JT: We'll just haze the shit out of him next time.
[Time passes.]
MARK SANDLIN (Presbyterian minister, blogger at The God Article): Hi guys, sorry! I had a minor emergency at church.
"…"
Guys?