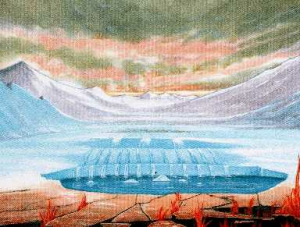 In the beginning was Ginnungagap.
So begins one of Snorri Sturluson's Norse creation stories from the Elder Edda.
In the beginning was Ginnungagap, the great void. Then Niflheim, the primordial land of ice, and Muspelheim, the primordial land of fire, collided. Thus the world began.
It's one of my students' favorite stories, and as I approach marriage to a midwestern farm-boy of hardworking Scandinavian origin, it's how this Mississippi girl with whimsical Hibernian origins tends on occasion to think of her relationship—a collision of the hard land of ice and the roiling land of fire.
When I teach my students creation mythology, we begin by asking what the physical elements from which the world gets made are and what that says about the landscape and the culture from which the stories sprung.
In the Babylonian creation story, humans are made from the blood and tears of a slaughtered god. What might that say about the Babylonian landscape and culture?
What does the Scandinavian landscape consist of? Volcanoes and glaciers. So it makes sense that the primordial elements requiring explanation would be fire and ice.
Now, it's a convenient and a vastly over-simplified metaphor (as so many are), but I do often think that those two images have something to say about my relationship with my soon to be husband—the fire of the south meeting the ice of the north.
When he played hockey in high school, Ben's team used to listen to Led Zeppelin's "Immigrant Song" to get them psyched. The song opens with the lines, "We come from the land of ice and snow / from the midnight sun where the hot springs blow." I love that image of the teenage boy I would only get to know as an adult being so excited to skate in the frozen landscape. When Ben is on the ice or even around it, he looks like a fish restored, after a too long absence, to the saving vitality of water.
And to provide an easy analogy for fire, if you want to know how bad hell will feel, visit us in Mississippi come August. You'll be born again before your feet leave the jet bridge. I saw a T-shirt once (produced by a company in Minneapolis) that read: "Hell: it's not the heat. It's the humidity." As a lifelong Mississippian, I can vouch for that.
One of the many differences between us is that the most brutal features of Ben's native landscape are vivifying to him and the most brutal features of mine are depleting.
The heat makes for languid dreamy folk, the kind who like to sit around and talk and laugh and drink cool drinks that make them forget how miserable they feel, and who like to tell off-color stories and wear brightly colored clothes and whose personalities often match the color of their clothes.
Now these are stereotypes, it's certain. But if you've spent any time at all in Mississippi and paid any kind of attention, you know they're not far from the mark. I know about six old ladies in my hometown who make
Steel Magnolias
look like a minimalist study in understatement.
Likewise, Garrison Keillor wasn't making up those Lake Wobegon types up in Minnesota. There's an earnestness and a seriousness, perhaps even at times a sternness, about daily interactions I've witnessed among my friends up north. People don't take themselves that seriously in the Mississippi Delta where I grew up.
Of the two of us, the one more given to Bergmanesque brooding and periods of internal contemplation is Ben, and the one given to telling raucous off-color stories sitting on the porch with an invigorating mixer is me. The equivalency principle of synecdoche would lead me to believe that my brooding earnest Swede must somehow easily represent the whole of his people, right? Well, perhaps not.
But these contrasts, through the repetition of future days and years, have the potential to cease to be charming and to become, if not processed and filtered through grace and love, downright explosive.
I am not a terribly earnest soul. I can be ironic, even sarcastic, and there are times when nothing is funnier to me than a shared sense of human misery and failings. In fact, I can be a little mean. I am not intentional or particularly disciplined. I enjoy wasting time.
In short, I have very little to recommend me for midwestern farm life, as I have known it, besides the fact that I love the place and the people and I think one day, not too far down the road, I could be very happy there if they will have me.
Every couple has those characteristics that are complementary (read: very different). For Ben and me, it's his continual delight in motion—of making things from scratch, of carving, of crafting, of going outdoors, of running, of climbing, of skating—contrasted with my continual delight in laughing at myself and at the people I love, at sitting too long watching other people's stories unfold or discussing other people's stories, of relaxing longer than I have any right to, of watching television chefs make recipes I've already seen them make before.
In short, we are great for each other. He gets me outside, into the dirt, onto the ice, and I love him for it. I listen to him and talk to him for hours and slow him down and help him laugh a little, occasionally at himself, and I'm led to believe he appreciates it.
So in the ancient beginning was Ginnungagap, the great void. And then the lands of fire and ice collided. And so a world was made.
What we will make of this new world remains to be seen.
Kelly Foster is a native Southerner, and graduate of SPU's MFA in Creative Writing program. She has taught writing and literature courses across the country. Her creative nonfiction manuscript is titled Boystown Blues.