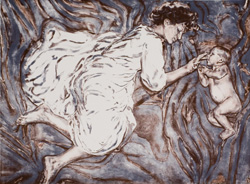 Growing up, my siblings and I were left on our own to figure out how things worked. I learned what a condom was from the dictionary. I studied the secrets of applying lipstick and eyeshadow from Seventeen, and figured out how to ride the bus from our house to the mall. I read our dusty copy of Martha Stewart's Christmas over and over, hoping to make those gold leaf gingerbread houses someday, somewhere.
I was desperate to learn how to live, how to make a life under the weight of the knowledge my mother tried to slough off—the missing history of her mother, the unhappiness of my parents' marriage, the family stories she held so tightly to herself, to us.
"I don't know how to be a mom," she wept to me, "so I have no idea of who I am supposed to be."
And so I tried to do things that I thought mothers were supposed to do: I cleaned house, heated frozen pizza for dinner, sorted laundry. I taught my sister how to put on makeup, and tried to keep track of my brother's whereabouts. I wondered why my mother couldn't learn from my example, or why she couldn't stay home from the bar long enough to simply watch how it worked. 
I didn't know then that, if she could have helped it, my mother would have done the same things for me. That all she longed to do was read a book and eat a meal in peace, to be wise and respected and loved. To live without the anxiety and the fear that fueled her fickle behavior, her quick, surprising tyrannies.
The rules in our house were simple: Say where you were going, and what time you were going to come back. Don't lie.
The rules, sparse as they were, were broken so many times by my mother that, after my parents' divorce, I assumed that they didn't hold.
So when I sneaked over to a boy's house during the school day and got a phone call from my mom, telling me to come home and that I was grounded, my fury blinded me: Who was she to tell me to come home? How did she find out I was gone? What authority did she have to tell me—the one who knew more about being a mother than she did—to stop what I was doing?
The truth was, my mother did, and does, have authority. By flesh and blood, by history and inheritance, she is my mother. And regardless of the ways that I have stepped into her place, regardless of the fallouts and distances that we have known, there is nothing I can do to change who she is.
As I approach my wedding, I think about these things constantly, with a great deal of fear—what have I inherited that won't surface until Jeremy and I are years into our marriage? What fears, what tyrannies of my own will I inflict on the daughters we might have?
And what is it that makes me so different from my mother, who, when she was my age, had just buried her father, left an abusive first husband, and was trying to care for my older brother, all on her own?
Perhaps that is the key: the idea that there is not much that separates us, and to believe that this is not a sign of doom, but a point of return.
Perhaps I should try recalling the moments that are clearer now than they have been over the years, the moments where my mother, unbeknownst to me, showed me what it meant to do things right.
There was the time I insisted on walking down the street with my shirt collar stretched around my shoulders, showing off my bra strap. "Men won't think of you the way you want," my mother said at the door, yanking that collar back around my neck.
There was the day I moved to college, where, after an all-night shift at the Styrofoam factory, my mother loaded my belongings into her car, drove to my prim campus, carried my things up a flight of stairs, and hurried back, without sleep, for another night on the line.
There was the afternoon I told her I wanted to write a book about us, and our life, and she wiped her eyes and said, "Honey, your words are grace in my life, and I trust you to tell our story in the best way possible."
And there was the time that a classmate invited me to camp out in her backyard, a summer sleepover in the grass, but upon arriving at the house, my mother discovered a yard full of trash and car parts, and two parents who were too high to step outside their bedroom. After leaving me on the porch for two minutes, my mother returned with a lie strong enough to bring me home: my cat had gone missing, we needed to go find her.
Although I was young and embarrassed and didn't understand why I couldn't stay, my mother grabbed my hand and guided me down the sidewalk. "We couldn't hurt your friend's feelings," she said, "but I could not let you stay at that house."
May I, in these years ahead, practice my mother's stealthy compassion, her fierce love, her quiet, tender wisdom. May I help her see it more clearly too, both of us looking together.
Allison Backous Troy teaches at Kuyper College in Grand Rapids, Michigan, and is the creative writing editor for The Other Journal. She graduated from the Seattle Pacific University's Master of Fine Arts in Creative Writing program in 2009.