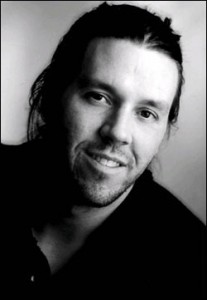 When David Foster Wallace committed suicide in 2008 there was much speculation and spilling of ink over how someone so gifted and so beloved could take his own life.
With the arrival of his personal papers in 2010 at the Harry Ransom Center at the University of Texas, hundreds of journalists and scholars (1,500 in the last year alone compared to 650 for Tennessee Williams) have come to Austin to search his papers for clues that might answer the many lingering questions.
My interest is in a question that perhaps cannot be answered by combing the reams of notes, adolescent schoolwork, and his personal library with copious marginalia.
In fact two expert panelists acquainted with Wallace's archives were asked to comment on the "odd" revelation that Wallace "attended church constantly." The panelists, D.T. Max, a New Yorker staff writer and author of a forthcoming biography on Wallace, and Seth Colter Walls, a journalist who has written about Wallace for Newsweek, seemed to duck the question.
Walls deferred to Max and Max said, "There are things that archives don't or can't contain."
That was in April.
But just last week, Max said this an interview with The New York Times:
 Religion is a huge part of the story I tell. One big reason I wanted to spend all these years with Wallace was to help me with my own questions of faith by examining his. But faith is different from worship in houses with pointy roofs. David did go to church sometimes, but as a sipper. He liked one's pageantry, the other's earnestness, the Danishes at a third. Yet God was central to his thoughts. 
I hesitate to play gotcha here with a writer of Max's experience and accomplishment. Perhaps, given that the panel's focus was on Wallace, Max thought mentioning his own personal spiritual journey was beside the point, or perhaps there really is nothing definitive in the archives on this and Max's sense of DFW's religiosity is, like mine, piece-meal and speculative.
Whatever his reason, the difference between Max's answer in April and his answer five months later is both stunning and refreshing.
Wallace's work captures something more than your run-of-the-mill existential ennui; he taps into what he calls "emotional poverty," an impoverishment he experienced when he was addicted to drugs, one he seems to have fought to keep at bay the rest of his life.
This emotional poverty is reminiscent of the spiritual poverty Johannes Metz writes of in Poverty of Spirit describing the ways in which we flee from our divinely endowed humanity and thus from God.
Metz writes that becoming upright, and virtuous requires "obedience and faithfulness to the humanity entrusted to us" by embracing our innate poverty.
According to Metz, sin, like the addictions David Foster Wallace and many of his characters were plagued by, is an escape, a rejection of our humanity, a departure from ourselves that we seek to avoid our problems.
In Wallace's posthumous novel The Pale King, a book Max calls "an ecclesiastical text," we are immersed in the soul-crushing world of the IRS, where we meet Lane A. Dean, Jr., a nineteen-year-old community college student who is openly and seriously Christian, and has just learned that his girlfriend Sheri is pregnant.
The story of Lane and Sheri was originally published in the February 5, 2007 issue of The New Yorker as "Good People," a painfully awkward "Hills Like White Elephants"-esque story in which Lane struggles with his desire for Sheri to have the procedure that she does not want to have.
What makes this story and the character of Lane worth mentioning here, is that the fear of becoming a father slowly transforms into fear for his soul, and fear of himself, of the monstrous thoughts he is having while sitting there talking with Sheri. Looking up into Sheri's face he tries to "see her heart," but not so he can help assuage her anxiety, but because he thinks that if he could just know her heart then he could come up with the right angle of attack that will convince her to have an abortion.
When I went to retrieve Wallace's novel, I found it was shelved next to a collection of Daniel Berrigan's poetry, drama, and prose. Berrigan, a Jesuit priest now in his nineties, spent his life as an anti-war activist, writer, and teacher. Holding the book I had a strange feeling that there was something in it that would help me articulate how I felt about Wallace and his work.
Sure enough, I turned right to his essay "Catholicism and the Intelligence," a short rambling piece on the ways in which religion has been bred (to borrow O'Connor's word) out of the culture to the extent that it is not only seen as irrelevant but it's "very right to exist" is questioned.
Berrigan believes that the Church's arrogance in the face of criticism by its people bears much of the blame for this, and yet he believes Christianity is still vital because, "The Christian . . . is summoned to investigate and synthesize the reality which faith and human beings' nature and the universe open before them."
Berrigan argues that writers who bear witness to their spiritual struggle, no matter if they are believers or not, allow the rest of us to watch over their shoulders as they attempt this brave synthesis, this squaring, this reconciliation.
According to a 1996 Details profile by David Streitfeld, Wallace twice went through the Rite of Christian Initiation to become Catholic, but was never confirmed.
Streitfeld intimates that Wallace's candidacy was nixed because he voiced concern over the "cult of personality around Jesus," a warranted concern, one that Flannery O'Connor diagnosed in the 1950s as an impulsive, heretical need to shape Jesus in our own image. O'Connor blamed this personalizing of Jesus for the South being Christ-haunted.
It seems Wallace was haunted by a similar specter, which I'll explore in tomorrow's post.