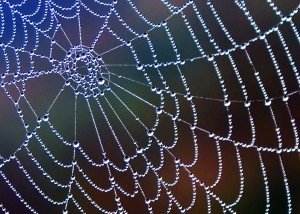 Today Good Letters welcomes Jessica Eddings-Roeser as a regular contributor. Jessica holds an MFA in Creative Writing from Seattle Pacific University. A former high school teacher, she now lives in Charlottesville, Virginia with her husband and daughter. We are glad to share her words with you.
If you cultivate a healthy poverty and simplicity, so that finding a penny will literally make your day, then, since the world is in fact planted in pennies, you have with your poverty bought a lifetime of days.
—Annie Dillard, Pilgrim at Tinker Creek
The first time I read Annie Dillard's Pilgrim at Tinker Creek I was in grad school and teaching full time. Each morning I rose early to drink coffee and write. Then I put on black eyeliner and three-inch heels—my own carefully calculated self-image designed to sensationally guide unruly high school students before moving on to happy hour.
Afterward I'd head home to brew more coffee and read stacks of books till my eyes closed. I lived every moment like a conquistador trying to dominate the new world: I had a degree to obtain, one hundred and fifty-five students to educate, a social life, and summer adventures to plan.
At that point in time, Dillard's cabin in the woods was too slow, too small, and too unkempt. I thought the cobwebs in her corners needed to be vacuumed, and I hurried past them, pausing for one incredulous moment as I read the words, "It is dire poverty indeed when a man is so malnourished and fatigued that he won't stoop to pick up a penny."
Pennies are worthless, I thought to myself, and turned the page.
When I had a baby I planned to be the same woman I'd always been. Conquering was what I did, so I would keep reading smart literature. I would still work and socialize, taking turns between eyeliner and coffee. After all, adventures abound on the other end of a plane ticket, and babies are free to fly.
But outings require preparation, thought, and an extra set of clothes. And while mountains wait in the west and ruined empires erode in Peru, naptime drives me home midday, and bath time is at seven.
I still try—my husband and I attended our first concert in months last week; but at eleven o'clock I begged to go home, barely able to keep my eyes open. My daughter woke extra early the next morning. Ears still ringing, I hoisted her onto my hip and stumbled to the coffee pot, smudged eyeliner glaring back at me as I passed the mirror.
These days my social life involves a baby doll and a puppet, and most trips are to the park or the grocery store. But in the evenings I put my daughter to bed, pour a glass of wine, and head to the deck to read.
And for some reason I'm reading Annie Dillard again—perhaps I knew I should've gleaned more from her the first time. I don't turn as many pages these days, but I swirl my wine and manage eight to ten before going back in to finish the dishes.
I wish I could say I understand Dillard's idea of healthy poverty. It sounds so much like Jesus' blessing for the poor in spirit. I know I want that blessing, but only as long as I don't have to be poor. Staying home to write and care for our daughter cut our budget by half—so this may be a new world, but I'm no conquistador.
In short: the old idols of gold, God, and glory don't just apply to men in the fifteenth century.
I still find myself bumbling out the door in heels, my head down as I carry two bags and my child—a camel attempting to pass through the eye of a needle, if you will. Half the time I forget my coffee on the counter—eyeliner on hand to apply in the car.
But one morning as I turned back to lock our door my daughter peeked over my shoulder and pointed, "Ohhh!"
Rain had fallen in the night, and a spider's web decorated our porch, beaming like a Spanish mantilla. Droplets of water hung on every thread; pearls hand sewn on a bridal veil. The work of an eight-legged vampire robed in glory shone before me. I dropped the bags, held my daughter and stared. Perhaps the spider watched us with one of her many eyes until we finally edged away, afraid to turn our backs on this creature and the creation.
I remembered Dillard's cobwebs and felt ashamed.
Whatever idols I had planned to conquer that day slipped my mind. Surely God is in every cosmic bit of this world, and though I'd planned to be busier than ever, God has pinned me down in my prime and stripped me of my own superficial glory.
I recognize the beauty in this, but I still miss my former self—a lot of the time it feels like I don't know who I want to be or where I'm going, though I'm seeing more than ever.
I need to vacuum and I'm years away from Peru, but now when my head is down I can see the pennies.