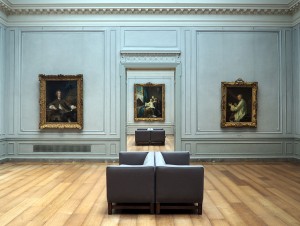 Dear Friends:
I received two emails recently from writers you likely know and admire.
Like clockwork, I can expect an email from Annie Dillard a week after each new issue is published. Her response to issue #92 arrived right on schedule: "This is the best Image ever published. These writers stun me."
Then, the day after the brilliant essayist and cultural critic Richard Rodriguez returned home from delivering Image's Denise Levertov Award in typically mesmerizing fashion, he sent a thank-you note in which he wrote: "I would do anything for Image and its mission. (I didn't need the award to take me up to Seattle.) The bravery of the journal, especially in these times of cultural, not to say religious, illiteracy, astonishes me."
He continued: "The audience on Thursday night was your latest gift of encouragement—an audience so rare in my life these days—such passionate listening, such quiet attention, such generous souls. So, I thank you for them—the audience—the sort of people Image alone seems able to assemble in a dark time."
I'm quoting Dillard and Rodriguez not simply to bask in their praise, but to point out that they are speaking about you as well as the Image team. You wouldn't be receiving this mid-year appeal letter if you were not part of the conversation these two writers are celebrating.
As an Image reader, you are an essential partner in an ongoing dialogue of artistic creation and attentive reception that has brought us to what may be the most amazing year in this organization's history (more on that in a minute). In this age of short attention spans, when politics has turned into reality TV and the world is threatened by tribalistic fear and violence, you understand the importance of imagination, empathy, and inwardness which give rise to faith—faith in God and faith in the mystery of our common humanity.
Attention itself is a form of currency. And it's in limited supply. We know when we fritter it away, and we also know when we've spent it well and received back what Christ called the "hundredfold" in return.
Now we are asking for you to continue supporting this work—this deep conversation—with an old-fashioned currency: your hard-earned financial resources. Because it cannot take place without you.
Here's a quick rundown on what is making this a banner year for Image:
Issue #92 featured a previously untranslated short story by the Japanese writer Shusaku Endo, whose novel Silence was recently made into a film by Martin Scorsese; it also included a powerful essay on a meeting of North American and African visual artists in the ongoing process of seeking peace and reconciliation.
The Image podcast, hosted by our very own Paul Anderson, made its debut with a nearly hour-long conversation with none other than Richard Rodriguez. Future episodes will feature conversations and readings with Gina Ochsner, Susanne Antonetta, Richard Chess, and more.
Issue #93, guest edited by screenwriter/director Scott Teems (Rectify) and film critic Gareth Higgins, is entirely devoted to film, featuring insightful reflections from directors Mira Nair (Queen of Katwe), James Ponsoldt (The Spectacular Now), Debra Granik (Winter's Bone), Rodrigo Garcia (Last Days in the Desert), Scott Derrickson (Doctor Strange), actor Tony Hale (Arrested Development, Veep), critic Alissa Wilkinson (Vox.com), and many, many more. It will mail in July.
Issue #94 will feature the worldwide exclusive publication of Flannery O'Connor's college journal "Higher Mathematics," offering a window into the heart and soul of a writer in the making. (We're planning to make a big announcement about this soon, so can you keep this a secret for now?)
The Glen Workshop this year is nearly full and its faculty include such luminaries as Kathleen Norris, Carolyn Forché, Over the Rhine, Randy Boyagoda, and others.
To be honest, I've been at this for 28 years now and this list leaves me simply breathless. And I haven't even told you about our amazing Milton and Shaw Fellows, the ongoing delights of our blog, Good Letters, and our world-class website.
This is what you make possible.
Our mid-year appeal is an essential part of our annual budget. We need to raise $25,000 this summer to maintain our operations.
Will you share not only the precious currency of your attention but of your financial treasure? In either case, what you are giving is yourself, the greatest gift of all. And in return for that miraculous gift we will continue to make Image flourish and nurture the hearts and minds of the community that cares for art, faith, and mystery.
Bless you for being such a vital part of that community.
Cordially,
Gregory Wolfe

Gregory Wolfe, the founder and editor of Image, is currently Senior Fellow at the Institute for Catholic Thought and Culture at Seattle University. He edits a literary imprint, Slant Books, through Wipf & Stock Publishers. He served as the founding director of the Seattle Pacific University MFA in Creative Writing program. Wolfe's books include Beauty Will Save the World, Intruding Upon the Timeless, and, most recently, The Operation of Grace. Follow him on Twitter: @Gregory_Wolfe.
Above image by ctj71081, used with permission under a Creative Commons License.