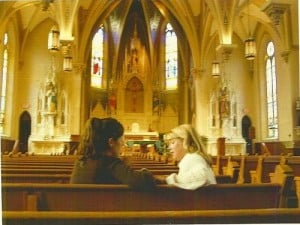 In February I published Love and Salt, a book of letters I wrote with my friend Amy Andrews, and found myself in the uncomfortable position of being expected to talk and write about the subject of friendship.
I've become something of an expert on the topic. I can quote Cicero and Aristotle and Montaigne and Lewis on the subject. I can tell you stories of great friendships in literature, from Ruth and Naomi to Frodo and Samwise. I can even call up statistics that show friendship is on the decline in the digital age and a scientific study that posits women are biologically hardwired to make friends.
But here's my dirty little secret: my knowledge is all academic. The truth is, I'm not a very good friend.  Growing up, my closest and most treasured friend was a long-distance pen pal I only saw a couple of times a year.  Thirty years later, nothing has changed but the pen pal.
I've always liked to be alone, reading, writing, and taking long, Victorian walks. With small children, time alone has become so precious that I usually don't want to sacrifice it. For my birthday and mother's day, I ask for babysitters, not parties. If I want companionship, I write a letter.
When we were preparing to pitch the book to publishers, Amy and I agreed we'd avoid using the word friendship at all costs. We thought it sounded cloying, shallow, sweet, and feminine, whereas we wanted to be the Inklings, smoking our pipes in the pub, grumbling and cursing and talking serious theology.
But we had another, humbler motivation for avoiding the subject. We didn't want to be perceived as presenting our friendship as some kind of model, some shining example that others should want to achieve. Our friendship has never felt like something we did at all, but something that was given to us.  And at any rate, I knew I wasn't an expert or an example.
The trail of my failed friendships leads all the way to the graveyard.
When my best friend and college roommate died, I hadn't spoken to her for eight months. We'd been on the outs before, but this seemed final. She told me in no uncertain terms in our last conversation, on New Year's Day 2008, that if our friendship was going to continue, she was "going to need more" from me. Until that moment, I'd been ready to bury the hatchet. But her words, "I'm going to need more from you," froze my weak little heart.
I had a baby. I was trying to reinvent myself as a stay-at-home mom. My young family had just moved across the country for a job at a rural college in a town where there was no such thing as takeout. I remember dragging my toddler to the Laundromat in a Radio Flyer wagon loaded with her urine-soaked sheets, thinking, "more from me?" and knowing I couldn't give it.
"More from me" meant at least one phone call a week, she said. That's it. One phone call. The words echo in my brain when I can't sleep. We never spoke again.
That August, I got the call I'd dreaded for so many years. Our mutual friend told me what I already knew—that my best friend had passed away. "Passed away?" I yelled into the receiver. How does a thirty-three year-old woman just pass away?
I remembered all the times I'd called her and in response to my casual "how are you?" she'd responded, just as casually, "praying for death." But this wasn't a joke.
That weekend I stood before an urn, the white linen beneath it monogrammed with her initials. She would have loved the monogram, I remember thinking. Our mutual friends—who had all been there with her at the end in the hospital, said goodbye and kissed and hugged her and asked her forgiveness—had put together a slideshow of their years together. I don't think I was in a single picture.
When she was in the hospital her mother asked if they should call me. She'd said no.
How dare I—the woman who abandons friends in need, who is chilled by the idea of someone needing "more"—how dare I speak of friendship? How dare I publish a book with the one friend I've managed to support in her need, and then call myself an expert?
When I started writing letters to Amy, I knew nothing of classic writings or church traditions of friendship, or of the great friendships of saints. I had never been a good friend before, and maybe I haven't been one since.
Nobody could be more shocked than I—not even all the friends I've failed—to find the woman who wrote these letters, who grieved another person's grief and held midnight vigils in the darkness for another person's fear, was me. That the same person who couldn't make a phone call once a week could write a thousand letters and ask to be given another's pain. It seems nothing short of miraculous.
And that's how I know, without a single doubt, that it wasn't me, but something much stronger than me that made it possible.
We hadn't wanted to write an inspirational book about friendship. We never set out to do such a thing, and I still cringe a little bit when someone describes it that way—out of shame for my past and my ongoing sins against friendship, and out of a prideful aspiration to be taken seriously. But the truth is—the book inspires me.
When I pick it up in advance of a reading or a lecture and try to imagine why on earth we thought it was a good idea to publish it, I find myself thinking incredulously, this really happened—this overwhelming experience of God among us—and it happened to me.
There really is an unseen love that tends us through the hands of others, and it works even through fatally flawed, self-centered, and guilt-ridden creatures like me who fail a thousand times. I understand that friendship, far from cloying, shallow, and sweet, is another mystery, another place where God surprises us.
When I think of my lost friend, as I so often do, with sorrow, shame, and regret, I remember a letter Amy wrote in which she wonders about Pope Benedict's theory that all souls—dead or alive—are in a state of apprehension, waiting until the end of time for satisfaction. I imagine both of us, me, in my bed in the darkness, and my friend, wherever she is, anticipating that same great moment of reconciliation.
We are, all of us, beholden to each person we've met and loved or wronged or ignored. We are bound for all eternity by guilt or grace. I fear that I'm bound by guilt to far too many. But "to think that our chance to fulfill our love and theirs is not yet over," Amy writes, "makes me fiercely hopeful."
I pray that she is right.
Jessica Mesman Griffith's writing has appeared in many publications, including Image and Elle, and has been noted in Best American Essays. She is the author, with Amy Andrews, of the memoir Love and Salt, A Spiritual Friendship in Letters. You can read an archive of her Good Letters pieces here. She lives in Virginia with her husband and children.