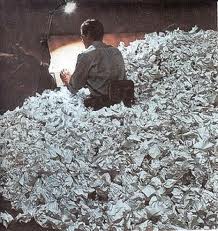 Guest Post
Yesterday, I asked a question that I will now attempt to answer. That question was: Are writers truly alone when they enter their private writing spaces?
My answer is no. Or at least no, they are not alone most of the time.
Who goes with them, you ask? Oh, lots of people.
I will tell you who goes with me:
For starters, in this year as the Milton Fellow, provided with the all but unfathomable luxuries of time and money and space for my writing, most days when I sit down to write, my editor and friend, Greg Wolfe, enters the room with me. Not because he ever actually enters the room or because he's constantly checking up on me. He's been as kind and generous and open-handed with this gift as anyone could be. In fact, Greg is one of the kindest people I know and one of the most universally supportive of my writing, but don't tell him I told you so.
Nevertheless, the Greg In My Head watches me as I write the way my husband's clients watch him polish their marble. He is withholding and dubious about my ability to make good on the extraordinary opportunities he has helped provide me. In short, he is an amalgam of all the disapproving or even potentially disapproving authority figures I've ever known in my life.
On days when Greg In My Head comes to work with me, I may initially approach my writing with a sort of blithe playfulness and joy and willingness to try things, but by the end of the grueling session, I am reduced to agonizing over the most minor writing choices.
"Should I use 'a' or 'the' here? AGH! I'm such a waste of space," and on those days before I was pregnant I would pour myself a nice 3 PM glass of bourbon, change into my pajamas, curl up on my couch, and stream TV shows on Netflix, feeling utterly defeated and unsure of myself, and all but sucking my thumb.
But the Greg In My Head isn't the only one who hangs around my writing room. He's also joined by The Better Writer who happens to be a three-headed Cerberus of several of my friends who are fantastic writers and who aren't as terrified of failure as I am. They more frequently submit work for publication and are thus more frequently published. Like the Greg In My Head, The Better Writer bears no resemblance to my actual friends, who are lovely and self-deprecating and kind.
The Better Writer says things like this, "Oh, you're opening with chronology here? Oh, how terribly original of you. I certainly wouldn't make that choice, but then again, you're not me. What's your next line going to be, lightning brain? Go ahead. Spellbind me."
Greg In My Head and The Better Writer sit around and watch me flailing along with the Professor I had in college who told me my writing was over-rated, and the intellectual friends of mine who scoff at anything that falls short of Cormac McCarthy, and the sweet Christian ladies who helped raise me who will be terribly offended by the indelicacy of my content and word choice.
You get the picture. I am not alone, and the people in the room with me don't make my writing any easier.
Much more experienced writers than I have offered a myriad of suggestions on how to deal with the kind of writer's block that results when people you love and respect morph into phantom versions of themselves and transform your sacred writing haven into an operating theater of the absurd.
Anne Lamott suggests taking all those voices and putting them in a tiny glass jar and closing the lid. My friend Hannah uses a sort of Three Stooges style diversionary tactic, saying to her inner critic, "Hey, what's that over there?" and then writes while the critic is distracted.
I tend to do my best writing when I wake in the middle of the night and all my inner critics decide they're too sleepy to make a fuss and the creative part of my brain is so thrilled that it works like a frantic, escaped convict, believing if it can just crawl one more inch, maybe it can make it past the guard-dogs after all.
But I'm not sure we ever make it all the way past the guard-dogs. Any maybe that's okay. Once we finally get some writing down on paper, the guard-dogs make superior editors.
I certainly think there are better ways to cope with the dogs than to pour yourself some Woodford Reserve and watch four consecutive episodes of Law & Order: SVU that you've already seen.
I think one method of coping may simply be starting with a great deal more respect for the gravity of mining your own history of pain and joy for words that lend adequate weight to them. It helps to remind the circle of inner critics of that as well: "This is hard, it's always going to be a little hard, and that's okay." "So freaking back off already," you may add. It's okay. They'll forgive you later.
I think another method is maybe to imagine either those people or other people you know as more sympathetic listeners, as cheerleaders, people who are willing to hang in there with you as you try to figure this out, people who remind you to have patience and take it slow and not to give up.
Birthing is painful, even under ideal circumstances, but I'm told it helps always to keep in the forefront of your mind the joy for which you are laboring—a beautiful, breathing being endowed with many of your strengths and probably a few of your weaknesses. If we don't abandon our children when they display our weaknesses, maybe we can learn to be similarly forgiving of our lesser creations.
And maybe as we all labor, whether in private or on display, we can remember how to breathe.
Kelly Foster, a former Good Letters blogger, is Image's 2012-2013 Milton Fellow. Kelly is a native Southerner, and graduate of SPU's MFA in Creative Writing program. She has taught writing and literature courses across the country. Her creative nonfiction manuscript is titled Boystown Blues.