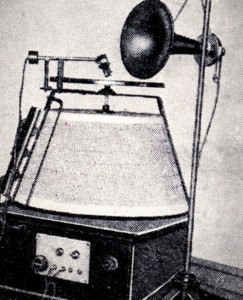 Continued from yesterday.
Chad Thomas Johnston: The website for The Long Play shut down on May 1st. Did you achieve what you hoped to with this project?
Sam Phillips: I did. It was so much fun, and there was instant gratification in knowing that, in a few weeks, I was going to make my work available to people without having to jump through certain hoops usually associated with the release of a record. There was a lot of freedom in that.
I was also so happy that I had as many takers as I did. The site stayed open longer than I thought it would, and it found more friends than I thought it would, too.
I loved making myself write that much music. At the same time, I think doing The Long Play made me long to do something a little bit more involved, and with production that was a little bit more filled out.
With Push Any Button, I got to work on the arrangements, write at my own pace, and take a little more time with things. Now I feel like I want to go back the other way. That back 'n' forth is what makes it fun for me. I don't want to do the same things over and over again.
CTJ: In a recent email you sent to your fans, you explained that you created "250 limited edition, handmade, repurposed art-piece record jackets" for Push Any Button. I have seen some of them on your website since then, and I really like them. You've talked about feeding your own hungry eyes with art, and it seems to me that you're providing a feast for the eyes of others with this project. What can you tell me about this undertaking?
I've been erasing old, orphaned album covers—erasing what's there, and then collaging, sometimes using a few of the leftover elements from the old jacket, and incorporating them into a new cover.
I didn't want to hamstring people to a certain price point, so people can also order the more affordable, official version of Push Any Button that features a mass-produced album cover. But for anybody who wants these crazy covers—these art pieces I've made—I wanted to make those available, too.
CTJ: Seeing some of those homemade album covers on your website reminded me of the days when I bought records without even hearing them just because I liked the covers. That makes me wonder: What records—or maybe what music, more generally speaking—has influenced you throughout the years?
SP: That is an age-old question, and I know I've been curious about other people, like McCartney, or John Lennon or Bob Dylan—what did they grow up listening to? I think that we end up hearing the "cool" answers, and they're either pointing us toward something that's really great, or they want us to think they listen to great music.
But my theory is that it all goes in: even TV commercials. I mean, when I was little, Paul Williams wrote "We've Only Just Begun" for a TV commercial. There was a Randy Newman song that was in a baby powder—or body powder—commercial.
Even the Sherman Brothers, who wrote all the Disney hits of the '60s and '70s—Mary Poppins, The Jungle Book—there's some great melodies in there. I will go out on a limb and say "Like it or not, those went in." Because I watched those movies and I grew up during that time.
There were my parents' 78s—they loved Nat King Cole and Billie Holiday. The first record I remember hearing was a Beatles 45 that had "I Don't Want to Spoil the Party" on one side and "Eight Days a Week" on the other. I don't know how many times I listened to that. I couldn't even work the record player. I was maybe two or three, and my mom and brother had to keep playing it over and over for me.
I didn't hear a lot of country and blues when I was growing up, but when I met T. Bone Burnett, he introduced me to that music, and I loved a lot of that as well. Of course, I discovered Sister Rosetta Tharpe and even wrote a song about her. I thought her music was so beautiful—just a really weird combination of gospel and swing. She played guitar like nobody's business, and in high heels and a skirt!
It's very hard to narrow it down to any one influence. I just have a real sweet tooth when it comes to music. My love of pop music from the sixties kind of worked its way into Push Any Button. I didn't set out to make a record like this artist or that artist though—it's more my impressions of that time from 2013.
CJT: Can you talk about Push Any Button's opening track, "Pretty Time Bomb"? It's one of my favorite songs on the record.
SP: It's sort of me taking a swing at celebrity culture—being a little wary of it. I just wanted to say, "Let's look past television for a while. Maybe there's something out there that's going to make us a lot happier."
I think one of the things that I've felt strongly about is not to preach, but to inspire and offer an alternative instead—to say: "There's something else. Look over here, you might find something else." Because our culture is so success- and money-oriented, and the music business is, too. I think we all know this in a sense, but we're still on the hamster wheel even though money doesn't guarantee abundance or happiness or joy.
I think art reminds us of this. Being inspired by and lost in a song, painting, poem, story, or performance can be one of the richest experiences in life. It's such a release from all the push for us to buy things and to be what we're not.
Push Any Button releases on August 13. Pre-order the album at samphillips.com, and receive an instant download of the album track, "Things I Shouldn't Have Told You."
Read Part 2 of the outtakes from this interview here.
Chad Thomas Johnston is a slayer of word dragons who resides in Lawrence, Kansas, with his wife Rebekah, their daughter Evangeline, and five felines. He is a regular contributor to IMAGE Journal's "Good Letters" blog at Patheos.com. His writings have also appeared in The Baylor Lariat and at CollapseBoard.com, home to ex-Melody Maker critic/Nirvana-biographer Everett True. In May of 2013, eLectio Publishing released Johnston's writing debut, a whimsical memoir titled Nightmarriage.