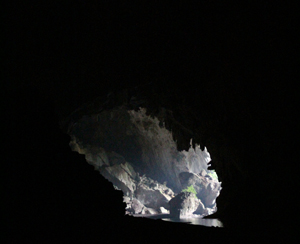 Not long ago a young man announced on a video chat site that he intended to kill himself, and that he would let people watch, if only he could have help setting up the video feed. Someone gladly complied, and so the boy positioned his camera, sat in his chair, and washed down a handful of pills with alcohol. Afterward he set a fire in the corner of his room. Then he crawled into the darkness beneath his bed and waited to die.
Hundreds watched, while others who were being excluded complained that the site's bandwidth was inadequate. Ideas were tossed back and forth in the comments section about how to include everyone who wanted to enjoy the show. One of those who was able to watch griped about the smoke. He couldn't see the boy dying. He logged on to watch a boy die, and the stupid smoke was getting in the way.
The animals in Bethlehem were sheltered in caves, and so when Mary and Joseph found no room at the inn, it was into a cave that they went. A cave that prefigured the tomb which the Christ was born to enter, from which he was destined to emerge. A cave that symbolizes the darkened heart of man.
When I read about the boy hiding under his bed, first inviting the world he knew to watch him die, then hiding from it in that darkened place, I thought about the cave where a savior was born. I thought as well about the cave within my own heart, the cave crafted to be filled just as surely as a bucket or a cup or an upturned palm awaits what may fill it.
We all bear this waiting space, and it will be filled, it will be filled. The emptied and darkened places of creation are invitations, and who knows what may enter them, what crawls or slithers into them in the nighttime of the soul, from depth to depth, from dark to dark?
Who knows as well what this boy carried in his heart, what weighted it down, what made his life a dreadful burden to be sloughed off? Absence can be the weightiest of all the heart's burdens. The cave is in us but we are also in it, as anyone who has ever suffered from deep despair can attest. The hole within threatens to swallow you up.
This is the season when many Christians anticipate and prepare, through fasting, and prayer, and alms-giving. We anticipate God becoming man, that we might draw near to God. We prepare our hearts, that he may dwell there.
I wonder sometimes how he will find room, what with all I've taken into my heart. All the falsities, all the vanities, all the darkened things that lurk there still. How might I prepare a place for him, that I might not be as the innkeeper, saying I am sorry, but we are full, we are full, we are overflowing with sleepers and merry-makers and we all of us await the grave in our darkened rooms. We have no need of your light because the darkness has gathered and we sleep contentedly within it.
Indeed, how is there any room for Christ at all in this world, where children eagerly gather to watch other children die? It is no place for children or kings, but still he comes, he comes, he comes into the cave because the only thing that can drive away the heart's darkness is the light that has dispelled it from the beginning. And so he comes, for the same reason you and I, seeing one of our own children tucked and dying in darkened hole, would go to be with them there.
The onlookers gathered round the site of this boy's intended demise as animals to a carcass. There are times when the darkness is hungering and close-drawn about us all, and any one of us may be tempted to crawl beneath his bed, to hide from the darkness in deeper darkness. Who will come to the boy in his cave of exile? Who will come to you, to me, to bring light to the darkness that both fills and consumes us?
During Advent, we prepare to be illuminated, whether we dwell in darkness or in what is passing light. In this we are as the shepherds in their star-fired fields. We await the presence some of us may only know by his absence. We wait for the cave of the heart to be filled with glory. We clean it out as best we can, and we wait for he who comes across the ages bearing light.
The boy was rescued by firefighters, and perhaps even now the darkened place within him receives light. Perhaps even now, the people who gather round him bring life rather than predation.
There is a cave within my heart. It is a cradle and it is a candle. My prayer is that whatever light it receives will not go to waste, for what good is light, in this darkened world, if we will not share it? The cave of the heart is crafted to bear light, that all may be borne out of darkness. May that light find you in its season, and may you, in turn, bring it to those who need it most.
Tony Woodlief lives outside Wichita, Kansas, and is the author of a spiritual memoir, Somewhere More Holy. His essays on faith and parenting have appeared in The Wall Street Journal, The London Times, and WORLD Magazine. His short stories, two of which have been nominated for Pushcart prizes, have been published in Image and Ruminate. His website iswww.tonywoodlief.com.