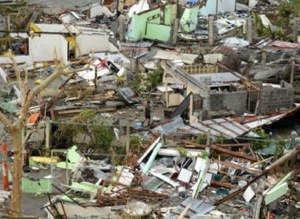 I once watched a boy steal all my Christmas presents. I lay on my stomach and stared through a sweaty blur as he grabbed my box-full of gifts and scampered into the woods. I did not chase him; propped on one elbow staring as he ran, I did not even rise from my stomach. The presents were gone.
When Saddam Hussein invaded Kuwait on August 2, 1990, I was camped out with my Marine unit in the woods at Cheat Lake, West Virginia, where we were setting 300 pounds of C-4 to blow a bridge. Four months later, I was camped off Green Beach, near Subic Bay, Philippines, training for desert warfare in the dense jungle—by Marine Corps logic it makes sense—on our way to Iraq.
Those woods were full of locals. We humped past homes whose walls were built from our own garbage—heavy cardboard MRE boxes, hammered-flat gas and water cans, cinderblocks, a battered hummer door with the window glass intact.
One day as we were making our way with packs and rifles along a trail, a barefoot girl came the other way with a fruit bat the size of a small housecat slung over her shoulder. She smiled at me as we passed.
"She's taking that bat home for dinner," our gunnery sergeant told us. He'd been here before a number of times. He'd served in Vietnam.
"They have to eat bats?" a marine asked.
"They eat better than we do," the gunny said. "They have fruit trees everywhere."
Where we stopped and set up camp, locals immediately emerged from the surrounding jungle, carrying bottles of booze, candy bars, knives, whatever they could sell. One marine said he wanted a cold Coke, and a man ran off into the woods and came back a few minutes later carrying one. He traded it to the Marine for two MREs.
Another Marine sneaked out into the woods with a hooker one night, and upon his return caught hell because, "These woods are crawling with communist rebels." Gunny told us they were watching our every move. This was before the collapse of the Soviet Union—not long before, but before. We were only at the very beginning of our transition from the Cold War, to the War on Terror; our boogeyman was still Ivan the evil Russian, not yet Achmed the evil Arab.
This was my first experience of another culture. I was astonished by how little they had, by how resourceful they were—they scrambled and bartered and wheedled what they could get out of us, who had precious little according to standards back home—in their daily struggle to get by.
I spent Christmas of 1990 in that jungle. On Christmas Eve, a helicopter dropped off mail. In it was a box for me with peanut brittle, cookies, beef jerky, letters from home, pictures, a stack of magazines, and a plastic Christmas tree about as tall as an ink pen.
On Christmas Day, we humped to a range, staged our gear, and set two Lance Corporals to walking fire watch while we sighted in our rifles. That is where I was when I heard someone shout at the fire watch, who were both standing watching us instead of the gear. Two boys ran out and grabbed what they could and scrambled back into the dense foliage.
I've thought about that kid occasionally over the years, wondered about him. I've wondered about the barefoot girl with the big bright smile, fruit bat slung over her shoulder. After Mount Pinatubo erupted the next year, 1991, the U.S. closed the base at Subic Bay. All the American goods and money to the region dried up. What did they do after that? What kind of lives have they had?
I thought of them most recently when I heard about typhoon Haiyan hitting the Philippines with such force. There's no way for me to know. I did hear the staggering number of casualties though, and saw the destruction.
Just a couple of days before the typhoon, our family had gone to the dollar theater to see the movie Elysium. It wasn't a great movie, but the premise had potential. It wasn't trying to do anything new. One of the very first science fiction movies ever made, Fritz Lang's Metropolis, was about class struggle. Elysium is a human-made utopia where the wealthy live, and the unwashed poor languish on earth without access to proper nutrition and healthcare. Some are desperate enough to risk death to get to this land of prosperity.
In my composition classes this semester, we read Ursula Le Guin's Hugo Award winning short story "The Ones Who Walk Away from Omelas." It is a parable of a utopia that can only maintain its peaceful perfection by keeping a single child in misery. Most of the children are disturbed when they learn of the child, but most eventually learn to live with it. What can they do?
Watching Elysium, I noticed that when the poor manage to get past the border patrol into this paradise, there are no regular people. A scattered few here and there, but for the most part, civilian residents of Elysium are absent. The poor break into houses to get medical treatment for themselves and their loved ones. No one is ever home. Not one anywhere. Where are the residents of Elysium?
Then I realized. These people are so well off that they have palatial homes full of every imaginable kind of entertainment, which they abandon out of boredom to take their leisure somewhere else. They are out at the movies eating Twizzlers and popcorn.
Vic Sizemore earned his MFA in fiction from Seattle Pacific University in 2009. His fiction and nonfiction are published or forthcoming in Story Quarterly, Southern Humanities Review, PANK Magazine, Pembroke, Saint Katherine Review, Rock & Sling and elsewhere. An excerpt from his novel The Calling was a finalist for the Sherwood Anderson Award; other excerpts from The Calling are published in Portland Review and are forthcoming serially in Connecticut Review. His short story "Hush Little Baby" won the 28th New Millennium Writings Award for Fiction. Sizemore teaches at Central Virginia Community College.