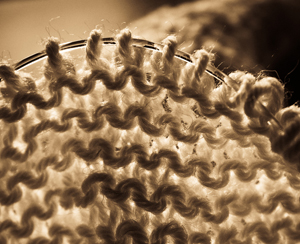 A few years ago, I learned about a church—an Evangelical Free Church—that holds an annual evening service called Blue Christmas on December 21, the longest night of the year. It's a service welcoming all who feel "blue" at Christmas-time, whether because of a personal loss or illness or addiction or any other sorrow. Anyone present at the service who requests prayers is wrapped in one of the shawls that the church's prayer shawl group has been knitting all year. The shawl is theirs to keep, a constant reminder of God's enfolding and healing love.
As soon as I heard about this service, I wanted to go. At the time, I was writing a book that became Knit One, Purl a Prayer: A Spirituality of Knitting, which includes discussion of the prayer shawl ministries that have sprung up at churches of all denominations around the country. The specifics of prayer shawl ministries differ, but in general knitters from the church gather regularly to knit shawls to give to people who are suffering in some way. The shawl, knit with prayer, is meant to wrap the recipient in God's love.
I thought that describing the Blue Christmas service would be a great way to end my book. So I contacted the church's prayer shawl coordinator, Debbie, who warmly invited me to attend.
But by the time December 21 arrived, I was dreading going to the evening's Blue Christmas service—because I was feeling particularly fragile at that time. I'd started some chemo, which had wrecked my sleep for weeks. A zombie, I got rattled by every little thing. So I definitely didn't feel up to a Big Thing like an entirely unknown form of worship. I'm a Catholic, and I'd never experienced Evangelical worship. Sleep deprived exhaustion had drained me of all my usual adventurousness.
Yet I had to go. Debbie was expecting me…and I did still want to write about this worship service for my book.
So I went out into the darkest night of the year, notebook in hand. I entered the gathering congregation and sat at the end of a row of chairs near the door, so that I could slip out if I got too tired or overwhelmed.
The rows of chairs were arranged in an arc around a microphone and a round table of candles. Some were lit; others were dark. Completing the arc's circle was a group of four young-adult musicians. The one at the keyboard, Debbie's daughter Chelsea, turned out to be the worship leader for the evening. After singing opening songs about life's burdens and God's healing love, she invited those present to come to the mike, tell why they were there, and light a candle symbolizing God's light shining in our darkness.
Gradually, people came forward. Most lit a candle for a friend or relative who had just lost a spouse or been diagnosed with a serious illness. A few told their own stories, their own needs.
Feeling desperately needy myself, I unexpectedly found myself walking to the microphone.
A quiver in my voice, I spoke about the leukemia I'd been diagnosed with several years before, about how the unlit candles on the table symbolized for me the dark and scared places inside me that didn't wholly trust that God would see me through this illness. I lit a candle in prayer that I might more fully trust in the light of God's love. Then I walked back to my seat.
After more music, interlaced with spontaneous Scripture quotes that wowed me (Catholics just don't quote Scripture off the top like that), Chelsea said that members of the congregation were available to come join anyone who needed special prayers. "You will be given a hand-knit shawl, and as you are wrapped in the shawl, be wrapped in love and be blessed," she said. Several hands went up, people carrying shawls quietly approached them, and small groups of prayer fluidly formed.
Happily resting in the prayer-filled quiet, I didn't raise my hand. Yet a young couple sitting a few empty seats away from me slid closer and asked if I'd like them to pray for me. I nodded a grateful yes. Sitting on either side of me, they each took one of my hands. The young man spoke a long and beautiful spontaneous prayer for our deep trust that our lives are in God's embrace and for my peace during the course of the leukemia. Then his wife got up, went to the table of shawls, and brought one to me.
So I went home that evening gifted with a prayer shawl.
The next week I asked Debbie about this young couple. "They're recently married," she said, "and he has just been deployed to Afghanistan. It's a hard time for them."
Every night since the Blue Christmas service, when I get into bed, I wrap myself in the shawl. I pray aloud:
"Wrapped in your love, oh God, knit into this shawl, I ask you to bless the knitter of this shawl, bless Debbie and Chelsea, bless the young woman who gave me this shawl. Keep her husband safe. May I live his prayer to trust in you."
Then I offer thanksgiving for all the people whose lives have blessed mine that day.
Now I live across the country from Debbie's church. But each December 21, I pray for all those gathered at the Blue Christmas service, and for everyone who feels blue in the holiday season.
Peggy Rosenthal is director of Poetry Retreats and writes widely on poetry as a spiritual resource. Her books include Praying through Poetry: Hope for Violent Times(Franciscan Media), and The Poets' Jesus (Oxford). See Amazon for full list. She also teaches an online course, "Poetry as a Spiritual Practice," through Image's Glen Online program.