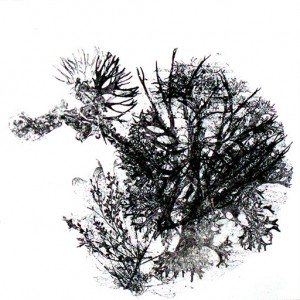 Guest post by Ann Conway
I dread my annual hearing tests, which involve sitting in a grey padded booth. High tones I hear well through the headphones. Low tones seem like sonar, the faint song of far-away sea creatures. I want to hear, want to will it, so I lean forward intently. When I hear, I raise my hand for the audiologist, who watches through a window.
Sometimes I guess. I want to do better, pass the test. I am afraid of the long pauses when I can make out nothing, when I cannot raise my hand.
My hearing loss is genetic, passed down on my mother's side; my sister and cousins also wear hearing aids now. But when, twenty years ago, I received a diagnosis of low-tone hearing impairment, I did not think of my mother. I thought of my long-dead brother, Terry.
The gritty Providence, Rhode Island neighborhood of our childhood was noisy. But there was little music, except on Sundays, when Terry sang in the boys' choir of Blessed Sacrament Church. With its exquisite stained-glass windows and perfect acoustics, Blessed Sacrament was the most beautiful thing in our lives.
Of those long-ago Masses, I particularly recall the moments before the "Agnus Dei"­—the pause that often accompanies music, the congregation's expectation broken by the piercing, unearthly notes of the boys' choir. I knew then that silence and music were allied.
After the choir years, there was little loveliness in my brother's life. Terry was diagnosed as a paranoid schizophrenic at sixteen. He spent his remaining years in and out of the state mental hospital.
Thereafter there was no music for Terry. In the D ward of the Adolph Meyer building, there were screams and shouts or the whispers and sighs of the overmedicated. Then the deinstitutionalization movement began; after Terry came home, the bass tones of Blood Sweat and Tears boomed through our house, echoing the song, "The Child is Father to the Man" and keeping me awake.
It was in those years that I resolved to be perfect, to live without impairment, which to me meant being a victim.
I was teaching college students when I got the diagnosis. I had had trouble hearing the kids in the back rows.
"You've lost twenty-five percent of your hearing," the doctor said flatly. I cried all the way home. I thought of my mother, who was almost totally deaf in her fifties and bullied at work. I thought of Terry's affliction, his drugged stupor. Of the empty silence of his death—"beyond silence listened for," as poet Seamus Heaney once wrote in an elegy for his mother.
My hearing loss seemed all impairment—physical and social. Flannery O'Connor noted that "illness is a country where no one can follow," and so it appeared in my early journey. My life seemed marked by petty humiliations—impatient clerks, colleagues who spoke of me in the third person, as they had my proud, intelligent mother.
After ten years of struggle, I finally got hearing aids, which were and are an enormous help, but require patience and adjustment. I learned to speak up for myself and ask for help and/or clarification. I discovered that people are usually kind, but they know little about hearing impairment and need education. Once I accepted myself and conducted interactions in a manner based on the person I was now, rather than the person I used to be, I could hear the music of strangers.
I gradually learned about silence as well as sound. I was once petrified of the silence and stillness of hearing impairment. As noise proliferated in every aspect of our culture, I began to wonder why quiet terrified us. I suspected that this uneasiness was part of the stigma of deafness.
Today I have come to think that this is society's problem, not mine. Having no other choice, I have entered into my fear of silence. Recently I finished writer Sara Maitland's 2008 work, The Book of Silence, which explores silence's cultural and historical significance and its relation to spirituality, the arts and psychology.
The connection to music is central. Maitland notes Anthony Starr's characterization of music as "intelligible but not translatable," bringing speechlessness at the end of a stunning performance. Even in our cynical age, I think this is the silent attendant to beauty, the ineffable.
My deepest fear of deafness was imprisonment in the self. And hearing loss has changed my life; I avoid loud groups, some restaurants. But music has become more and more precious. Silence has also brought back my lost brother, my deaf mother.
Today, of course, I'd like to hear perfectly; who knows what may occur through the research advances of our time? But partial deafness, like any brokenness, now seems like part of the human condition. As I have shared my struggles, I have grown closer to people. The erosion of my hearing—one version of the inevitable changes of every life journey—has made me tender.
For me, a surprising aspect of deafness has been its "interior music."  When I remove my hearing aids at bedtime and sit quietly, it often seems that I hear something, a two-toned hum. It is not the sound of my quiet house or the animals whose tracks I find in morning snow. Is it my own blood and breath? I do not know.
I was recently shocked to read that composer John Cage posited that there was no real silence. Cage thought that music was limitless, lasting after death. The Book of Silence notes the "music of the spheres," the low hum of the universe.
Whatever it is, I hear something.
A former regular contributor to "Good Letters," Ann Conway is a sociologist and writer. She has published in Maine Times, Commonweal, Maine Arts Magazine, Faith and Leadership and other venues. Her essay, "The Rosary," originally published in Image, was placed on the notable list of Best Spiritual Writing 2011. Ann's writing can be found at her blog and web site.