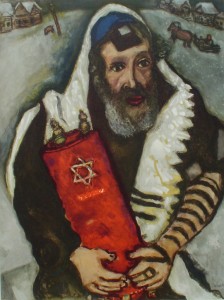 We're searching for a rabbi.
We're looking at the red tag rack at SteinMart, we're pondering the pumpkin bagels—it's the season!—and grumbling about the uniformity of American bagels—give me a Vilna bagel, misshapen and seasoned with salt and ash.
We've got a moment between a root canal and a routine cleaning to call, iPhone-to-iPhone, a cousin who has a cousin who knows a cousin of a promising young rabbi frozen in Butte, and we're asking each other, when, at Trader Joe's, we bump into each other (members of the tribe): Who is your favorite patriarch? What's your least favorite intermarriage, Jew and Southern Baptist, Jew and Peruvian Catholic, Jew and Palestinian Muslim? We need to know, we need to be on the same scroll when we interview Rabbi Kevorkian who knows two things about the terminally ill, and Rabbi Rodman who we hear is looking to make a move, and Rabbi Herman, wee pisher of a rabbi, who might attract families with young children and repentant pedophiles (more welcoming of raucous children in the sanctuary than many of us) to the congregation.
This is our fifth search since I joined this shul late in the twentieth century. We're getting good at this.
We drive down to Bee Tree Reservoir. See! The earth provides, earth and heaven provide, with a little tending by women and men—elected, appointed—earth and heaven and those who live among us provide so we can open the spigot and fill our bottle and tilt our head back and tip, without worrying, the bottle to our lips and quench our thirst with a mountain blessing. Let the clouds form, let the sky darken, let rabbis fill our rivers and flood our streets, and let us laugh as we run naked in a Western North Carolina rain of rabbis!
We climb to the peak of Pisgah from where we can see every itinerant rabbi in the South who might be enticed to replace his wandering with pacing on the dim bimah of a modest sanctuary in Buncombe County, tossing, as he paces, Torah to congregants alert and sedate in the pews.
We climb, we drive, we search, we believe.
And we pray. Between the barukh she'amar (blessed is the one who spoke), and the shema (listen up, stiff-necked crew, God is God is our God), we furtively text between our legs, ki m'reglayim teitzei Torah, for from between the legs comes Torah. We're searching for a rabbi who can teach us Torah of the head and heart and, before they atrophy, the lower regions, too.
And we sweat the elliptical sweat of no rabbi, and we sing the single malt lullaby of no rabbi, and we fret over the birth of a girl to a couple with no rabbi, and rabbi or no rabbi, we curse the anti-Semites and white supremacists who boast from their enclaves of their arms and aim.
It's a year into our search, for crying out loud, and we're crying out loud, we're looking at each other across the buffet table as we spoon egg salad onto our Sabbath plates, needing to know: Are you our rabbi? Are you our rabbi? Are you the one standing in the way of our finding our next rabbi?
Our next rabbi. He'll protect Israel from her detractors; she'll enforce the laws of kashrut in the synagogue kitchen, making it safe for every Jewish fly to feast on crumbs of the simkha (celebration) after the guests have gone; she or he will erase the memory of the rabbis who came before and put congregant X in his place with the true Torah.
But every rabbi who applies has failed to hold fast to Torah or fallen from the ark and stood up and carried on, without fasting, mumbling the prayers, the prayers, the prayers.
Hooray! We've found our rabbi! He's here, and he's adored by young and old, hasid and cynic alike. Thank God. Thank God. Thank God.
Thank God for the rest from our search, because before this hour, this hour of our new rabbi's installation, has passed, it may stir again, undetected at first, the ancient longing for a rabbi. Who will be the first among us to say to him: Get out of the way, I'm looking for my rabbi?
But that's what your rabbi is—your rabbi, my rabbi, anybody's rabbi: a getting-in-the-way-of. Getting-in- the-way-of a wayward impulse, a stubborn belief.
I wanna do it my way, I say, but you, dear rabbi, are in my way. Alright, then, if there is no other way this will be the way. I'll walk with you, you'll walk with me. We'll make Torah along the way. We'll make Torah the way.
Richard Chess is the author of three books of poetry, Tekiah, Chair in the Desert, and Third Temple. Poems of his have appeared in Telling and Remembering: A Century of American Jewish Poetry, Bearing the Mystery: Twenty Years of IMAGE, and Best Spiritual Writing 2005. He is the Roy Carroll Professor of Honors Arts and Sciences at the University of North Carolina at Asheville. He is also the director of UNC Asheville's Center for Jewish Studies.
Image Used: Marc Chagall, Rabbi With Torah, 1965 gouache and watercolor, 29×21″, Stedelijk Museum, Amsterdam