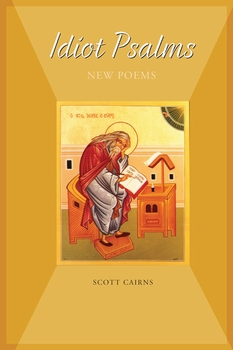 Guest Post
By Angela Doll Carlson
W.H. Auden has said, "A poet is, before anything else, a person who is passionately in love with language." Nowhere is this more evident than in the work of Scott Cairns. Whether they are the words from his poem, "Loves":
I have kissed
his feet. I have looked long
into the trouble of his face
Or those he's translated and adapted from the writings of the early saints in Endless Life:
The soul that looks
finally to God, conceives
a new mouth-watering
desire for His eternal beauty
Cairns's work is at once embodied and ethereal, finding its roots in the ancient soil of rich language and reaching its branches into the lives of the common man. His poems greet the reader with a familiarity that allows the poet to draw us ever nearer so that at any moment he might whisper one great truth into the ear.
Beginning with Theology of Doubt in 1985, Scott Cairns has published a strong body of work, including stunning volumes of poetry such as Recovered Body, Compass of Affection, and Endless Life: Poems of the Mystics as well as his memoir, Short Trip to the Edge, a work that provides gracious insight into the poet's journey into Eastern Orthodoxy.
If poetry, as Edgar Allen Poe suggests, "is the rhythmical creation of beauty in words" then Scott Cairns's work makes this manifest.
His latest book of poetry, Idiot Psalms from Paraclete Press drops effortlessly into that empty spot in the modern literary landscape that seems to have been waiting for its next taste of beauty. I'm honored to have had the opportunity to interview Cairns in the wake of its release.
Angela Doll Carlson: I ran across this quote from William Ernest Henley recently: "Essayists, like poets, are born and not made, and for one worth remembering, the world is confronted with a hundred not worth reading." Would you agree that poets are born, not made?
Scott Cairns: I don't really have a strong opinion about this, save my strong opinion that—regardless of how poets and essayists come to be—the issue of their being worth reading has far more to do with their manifesting the hard work of having read widely and well than it has to do with any genetic disposition. In my experience, the literary artist is first of all a reader. I'm talking about the necessary work of engaging the conversation before one presumes to enter it.
ADC: Not long ago my thirteen-year-old son asked why I'd buy a "whole book of poetry" when it was just one poem that caught my attention and it seemed to me that in this iTunes-kind of art-getting environment, that has to feel daunting to the publishing poet. Have you encountered this?
SC: Your son is not alone, nor is this an especially new phenomenon brought about by iTunes only. Even when I was in high school and college, most literary study of poetry focused upon single poems or those small samplings found in poetry anthologies, as opposed to poetry collections. This, of course, does not introduce a young reader to the primary artifact of poetry, which is the slim volume, the poet's carefully constructed collection of poems.
Parents and guardians, then, need to help the young reader become acquainted with the actual artifacts of a given discipline. And it's important that readers experience the larger context within which a discrete poem performs its work. Ideally, that young reader will stick with it long enough to see how even the single poetry collection is in conversation with that poet's other collections, and also how that poet's entire work is in conversation with the larger bodies of American, English, and international poetries.
ADC: You've been teasing out these Idiot Psalms, tucking them into readings here and there. It feels as though it took a long time for this collection to surface in book form? Is that right or is it just my own impatience at work?
SC: You're right. Since 1985, I've put out a new collection every four or five years. This new book follows Compass of Affection, which came out in late 2006, which means Idiot Psalms has been nearly eight years in the making. Also since 2006, however, I've been working on other projects, the memoir, essays, a theological book, and a scattering of translations. To some extent, then, the poems took a back seat to the other projects for good spans of time during those eight years.
ADC: As I read through Idiot Psalms I'm tempted to say after every poem, "No, now…this is my favorite." It feels more eclectic than your other books and yet beautifully cohesive at the same time. What is it about this collection?
SC: Well, as we've already noted, it was a long time in coming, and I pored over its shape during that longish time. I have a good dozen or so poems that didn't fit in, so I didn't force them in. I, too, like the arc of the collection, worked hard to make it seem right.
ADC: Along those lines, would you say Idiot Psalms themselves are the unifying presence here?
SC: I'd say that they help sustain a sense of coherence, but a good many tropes, gestures, even turns of phrase recurring in the other poems also serve to connect the dots.
ADC: And finally, why the title Idiot Psalms?
SC: Well, for starters, I like the title. Tonally, it captures a nice blend that feels right to me. Idiocy, of course, is a gesture regarding someone who is cut off from others, for good or ill; moreover, the Holy Fool is someone who is so engaged with the progress of others that he sacrifices his own well being, his own self-regard. I suppose I think of myself as something of an idiot hoping to become something of a fool, and a holy one at that.
Also, many poems in the collection are influenced formally by the Biblical Psalms, and others are influenced by similar contemplative disciplines. In any case, this idiot decided to call this particular book—a mix of lamentations and poems of praise—Idiot Psalms. And there you have it.
Angela Doll Carlson is a poet and essayist whose work has appeared most recently in the Burnside Writer's Collective, St. Katherine Review, Ruminate Magazine blog and Art House America. Her first book, Nearly Orthodox: On Being a Modern Woman in an Ancient Tradition is due from Ancient Faith Press in July. Angela lives in Chicago with her husband and four outrageously spirited yet remarkably likable children.