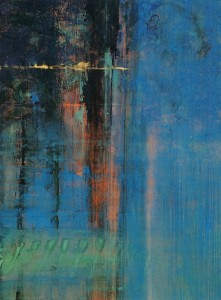 To celebrate Image's twenty-fifth anniversary, we are posting a series of essays from people who have encountered our programs over the years. Today's post is the first.
I had been living a double life.
Two nights a week, I attended a large evangelical church, where I prayed, sang, and gave my money and time. I led a small group where we spoke fiercely of our spiritual struggles, relationships, careers, and painful pasts.
At the same time, while riding the train downtown to my publishing job every morning, I wrote poems. My notebooks revealed another flavor of faith and struggle, prayer wrought with image and metaphor.
Both of these lives manifested the "real" me, and one was not more valuable than the other. But sustaining two identities with equal passion cannot last long. I'd lived that way through most of college and grad school, and now it was 1999, the thick of adulthood.  Could I bring my two lives together? Could I experience the fullness of millennial joy Prince had promised years ago?
One afternoon at a local Barnes & Noble, I wandered to the newsstand and spotted a new acquisition: Image: A Journal of Arts and Religion. The cover image, Sacrificial Grace by Makoto Fujimura, gripped me with its decided lack of grip. This abstract, color-streaked waterfall "counted" as religious art? I wanted to enter it with my arms open, allow it to drench me with its mystery.
I immediately read the introduction by one Gregory Wolfe. Apparently, this journal I had never heard of was celebrating its tenth anniversary.
"The paradox lies in this," he wrote. "We can experience presence—one could just as easily say grace—when art approximates the leap of faith, when it dares to place us directly inside an act of discovery. The risk of imagination, like the risk of faith, instills fear in those who believe we can only be saved by rational propositions. But the paradoxical truth is that unless we learn how to live in that risk-taking leap of faith, we will lose touch with the meaning of those propositions."
His words (who was this guy?) mirrored what I believed and had been unable to explain: that my writing was an act of faith, that imagination itself was belief. For all their earnestness, most Christian publishers did not welcome imagination's uncertainty—its messy, dripping Fujimuran shades. But I didn't write my poems in spite of my faith. I wrote them as an expression of it.
And the poems in this Image! They conversed with biblical themes without theological agendas or superficial emotion, like these lines from Morri Creech's "Parable of the Trees":
Walking beneath the abundant leaves,
Christ felt the seed of hunger
take root in his body.
And as he reached among the branches
his dry lips parted
and the waters stirred in his mouth
for the nectar of figs,
and he knew at once
how the supple spirit
submits to human longing…
In his essay "River Grace" in that issue, Fujimura tells of his conversion— without words like "asking Jesus into my heart." There is nothing inherently wrong with that phrasing, but it had begun to lose meaning for me. But here, I read about someone fighting Christ until, through a Blake poem, "I found myself responding to Christ and his message. Quietly, and quite unexpectedly, my allegiance shifted from art to Christ. It took me a year to realize that what had happened that day was a conversion experience."
No altar call? No sinner's prayer? There was room for this kind of conversion?
I was young and naïve. So I emailed Greg Wolfe as if he weren't a scholar and author running a top literary journal:
"So I can be a faithful person who takes art seriously? I'm not the only one out there?"
Yes, he assured me. There are many of you.
"But what if my church doesn't get the kind of writing I do?"
Then make like Jesus and flip over the Zondervan display in the church bookstore/café.
Actually, I don't remember exactly what Greg said, but we corresponded for some time, and as a result, I no longer felt so alone. My community of artists of faith began to form.
Without question, evangelicalism is known for keeping lockstep with "rational (or sometimes not-so-rational) propositions," distrusting mystery, and dismissing the arts unless they serve a utilitarian purpose of drawing people to a service. Kinkade's certain, sentimental lines usually win out over Fujimura's fog.
But I have little patience for the baby-and-bath-water throwing that dismisses evangelicalism wholesale because of these weaknesses. I have stuck with my church (albeit in my own oddball way) because of its strengths of vision, community outreach, expressive worship, and, in the case of most churches I've attended, commitment to helping the widows, orphans, and immigrants among us.
As difficult as it can be to effect change, I believe in influencing others as long as one has the emotional health to do so. Yes, sometimes you need to go elsewhere to thrive. But sometimes you can breathe hope into others who have been thinking like you all along.
After discovering Image, I started a poetry group at my church. We shared work with one another and gave readings at gallery showings. My pastor has invited me to read poems at services and discuss my work on his radio show. Church friends have come to readings and discovered they enjoy poetry, even when it employs spiritual doubt, graphic content, and colorful language. I've discovered that often I'm the one not giving others a chance.
And while I'm realistic enough to know that today's typical evangelical fundraising campaign isn't going to earmark a literary center, we are widening our circles of possibility with every new generation of believers.
Without nurturing communities like Image, I would have continued to live a divided life. Now I know there is a vibrant group that "gets me" no matter what happens within the church doors. Happy twenty-fifth anniversary, Image. Let's party like it's 2014.
Tania Runyan is the author of the poetry collections Second Sky (Cascade Poiema Series), A Thousand Vessels, Simple Weight, and Delicious Air, which was awarded Book of the Year by the Conference on Christianity and Literature in 2007. Her book How to Read a Poem, an instructional guide based on Billy Collins's "Introduction to Poetry," was recently released by T.S. Poetry Press. Her poems have appeared in many publications, including Poetry, Image, Books & Culture, Harvard Divinity Bulletin, The Christian Century, Atlanta Review, Indiana Review, and the anthology In a Fine Frenzy: Poets Respond to Shakespeare. Tania was awarded an NEA Literature Fellowship in 2011. She tutors high school students and edits for Every Day Poems and Relief.
Image used: Makoto Fujimura. Sacrificial Grace, 1997. Mineral pigment on paper. 90 x 66 inches.