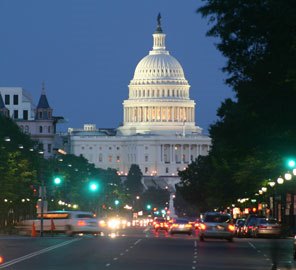 1.
My children attend a school that sits in rented space in the middle of Historic Rock Creek Cemetery, high upon a hill on the edge of the Petworth neighborhood in Washington, D.C. Although the school itself is an independent Catholic Montessori school, the three-hundred year old cemetery—one of the nation's oldest—is firmly steered by its overseeing Episcopal congregation whose church sits at its center, in the manner in which Anglican institutions once exerted a patrician mastery over a burgeoning republic.
The living Episcopal congregation is nearly as ghostly as the far larger one that ranges over the vivid green grounds. But though lesser known than some of Washington, D.C.'s other historic cemeteries, the silent fields of Rock Creek are lined and numbered with stones and elaborate mausolea with the same names that are found on street signs and law firms all over town. A fair number of the formerly prominent include departed journalists.
One morning during drop-off, I see that the gravestone for the African-American newspaper columnist William Raspberry has toppled to its side. I had forgotten all about him and made a mental note to look up his obituary. He was born in Okolona, Mississippi, I read. And from The Washington Post's obituary:
Mr. Raspberry stood slightly apart from the civil rights movement of the 1960s, which he viewed not as a participant but from the detached perspective of a reporter. Because his views did not always conform to his readers' expectations, he received pointed criticism from the right and the left.
Then the whole incident seems like a coded message, just for me, a kind of benediction. I silently give a little blessing for his life.
The next time I drive through the cemetery grounds, I see that the stone has been moved carefully back into place.
2.
Skip to the west a few miles, to a more posh part of the city. On Massachusetts Avenue, right across the street from the U.S. Naval Observatory and the Victorian mansion that is the Vice President's residence—where after the Supreme Court election decision, a crowd massed day and night chanting for Al Gore to "Get out of Cheney's house!"—a lone man has stood on the sidewalk with his eyes trained on oncoming traffic just about every day since I moved to the city sixteen years ago.
He is standing in front of the Vatican Embassy, and years before the clergy sex abuse crisis broke into the national imagination, he has held signs with such messages as, "Vatican Protects Pedophiles," and "Rot from the Top."
Back in the day, say 1998 or 1999, he seemed to be a figure of some amusement to me and my friends. Although we never seriously doubted that he was telling the truth—and that truth, of course, ended up being larger and more horrifying than we could have ever imagined—to man a lone protest against a giant multinational institution by holding handmade poster-board signs seemed inherently ridiculous.
I do not, however, feel that way any longer. Around the time my family moved from Virginia to Prince George's County, Maryland, in 2005, I learned that Pedophile Guy, as I came to think of him, was an Eastern European immigrant (Croatian?) who actually lived in a neighborhood not too far from my own, a former along-the-railroad-tracks kind of community of 1920s bungalows that these days are mostly filled with Salvadoran and Mexican immigrants, peppered here and there with what I think of as The White People That Time Forgot.
Every day, Pedophile Guy loads his block-lettered signs and takes the Metrobus on a route that could be driven in mere minutes but by bus must take hours. His faithfulness to his vocation makes me think, paradoxically, that he has retained more of his Catholicism than he probably imagines. He shows up and does his work each day, and in his immobility and constancy—he is bearing the same message he bore in 1999, and seems neither swayed nor inspired by the larger protest movement of which he was a bellwether—he seems like one of those saints who lived for decades atop pillars in the center of town, witness to transformation.
I say this as someone who, still and for all, remains within the sphere of traditional Christianity, who has not seen the sin within institutions as any reason to abandon them: His is necessary work. May it be blessed.
3.
I don't watch much television, but I gather that steamy, hyperbolic programs about Washington, D.C. are ever present at the moment. Thick with plot-lines involving extramarital affairs and national security, the threat of some kind of apocalypse seems to be looming around every corner. Never mind the fact that, of the lobbyists and Hill people I actually know, the women are all concerned about school fundraising auctions, whether public or private. And the guys just want to watch sports and sleep.
4.
Word got out there was a naked guy walking around my neighborhood in the middle of the day. Apparently he had managed to escape from the psych ward of the giant public hospital that looms on the hill over the neighborhood, and had run into this suburban neighborhood of slightly crumbling brick Colonials.
Naked Guy was tracked via random sightings, Facebook postings, and quick messages relayed via the network of police radios that many of my neighbors have, and he was ultimately captured and returned, like a species of nuisance wildlife, to the hospital where he presumably continued his convalescence.
I cannot think of Naked Guy without thinking of the moment in the Gospel of Mark where the young man—presumably the writer himself—flees in the confusion at the moment of Jesus' betrayal, as attackers beset him: "and he left the linen cloth and fled from them naked."
As Pedophile Guy and Naked Guy both know: Every moment a judgment, every moment an apocalypse. Every moment enfolded in grace.
A native of Yazoo City, Mississippi, Caroline Langston is a convert to the Eastern Orthodox Church. She is a widely published writer and essayist, a winner of the Pushcart Prize, and a commentator for NPR's "All Things Considered."