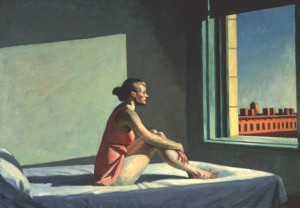 Last Thursday morning I got up, made my son's lunch, made sure that both children were dressed and fed. My husband had left for work at his news job hours before. I pulled back my long hair, graying at the roots—time for a touch-up—grabbed the keys and the steel mug of coffee, and piled my son and daughter into the car.
At seven forty-five we were rounding the Beltway, the sun an arc in the sky behind us, the radio tuned on Pharrell and Imagine Dragons. I drove twenty-three miles to drop my son off at his camp, dropped off my daughter at Greek Orthodox Vacation Bible School, and then threaded my way through traffic from the Quicken Loans National Golf Championship to the nearest Starbucks, where I wrote a grant proposal asking for $300,000. I was under the gun, because I had to pick up my daughter at noon.
By late afternoon, though, I was miles away and all alone, at least as alone as one can get on the 4:06 p.m. Metroliner to New York Penn Station. I resigned myself to the spotty Wi-Fi. The train bore forward along its rusted, hundred-year-old tracks, curving through the row-house blocks and abandoned factories of Baltimore, Wilmington, and Philadelphia, along the Atlantic seaboard and then into New Jersey.
Along the way, I began to feel an odd expansion of spirit. For this journey—the train from Washington, New York, and Boston—has been a constant in my life, a marker that has intermittently measured my days since I first rode it alone at fourteen, blinking and unwilling to admit I was terrified.
It was good now to be forty-five, with not a lot of money but enough to get a cup of coffee and not to be bereft of sufficient change to make a pay phone call—which happened sometimes, back in the day, when payphones were all that there was. (Oh, the number of collect calls I made from random phones!)
Good as well, at Penn, to know what I was going to do: Pay a quick obeisance in the direction of the men's room where legendary architect Louis I. Khan had a heart attack in 1979. Then head, on foot, down Seventh Avenue to Twenty-Third Street and The Leo House, the hundred-year-old Catholic guest house where I was staying.
Founded as a boarding house for German Catholic immigrants—and just down the block from the now-gentrified Chelsea Hotel (Thomas Wolfe! Patti Smith! Sid Vicious!)—The Leo House has for decades been something between a retreat house and a hostel, filled with both European tourists and florid religious statuary. Of the order of nuns running the place, most seemed to be Jamaican, indulgent in voice but firm in rectitude. I got my heavy key and took the old elevator to my room on the fourth floor.
And then there I was: in this tiny room as bare as my dorm room for boarding school, a tidy white double bed, box air conditioner, and crucifix on the wall.
What I felt then was something I can only describe by analogy: It was as though the water of my soul had run to the bottom of the hill.
As you can see, everything I have written up to this point has been about moving, perpetually restless in my own animal-adult ADHD compulsions about Things to Accomplish. (A critic once told me that one of the big problems with my writing was that I spent so much time talking about driving that my work never actually got anyplace.)
I felt like I was returning, somehow, to my essential self. I put down my bag and went back downstairs and turned in my key, stopping to check out the high-ceilinged lounge and dim chapel whose vigil candle glowed red against terra-cotta-tinted walls, and which smelled fragrantly of lilies. I needed to venture out for something to eat. I could have treated myself to an elaborate meal with my working-woman's salary, but it seemed more appropriate to find something small and satisfying.
Down Twenty-third Street I discovered the source for both food and the lilies: A combination all-night Korean florist and market, its façade arrayed with buckets of brilliant blooms, hot coffee on offer. I poured a cup and stood outside holding it like a junkie, drawing in the riot of fragrant smells.
As dusk descended, the street seemed a bit ratty: a subsidized apartment building across the street, lingering figures on the pavement. I was surprised and delighted to see, through the green leaves of a pocket park, the mosaic façade of St. Eleftherios Greek Orthodox Church, which I hadn't known was nearby.
I walked back into The Leo House, picked up my key, went back to the room. I was, it seemed, in the middle of my own apocalyptic vision. Entry alone into hotel rooms is often code for the life self-abandoned—like the protagonist in Doris Lessing's "To Room Nineteen," and the aborted suicide of the mother in Michael Cunningham's The Hours—both mothers, it should be noted, also worn down by the demands of children and custom and expectation.
And yet I wasn't unhappy or suicidal in the least: I felt with a slap of recognition that my encounter with this room, this street, was a foreshadowing of the ultimate telescoping inward that we all must face, and that I believe we must all be prepared to face. It is our own Passion that we cannot, should not, circumvent.
As the dying Ann thinks in Susan Minot's 1998 novel Evening: "She had known other rooms and lived in other houses and been in other countries but this was the last room, she knew what was coming to her."
Let me be ready, I thought. And made my own cross to mirror that of the crucifix on the wall. Then I lay down on the white sheets with their riot of pillows, and fell asleep.
A native of Yazoo City, Mississippi, Caroline Langston is a convert to the Eastern Orthodox Church. She is a widely published writer and essayist, a winner of the Pushcart Prize, and a commentator for NPR's "All Things Considered."
Image used: Morning Sun (1952), Edward Hopper, oil on canvas, 28 x 40 in.