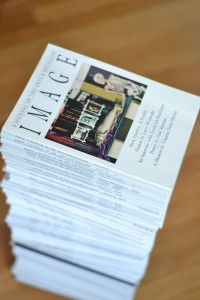 To celebrate Image's twenty-fifth anniversary we are posting a series of essays by people who have encountered our programs over the years.
Guest post by Cathy Warner
It was a reading at a memorial service that got me riled.
"Death is nothing at all. It does not count. I have only slipped away into the next room." Don't be sad, my pastor read, "All is well. Nothing is hurt; nothing is lost."
Watching the tearful widow, who'd now be living alone after forty years, I was unconvinced and angry the dead man's missive denied the living their grief.
I penned an alternative letter, then another, and another, until I imagined half a dozen dead—an aged father, alcoholic wife, young solider, child molester, husband who succumbed to cancer—writing from the beyond to those they'd loved and those they'd wronged.
It was the inner-city teenage girl—innocent victim of a drive-by shooting—I conjured that got me kicked out of the Christian writer's conference in 2002 before I arrived. Evidently I was the first participant who wrote a character that said (of getting shot): "Fuck that shit."
More than one student complained to our instructor upon receiving my manuscript, she explained in an email. She understood what I was trying to do, but this was a Christian program, and my language was offensive. I should submit something else.
Yes my language was raw, but I'd written as true to life as my imagination and skills allowed.
I was part of a secular writing group that liked the letters, but I'd wanted to know what other people like me—Christian writers—thought. My F-bomb made it clear.
On my end, I hadn't known what to make of their stories. In one, a sniper was reclaiming a futuristic United States overrun by Communists. As the body counted mounted the protagonist thought, "gosh darn it, they deserve it." In another a battered wife plotted her husband's murder as casually as folding laundry, with a quick, "forgive me God," tossed in.
There was no grappling with conscience, no authentic emotion, no attempt to tell the truth, no desire to make art. I'd been willing to read their stories in good faith and to offer constructive feedback, until they weren't willing to do that for me.
I withdrew from the conference, thinking that was the end of marrying writing and faith. But the next spring, I received my first issue of Image journal, #38 Bringing Home the Work: The Artist & The Community (recommended by the same person who suggested the writers conference) just as I was appointed pastor of my home church, a small shrinking congregation unable to afford ordained clergy.
I expected another stapled Christian magazine filled with 250 word feel-good essays bookended by scripture printed over watermarked stock photos. I expected to be disappointed. Instead I held a sleek white journal with bold black headings and pages of original artwork.
I bracketed and double-bracketed sections of Ginger Henry Geyer's essay, "The Misfit" (appropriate for the way I felt), highlighting a guide for ministry: "Maintaining community is surely one of humanity's larger challenges, because true community doesn't always make us feel good. It's more about shaping and changing us than making us feel cozy and warm."
And: Do your work and do it well. Invest your competency with passion. Tell the truth, even at the price of making yourself an outsider. Be an artist where you are planted, and if that's smack in the middle of middle-class American life, so be it. Speak to the people to whom you are given.
I was given two-dozen worshippers, and eight writers in a critique group, and I gave them my best work, feeling the gap between my ideas and execution as I explored the Bible from a preacher's point of view, and experimented with fiction.
My second issue of Image (#39) included a review of Lauren Winner's Girl Meets God, which I promptly ordered. Finishing Winner's memoir, I wanted to write my own meeting God: It happened in the shower, a flood of unconditional love in my mid-twenties. I lacked the understanding, vocabulary, and nerve to speak or write about it then.
Inspired, I gave it a try. It was difficult for my writing group—atheists and non-practicing Jews—to offer feedback when they didn't share my beliefs, so I wrote about awkward childhood moments in church and youth group, the many times I was "introduced" to God, but hadn't seen beyond the suited men or leader's sexy smile.
In Fall 2004, the back cover of Image #43 announced the formation of a new low-residency MFA program at Seattle Pacific University (Image's current home) for writers who "care deeply about faith and literature." I read more on the website: "The spiritual dimension of this program is not intended to produce didactic, sectarian, or sentimental literature. Nor is this MFA intended to produce writers of 'Christian fiction.' Far from it."
They knew my plight. I wanted in.
I began studying creative nonfiction in the summer of 2008. Now it wasn't fiction's F-words that might single me out, but revealing my own actions. I confessed that fear to my mentor, Leslie Leyland Fields, with an essay I drafted describing the time I hit my oldest daughter. Leslie responded: "You can write about anything, absolutely anything and I will read it with compassion, understanding, and the desire to further the work."
That was true for faculty and students. We critiqued manuscripts chocked with family secrets, suicide and adultery, sibling rivalry, and encounters with AIDS. No one complained about language or subject matter. There were no artificial standards to hurdle, simply the challenge to be faithful to the story, wherever that might lead.
Twice a year we gathered from far-flung locales—huddling against rain on Whidbey Island and watching sunsets in Santa Fe's thin air—embracing our call as writers, molding long-distance learning into true belonging. We left buoyed by the grace and long reach of the Image community to resume daily lives where we are often, as Geyer writes, misfits.
Cathy Warner is the author of the poetry volume Burnt Offerings (eLectio 2014). She serves as "Good Letters" Literary Editor, and earned an MFA from Seattle Pacific University. Cathy and her husband renovate homes hiring veterans through their business Yellow Ribbon Homes, and she leads writing workshops in West Puget Sound. Her website is cathywarner.com.