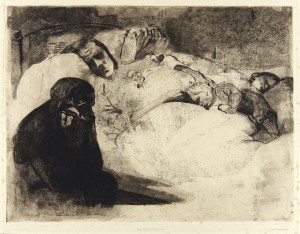 Circumcise therefore the thickness about your hearts.
—Deuteronomy 10:16
Her dying and death circumcised my heart.
For weeks, I knew only this: she's on a lot of pain medication; she's hallucinating; she's in the hospital; she's home; she has a staph infection; she's in the ICU; she's doing better; she's in rehab; she's in the hospital; she's coming home.
How did I know the little I knew? Mother. She conveyed what they, my brother and sister-in-law, wanted others to know.
We knew.
We thought we knew.
Maybe what we thought we knew, what we feared, was wrong. She'd survive. She'd recover.
We knew she had been living with ovarian cancer.
Over the years, when I was with her for Thanksgiving, I'd ask, How are you feeling? Okay, she'd say. Next topic.
*
Nothing could keep me from worrying.
They vacationed, a couple of summers ago, in Hawaii, the four of them, mother, father, two sons. Though he wasn't a surfer, my brother started following Surfline.
Was this trip one last hurrah? What did they know that we didn't?
*
This past spring, a clinical trial.
Over the weeks that followed, only a few details leaked out: cancer center, drainage tube…
No visitors.
Given so little information, how widely a troubled mind and heart, mine, will range.
*
Loving-kindness practice was easy.
May you be safe.
May whatever in you that can be healed be healed.
May you be surrounded by love.
May you feel whatever kind of ease you can feel.
I directed loving-kindness to her, then to my brother, then to each of the boys.
Could it reach from Western North Carolina to South Jersey?
It was what I could do. It was all I could do.
While she fought and suffered, my brother, in his words, did the jobs of five people: taking care of his wife—including paying close, informed attention to treatments and options—taking care of the boys, cooking, cleaning, gardening, and, somehow, keeping up with his job).
Laurie and I vacationed in Italy.
Don't worry, my brother said when I called him before our departure.
Okay, I said, I won't.
I know you're lying, he said.
I'll do my best not to, I said.
*
She was fifty. She and my brother were together for twenty-eight years. Her oldest son graduated from high school the day after she passed away. A few days later, her other son graduated from middle school. She went when she did, we said, so she wouldn't diminish her sons' joy on their special days.
*
In the United States, 22,000 women will be diagnosed with ovarian cancer in 2014. About 14,270 will die of ovarian cancer this year.
I Googled this information just now, a few days after her memorial service and, following the service, a celebration of her life—a party! Her wish.
At the end of his remarkable talk on their life together, my brother offered us a list of things to do to honor his beloved's memory. First on the list: learn something about ovarian cancer.
*
When it was his turn, at her memorial service, to speak, he started by trying to lighten the mood. It feels like a funeral in here, he said.
I could ask why this happened to such a good, beautiful woman, whose only concern in life was the welfare of others, my brother said. I could be angry that she was taken from me and our two boys, he continued. But I'm not going to do that. That would detract from the gratitude I feel for how lucky I have been to be with her for twenty-eight years.
*
Mitzvah gedolah l'hiyot b'simha tamid. It is a great mitzvah to be happy at all times.
What's a mitzvah? A good deed, a deed commanded by God. A Hasidic teaching adds that the word mitzvah is connected by its root to the word tzavta, which means "connection." A mitzvah, then, is a means by which the observant (attentive, awakened) Jew connects to God. Since many mitzvoth have to do with the way we treat other people (and animals, and the earth), performing a mitzvah is also a way of establishing a loving connection between self and other.
But how can you perform this mitzvah if you've just lost your beloved wife, mother, sister, daughter-in-law, sister-in-law, aunt, dearest friend? My brother showed us how.
Mitzvah g'dolah l'hiyot b'simha tamid: the teaching comes from Rebbe Nahman of Breslov.
In the Jewish Virtual Library's entry on "Breslov Hasidism" I read this: "Some people…see the name as a play on words in Ashkenazic Hebrew: 'Bris lev' means 'covenant (or circumcision) of the heart.' The Breslov approach places great stress on serving G­d with joy and living life as intensely as possible. 'It's a great mitzvah always to be happy,' Nahman taught."
*
She wanted us not to be disturbed by sadness.
We felt sadness.
But I also felt something else.
The day after her passing, back at the house to celebrate her son's graduation from high school that afternoon, I sat around the dining room table, her dining room table, as I had for so many Thanksgiving meals, with her brothers and sisters-in-law, a few of her nephews and a niece, and my brother and our parents.
Somehow, I felt expansive, my heart spacious enough to hold a gathering of Irish Catholics and American Jews, rationalists and mystics, Northeasterners and Southerners, liberals and conservatives, bankers and engineers, poets, attorneys, students, and salesmen in gratitude and wonder—sadness, of course, but also love.
Sharon, dear Sharon, your life circumcised my heart. It's still open now, some days after the celebration of your life. And when, as it will, it closes again, I'll remember you, dear Sharon, dear Sharon, dear heart.
Richard Chess is the author of three books of poetry, Tekiah, Chair in the Desert, and Third Temple. Poems of his have appeared in Telling and Remembering: A Century of American Jewish Poetry, Bearing the Mystery: Twenty Years of IMAGE, and Best Spiritual Writing 2005. He is the Roy Carroll Professor of Honors Arts and Sciences at the University of North Carolina at Asheville. He is also the director of UNC Asheville's Center for Jewish Studies.
Image used: Umployment (1909), Käthe Kollwitz, etching on paper, 15 3/4 x 21 in.