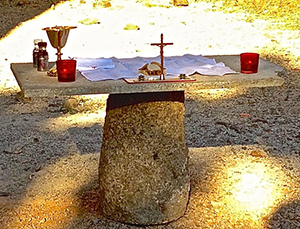 Continued from last week.
The Way of Saint James—El Camino de Santiago—is a pilgrimage across Spain that began in the Middle Ages and remains popular today. Each year 200,000 pilgrims walk a route to Santiago de Compostela, a city where, according to tradition, the apostle James the Greater is interred.
Last September my husband and I were among the pilgrims. We hiked 200 miles from Léon in stages, many with Fr. Lukasz, a sprightly, thirty-something priest, and a group of young adults from the Catholic Newman Center at the University of Washington.
Fr. Lukasz set the pattern of our days right at the outset of the journey. We rose before dawn and departed Rabanal del Camino, a stone village with a tiny central square. As we walked beneath the moon and stars, guided by a few pilgrim headlamps, I could feel the grade increasing, straining the backs of my legs. We were ascending the pass of Irago. Soon the sun rose lemon-yellow, revealing iridescent mountains, releasing the scents of heather and gorse.
By midmorning we reached the Cruz de Ferro, a simple iron cross atop a weathered pole that marks the Camino's highest point. There we stopped for morning prayers before descending the pass through several villages: Manjarín, Acebo, and Riego de Ambros, where we walked through a grove of giant chestnuts and a green, wild-flowered vale. After crossing a Roman stone bridge over the Río Meruelo, we stopped at Molinaseca, a medieval town where we would spend the night.
Fr. Lukasz's practice was to celebrate Mass every evening at the local church. When we arrived at a destination, he'd call the parish priest to make arrangements. Our Mass in Rabanal had taken place at the Iglesia de la Santa Maria, a twelfth century Romanesque chapel. There, the Benedictine monks had sung us vespers and then joined us for our English-language Mass.
In Molinaseca, though, Fr. Lukasz could reach no priest on the phone, so at six that evening we gathered at the parish church to see if we could rustle someone up. The place was shut tight and deserted.
We decided to try another church. Walking up a hill, we found the Santuario de Nuestra Señora de las Angustias tucked into the slope. This eleventh century stone chapel has a bell tower at its center with a courtyard on either side enclosed by iron palisades. Every door was bolted, every gate padlocked.
What were we to do? Have the Mass outside? Unthinkable. More rules govern Roman Catholic Masses than formal dinners in my home.
Like those formal dinners, the Mass has four components: introductory rites, when the priest enters the church and promenades to the altar as the parishioners sing a hymn; the Liturgy of the Word, when the priest reads from the Gospel and gives a homily; the Liturgy of the Eucharist, when the priest prepares the bread and wine and gives Holy Communion to the congregation; concluding rites, when the priest dismisses the church.
Every part of the Mass requires a fixed set of prayers, each with a designated posture—sitting, standing, bowing, genuflecting, kneeling—each in a specified location—pew, aisle, ambo, altar—some with a designated gesture—signing the cross, striking the breast, folding the hands.
At Mass, the altar is central. Most often it's covered in white linen with a crucifix on it or close by. A corporal—another, smaller cloth—must be placed front and center on the altar. There the priest will prepare the Eucharist, pouring wine in a chalice and placing the hosts on a paten—a special communion plate. All serving vessels must be made of precious metal. Two lit candles are required at the altar, though four or six are preferred.
Knowing these rules and procedures, I assumed we'd have to cancel our Mass in Molinaseca, given the closure of the church.
Fr. Lukasz was unfazed, though, and his flock flew into action. Bordering one church courtyard was a gravel lot edged by a curb. There sat a knee-high stone baluster abandoned in a corner. Two muscled pilgrims dragged and rolled it to a central place. Inside the palisaded courtyard a broken marble slab leaned against a wall. Three pilgrims scaled the iron rails and heaved the slab to the other side where others reached up to receive it, hauled it to the baluster, and set it like a tabletop.
Fr. Lukasz whipped some items from his backpack: crucifix, corporal, chalice, flasks of wine and water, hosts, paten, Missal, two votive candles in red glass. He set them on the improvised altar and invited us to Mass.
That evening the sun set tangerine as Fr. Lukasz led our celebration. Passersby joined us in other languages—Spanish, Italian, French. Some of us stood on the gravel, others sat on the curb, few ever changed postures, no one bothered to kneel. After the Eucharist, a breeze came across the mountain and we sang Taizé hymns. I can't remember ever feeling more communion or a greater peace.
This is why I calmly ditched the rules at my son's commencement celebration.
We pulled a plywood board from our basement and placed it on our dining table, making it big enough for our guests. We covered it with a threadbare cloth, the only cloth large enough to fit. We set the table with mismatched plates and flatware, paper napkins, and partly used candles. As the rain fell outside the window, our guests chose their own seats, drank beer from bottles, ate corn and burgers with their hands. All of us chatted and laughed.
Oh, that Molinaseca feeling.
Once, a woman named Martha knocked herself out cooking dinner while her sister sat talking with Jesus. Martha complained about her sister's idleness; it was the women's job to serve. Jesus didn't take her side. Instead, he told Martha to relax and to emulate her sister, who better knew what a celebration was.
Jan Vallone is the author of Pieces of Someday: One Woman's Search for Meaning in Lawyering Family, Italy, Church, and a Tiny Jewish High School,which won the Reader Views Reviewers' Choice Award. Her stories have appeared in many publications. She lives and teaches writing in Seattle.