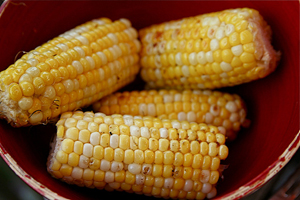 My son graduated from college this past June. It took him seven years, due to a hiatus, a transfer, and several changes of major, and there were times I thought I'd never see the day. So when the moment finally arrived, it was time to celebrate.
Now, I grew up in the sixties in New York in an Italian American family, and for us celebrating always meant one thing: inviting family and friends and cooking a meal for them. These meals invariably came in two varieties—formal dinner or cookout—and the circumstances dictated the choice.
The following obliged a formal dinner: all religious holidays; birthdays and other events that took place after Labor Day and before Memorial Day; functions to which clergy, wealthy people, politicians, lawyers, doctors, dentists, business associates, current clients, potential clients, current Anglo in-laws, or any future in-laws were to be invited.
Cookouts were never required but were permissible for celebrations that did not demand a formal dinner and took place from Memorial through Labor Day.
Whether the verdict was formal dinner or cookout, there were rules and procedures to follow, and the women in my family taught me them when I was young. These rules and procedures were immutable. They could not be broken or bent. Never. Not once.
Formal dinners began with an aperitivo, with the group seated in the living room drinking soda, spumante, Campari, or, in my father's case, a Bombay gin gimlet. At mealtime the hostess called the guests and assigned them seats at the dining room table. The hostess always sat at the end closest to the kitchen with the host presiding at the other end and guests were placed boy-girl-boy-girl down the sides, spouses split, and children clustered.
The formal dinner meal required four courses, all wholly homemade:
A medley of antipasti such as calamari in tomato sauce, chilled scungilli salad, and stuffed clams or shrimp; a primo piatto such as lasagna, gnocchi, ravioli, or minestrone (forbidden in summer); a secondo piatto of seasonal vegetables such as sautéed escarole or broccoli rabe and meat such as sausages, pot roast, or spiedini di vitello (permitted in summer only); a dessert such as ricotta cheesecake or cannoli accompanied by vodka-soaked orange slices.
Finger foods and sandwiches were banned.
The table was pivotal at formal dinners. The number of seats available at the fully expanded dining table strictly limited the number of guests. No cramming was permitted, and no one could eat in the kitchen, on the couch, or while standing.
The table required a fine linen cloth and napkins, china, crystal, silverware, flowers, and fresh candles. Extending one cloth with a second one and mixing dinner services were forbidden. If any napkins, plates, glasses, or utensils were missing from a set, the only option was to shorten the guest list.
What's more, for formal dinners, the hostess had to do all the planning, cooking, setup, and serving. No one else was permitted in the kitchen, though female relatives could help with washing up.
I confess that over the years I pared down the food for formal dinners and let my husband do the cleanup, but otherwise I was scrupulous. This is why my family always fled the scene as I engaged in preparations. The ordeal invariably transmuted me into a frenzied bitch.
And once the guests arrived, I couldn't focus on the conversation, felt disconnected from the group, so tense was I that everything be perfect, that the timing be correct, that no one enter my kitchen and discover dirty pots.
Thank God our commencement celebration could permissibly be a cookout, which had only three rules: the meal had to be outdoors, drinks could not be served in cans or bottles, and metal utensils were required.
Yes, instead of a formal dinner, we would host an evening barbeque. It would take place in the garden, and guests could sit where they pleased, at the wooden patio table or on the lawn chairs, porch steps, or grass. All the food would be self-served from a hodgepodge of pottery platters placed on a gingham-covered buffet. Plates and napkins would be paper, with utensils a mishmash of pieces from old, retired sets.
Our cookout meal would be simple. To begin, we'd set out chips and guacamole. Then my son would toss a big salad, my husband would grill beef and salmon burgers, and I'd boil corn on the cob. Dessert would come from Whole Foods: ice cream and graduation cake.
I no longer live in New York, though, but in Seattle. Here the sixth month of the year is often referred to as Junuary. True to form, the day of the cookout broke with wind and heavy rain. AccuWeather.com predicted no improvement and an evening temperature of fifty degrees.
What was I to do? Switch to a formal dinner? Impossible. We'd invited several more people than could fit at our tiny table or be equipped with matching dinnerware, and we'd already spent a fortune on fixings for finger foods.
This was clearly a disaster—till I remembered The Way of Saint James.
You can read Part 2 of this story here and you can read Jan Vallone's previous posts about The Way of Saint James here, here, and here.
Jan Vallone is the author of Pieces of Someday: One Woman's Search for Meaning in Lawyering Family, Italy, Church, and a Tiny Jewish High School, which won the Reader Views Reviewers' Choice Award. Her stories have appeared in many publications. She lives and teaches writing in Seattle.