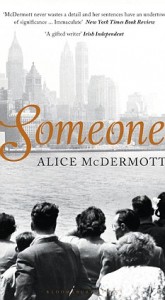 At the beginning of Alice McDermott's latest novel, Someone, an unattractive but good-natured girl divulges her deepest desire. One day, coming home on the subway, she fell against a man—someone who managed to catch her—an event that was memorable because he was kind in the way that he did it. It's clear that in that short moment she comes to love him, as we are fully capable of doing with strangers—even those who will always remain strangers.
She does not see the man again, but that does not stop her from looking. Laughing at her own foolishness, she says that she finds herself watching for him—subway ride after ride—in hopes of another such encounter. If it ever happened again, this time she would fall against him on purpose, to be caught by design. Because the best thing she has known in life so far has been the very fact that she was caught, and that someone was kind to her in the act of doing so.
This character, richly drawn, makes her appearance early in the novel, and like the man she hopes to encounter but never will, evanesces from the story within a few short pages. But the impression that she makes upon the narrator, Mary—a child when she first hears the story—lasts throughout the balance of the work. The rest of Mary's life is marked by the relation of this yearning—that there be someone there when she, and those she loves, invariably, ineluctably, inescapably, fall.
And in this work, character after character stumbles, whether through their own ineptitude or through the devices of another. But whether the consequences of the fall be great or minor, it is the aftermath of such a thing that resonates. Some are lucky enough to have others to catch them; some are not; some rise anyway, while some can never quite reach their feet again. It seems that one of the greatest lessons in the work is that the introductory character's fanciful wish—that a catcher be there when the fateful day comes—is one that is actually common to all.
Among McDermott's talents has always been an ability to portray the quiet appeal, the soft allure, of the conventional life. She does not soften the edges of things, but she does not exaggerate them either. If the picture she sets of the working-class Irish neighborhood in mid-twentieth century Brooklyn is of a smaller, quieter world—one that like so many others is probably hard to find these days—it is not an insular or forbidding place. Rather, it is an ordinary one, full of both wheat and tares, side by side, growing.
Unlike too many novelists of her generation, McDermott never scolds her characters, their places, or their times, not any more than she canonizes them. Instead, she uses her considerable skill in the composition of a deftly-made world, as finely wrought as though she was rendering it with needle and thread.
Perhaps her greatest achievements come in the successive ways in which she portrays the great vulnerability of the fallen—a soldier in war, a businessman with a limp; a priest who has abandoned his vows—even the narrator, who in her age relates a largely happy life, but one fraught with disappointments and unbidden mysteries.
McDermott's accomplishment lies in her ability to portray vulnerability without falling over into the maudlin. Her characters risk, often unawares, the exposure of the soft underbelly of their shames, or weaknesses, or tragedies. It could be that it is the very fact that these exposures are unwitting, instead of conscious, that we trust their honesty. It is to the writer's credit that she finds the proper moment to highlight them as she does.
In some ways, the work is reminiscent of an older master, Katherine Anne Porter, who had a knack for portraying those who are in turns valiant and crippled. In some ways, it is reminiscent of Ian McEwan's achievements, in the quiet reflectiveness with which the tale is told, laced with regret and shy hope.
But in the most compelling way, it is the story of those who spend their lives knowing that the truest thing about them is their innate penchant for those things that will bruise, if not break, their hearts entirely, and their innate hope, and perhaps faith, that someone will be there to catch them when they do.
A.G. Harmon teaches Shakespeare, Law and Literature, Jurisprudence, and Writing at The Catholic University of America in Washington, D.C. His novel, A House All Stilled, won the 2001 Peter Taylor Prize for the Novel.