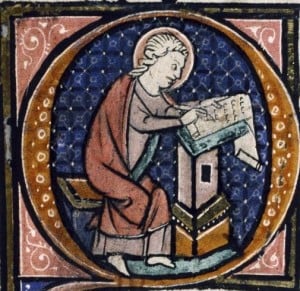 The story of how the text of the Bible was set down and transmitted is one we all know by heart.
Once upon a time, ancient scribes set the sacred words down on papyrus, followed a few centuries later by monks in dimly lit scriptoria putting ink and gold leaf on richly illuminated pages of vellum. Then came the revolution of Gutenberg's printed books and finally the digital age dawned, giving us the Bible in myriad forms, from searchable online versions to verses that we have texted daily to our smartphones.
This narrative has also typically been imbued with a clear moral: the Word, once captive to economic, technological, and cultural limits that enabled a small elite to hoard and control it, eventually succumbed to democratizing forces that enabled scripture to become the prized possession of every individual believer.
Needless to say, it's hard to argue with a tale of liberation from oppression. Who's going to pick the empire over the rebels?
But there is a case to be made that liberation can sometimes disguise a new kind of oppression. On the flickering screen or pumped through headphones we slice and dice scripture any way we like. We can change the font size or tab back and forth between a passage from Isaiah and the latest ice bucket challenge video.
Privacy, control, and choice are cherished values in the postmodern West. The problem is that the Bible not only warns us against those values when they encourage self-absorption and selective reading but also that scripture itself cannot be properly received when they are in the ascendancy.
Enter The Saint John's Bible, a provocative, counter-cultural challenge to the way most of us currently interact with scripture.
A couple decades in the making, The Saint John's Bible began as the dream of Donald Jackson, a leading British calligrapher who serves as scribe to Her Majesty Queen Elizabeth II. He had a vision to create an entirely hand-lettered and illuminated Bible.
Years later he discovered an ideal partner in the Benedictine monks of Saint John's Abbey and University in Collegeville, Minnesota—a religious order that for a millennium and a half has cultivated a tradition of calligraphy and book arts.
The Benedictines embraced Jackson's vision. The completed Saint John's Bible consists of seven oversized volumes in which nineteenth-century Chinese ink, along with gold and platinum leaf, have been applied to vellum. From Genesis to Revelation there are 160 painted illuminations as well as dozens of key texts that have been visually enhanced.
The monks knew that the project couldn't end there—otherwise, they would have been accused of merely reverting to the medieval model—trapping a sumptuous Bible behind monastic walls. So a hardcover trade edition quickly followed.
What happened next, however, has made all the difference. The decision was made to produce something called the Heritage Edition, a fine art version that mimics the original in almost every way, including size—two feet by three feet—and embossed gold and silver foil.
A total of 299 copies of the Heritage Edition were produced and many have been acquired by universities, churches, and private collectors. For a modest fee, an institution can host a volume through "A Year with the Saint John's Bible" program.
The Heritage Edition is being viewed not only as an art object but also used in worship. In a church here in Seattle, it is displayed in the center of the chancel during the service and requires two acolytes to lift it to be read during the liturgy of the word. The pastor wrote of this that he likes the symbolism of "how we wrestle with the Word of God, and how this is better done in community."
When I attended a demonstration of the Gospel and Acts volume by a representative of The Saint John's Bible, the group I was part of audibly gasped when the book was opened to the beginning of Matthew, where the genealogy of Christ was depicted as a complex, densely-colored menorah with golden highlights. I found myself bending down to get a better feel for the rich surface of the page.
What I felt at that moment was that the scripture was profoundly other—beyond my control—but also intensely present—and I immediately noted how it bound everyone in the room together. I'll continue to read the Bible on my iPad, but I'm grateful for a reminder that a book can be both a physical and a spiritual thing.
The biblical scholar Peter Enns argues that for many reasons today—including our technology and our values—we read the Bible "in fragments, a-historically, and in isolation." The Saint John's Bible, with its handmade aesthetic, its combination of ancient and modern visions, and its demand to be experienced in community, offers a bracing and invigorating antidote to those problems.
As Enns puts it, the best way to recapture the power and beauty of scripture is to "read big, read real, read together." That might be the tag line for the Heritage Edition of The Saint John's Bible, now viewable in space and time near you.
Gregory Wolfe is the founder of Image and the Director of the Center for Religious Humanism. He also serves as Writer in Residence and Director of the MFA in Creative Writing program at Seattle Pacific University. He has published essays, reviews, and articles in numerous journals, including Commonweal, First Things, National Review, Crisis, Modern Age, and New Oxford Review. He received his B.A., summa cum laude, from Hillsdale College and his M.A. in English literature from Oxford University. His website is www.gregorywolfe.com.