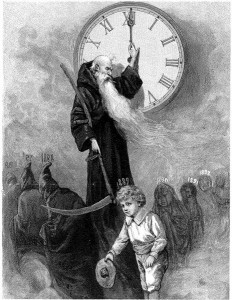 They talk. They talk to. They talk about. God. Please, God. Dear God. Thank you, God. Comfort, heal, save us, God our God dear God. They should talk. That's what they've been told.
I don't know. I don't know from God.
They say God is the One who shaped the ear. I've said it, too. God, the One who gave life listening: Ishmael, God listens, God hears. They say God is near, near to all. I've said it, too. Near to all who call upon God in Truth. Where is that, Truth? Near here?
They have names for God: Rock, Redeemer. What shall I call you? And if I call, will you listen, respond?
You are near. I know you are here.
I'm exhausted. You: inexhaustible.
I swoon, wobble. You're steady.
Are you everything they say God is?
Time, Your most precious gift, they say, talking to God about you.
And here you are: a few moments of silent prayer as the organ softly plays. It's my favorite moment of the service at Temple Emanuel, the temple of my youth. But the Temple has moved on; it has followed the Jews of Cherry Hill east. You moved with it. I, too, have moved away, and you've stayed with me wherever I've roamed, settled. I can't get away from you.
The mezuzah slanted on the doorpost of my house: a chance to stop and pay attention at the threshold. To linger a moment there—in between going out and coming in. If I were to pause, if I were to attend to the crossing, the passing through, short as the distance is between the world on one side of the threshold, home on the other, what might I discover? I never stop to notice the invitation, nailed on the doorpost, to pay attention.
But I'm aware of you always. I see and think of you here, there, everywhere I read, speak, love, lie, blame, confess…. You are strapped to my wrist. You are in my pocket, the phone in my pocket. You quietly command the corner of the screen, you are broadcast on every station, you are…
You remind me: I'm almost out of you. I must hurry to finish…what? Finish what? This sentence? This task? This meditation on you? What if I run out of you before I reach the end? The end of what? This life?
You are a problem. Are you the problem?
What shall I call you? Father Time, Sister Squeeze?
What shall I call you after you've broken my jaw and walked away with a shrug and a smile?
Hard Time.
What shall I call you who seem never to respond to my sighs, my pleas—never, at least, in a language that you and I have in common?
Game Time, Show Time, Face Time, Down Time, Outta Time?
Air Time, Party Time, Closing Time?
Do you go by a hundred names? More?
You entered my life at conception, and though, since then, I've lost people, places, and things—Uncle Al, Cousin Connie, my tickets to the original Woodstock, my hair—I haven't lost you, haven't been able to shake you, and you haven't abandoned or betrayed me.
I have learned, over many years, and am still learning how to be a husband, a father, a colleague, a congregant, a friend.
You, however, I am still struggling with. I often perceive you as my adversary, and because I shy away from conflict, I haven't confronted you, Doctor Destroyer, directly before now. I've tried to ignore you. I've taken a Sabbath sip, now and then, of eternity. I've even tried, in my way, to obliterate you—at least my fear that my share of you, my time is limited.
As if to prove to myself that I am not limited by you, I've stuffed more activities into my minutes, my hours, my days and nights than I believed they could contain. I accomplished what I had planned, but I was exhausted at the end. You, however, kept ticking steadily, unimpressed by my feat.
There I go, making it personal. Though you lean on me in particular, you have no particular interest in me—what I do with you, My Time.
It's come, at last, to this. I'm talking to you. Directly to you. Will my voice draw you near? Though we are, for now, inseparable, the time will come when we, you and I, Dear Time, will part. Until then, I am yours. Until then, may I make of your alphabet works such as these: light, love.
Richard Chess is the author of three books of poetry, Tekiah, Chair in the Desert, and Third Temple. Poems of his have appeared in Telling and Remembering: A Century of American Jewish Poetry, Bearing the Mystery: Twenty Years of IMAGE, and Best Spiritual Writing 2005. He is the Roy Carroll Professor of Honors Arts and Sciences at the University of North Carolina at Asheville. He is also the director of UNC Asheville's Center for Jewish Studies.