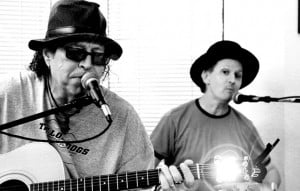 Guest Post by Chad Thomas Johnston
Photo taken by Phillip G Brown Fine Art Photography
Chad Thomas Johnston: Can you talk about the circumstances under which you wrote the new Daniel Amos album, Dig Here Said the Angel? What factors influenced its creation?
Terry Scott Taylor: I suppose the simplest answer to your question is that life itself is the circumstance that most influenced the record. I'm in my sixties now, and when I first sat down to write the tunes for Dig Here it occurred to me that, in a genre like rock 'n' roll, you're not going to find a lot of songs that honestly explore the inner life of those of us who have fewer days ahead of us than behind us. That being the case, I decided to write as honestly from my perspective as I could.
In writing about issues such as aging and lost youth, life's disappointments and regrets, and even death itself, the challenge was to avoid morbidity, which I think we did quite successfully. Many fans and critics seem to agree that Dig Here is addictive, enjoyable, and anything but dark and depressing, which I think it easily could have been.
CTJ: Can you talk a little about your experience with crowdfunding the album?
TST: Thank God (and I mean that literally) for Kickstarter. Without it, it's unlikely there would have been another Daniel Amos record because—well, frankly, at our age no record label is going to touch us.
Kickstarter, however, is a fan-based support system, and the difference in the amount of money we hoped to get in order to do a new project, compared to the overwhelming support we actually got in the end, was truly humbling for all of us and quite touching. When I learned we'd far exceeded our goal, I was in tears. I'd completely underestimated the enthusiasm out there to make such a project possible. Maybe "enthusiasm" is the wrong word—"love" may be a better one.
I figured we'd have to do a piecemeal kind of project where we'd do our musical bits by sharing files and doing stuff at home or in small, local studios. I knew this wouldn't be an ideal way of doing it, but I figured the fans would be happy that, if nothing else, there would at least be new music from Daniel Amos. Even if we couldn't all be together in one place to record the album, we weren't going to do anything we wouldn't be proud of.
What we asked for on Kickstarter, in terms of budget, was not only reflective of this way of recording the project—it spoke of our conservative estimation of our fan base's willingness and ability to contribute money to a nonessential "cause."
Mind you, we never doubted the passionate devotion of the band's friends and supporters. That, for us, was a given. What was somewhat of an intangible was the degree to which that passion and enthusiasm would translate into a willingness to shell out hard-earned cash in a less-than-healthy economy.
Needless to say, I completely underestimated these folks. The end result confirmed for all time just how amazing, kind, loving, and supportive they all truly are. As long as we can count on God's willingness, our next breath, and fan support, we can continue to do projects.
CTJ: What kind of impact has Dig Here Said the Angel had on your fan base?
TST: Beyond the amazing fan and critical reaction to the new record, what excites and touches me is that it seems to have had quite a profound impact in the lives of many listeners who have written to say how deeply they've been moved by it.
I've received lots of "I was moved to tears" comments. Others have written to say that it is a greatly comforting record, and still others are thrilled that D. A. hasn't lost its creative edge—that, in fact, this may be our best record yet. Many critics called it "the record of the year," which again is humbling.
CTJ: It was my favorite of 2013—most definitely.
TST: I'm not quite sure where I rate this one, but I do think it's most certainly one of our very best. The young crowd (and yes, we still have some young fans!) finds it musically modern and relevant, while those of my generation primarily relate to and are moved by its point of view—particularly its honesty in confronting the doubts, fears, and challenges of growing older.
It makes me extremely happy when people "get" our stuff. People really get this record, and it's a beautiful thing when it's not only the hardcore fans who are getting into it, but a number of newbies as well. Many of our tried-and-true supporters have been sharing the record with people who don't know anything about Daniel Amos, and as a result we're all getting incredibly positive feedback. I hope the fans keep plugging away because it's nice to be growing a fan base at this stage of the game.
CTJ: A closing question for you. What's your favorite song on the album?
TST: Well, they're all my babies, so it's somewhat like asking, "Which one of your children do you love the most?" The answer is that I love them all, but in different ways.
I will admit that I always enjoy the title track because of its musical and lyrical eccentricities. I'm fond of "Love, Grace, and Mercy" because the arrangement, production, and execution of the song simply could not be improved upon. I always hear little things on my records that I wish I could have changed slightly by adding to or subtracting from the recording—not so on "Love, Grace, and Mercy." I wouldn't change a thing.
Same with "We'll All Know Soon Enough." And don't get me started on "Forward in Reverse"—Wait! See what I mean? Once I get started down that road I can't stop, and that makes for a long-winded, less-than-riveting interview.
Which means this one is over.
Chad Thomas Johnston is a slayer of word dragons who resides in Lawrence, Kansas, with his wife Rebekah, their daughter Evangeline, and five felines. He has written for IMAGE Journal's "Good Letters" blog at Patheos.com, In Touch magazine, The Baylor Lariat, and CollapseBoard.com. Johnston's writing debut, a whimsical memoir titled Nightmarriage, was a finalist for a 2013 Shirley You Jest! Book Award in nonfiction writing.