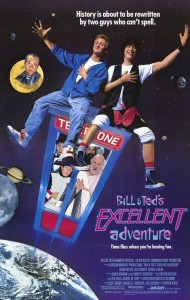 Over our recent winter break, my husband and I introduced our two older kids to some comedies from our youth. The criteria were simple: streamable through Netflix, not too much bloodshed or T&A, and shorter than, say, 100 minutes.
Revisiting a childhood movie as an adult can be a disarming experience. I never understood all the fuss about A Christmas Story, for example, until I watched it as a parent. I screamed with laughter when the mom shut little Randy in the cabinet with his milk—not because it shocked me but because it could very well happen in our house.
We began this mini-festival with Bill and Ted's Excellent Adventure (1989). (Hey, it was sitting there most bodaciously for the taking.) It made me laugh as a teen and made me laugh now, especially Ted's observation that "strange things are afoot at the Circle K."
But from the opening scene, I realized this flick is, not quite unironically, a relic. The characters, not only in their speech and dress but in the specific qualities of their angst, could not have been devised in any decade but the eighties, when the neglected Generation X—especially those languishing in the alienating, affluent suburbs—had to stick together to make a way for themselves.
Nevertheless, we all enjoyed the screening. Our daughters stared at the girls' Stay Puft bangs with wonder while my husband pointed out that philosopher Dr. William Lane Craig has lauded Bill and Ted as one of the few logically consistent time machine movies.
Next, we went an additional six years back in time to Mr. Mom. I hadn't seen that movie in decades. As a sixth grader, I laughed hysterically at the Kotex scene and Jaws the vacuum cleaner wreaking havoc through the house.
Now I watched it in horror of my own mortality, that I was not only alive, but performing pre-algebraic functions during a time when wood paneled station wagons were the norm. When Michael Keaton's hair was feathered.
The movie is more mature than I remembered, and we suddenly found ourselves explaining infidelity and sexual harassment to our daughters. There is something profoundly sad about Mr. Mom, a deep and bleary 1983-ness: optimism with an undercurrent of dread, progress with a not-so-under current of lascivious sexism. Also, it's just plain dumb.
Then we watched Planes, Trains, and Automobiles.
First off, having grown up in California, I found nothing special about the movie's scenery in the eighties. Now, as an Illinoisan, I recognized the former El Rancho Motel (where Del and Neal stay with their incinerated car) off route 41 in Gurnee. My husband passes the now sadly vacant studio apartments on his way to work every day.
I now also recognize Marie Griffith, Del's wife (seen only in the picture he travels with) as Susan E. Isaacs, an actor and writer I met at the Glen West workshop last summer!
But those details are just the beginning. What I recognized now more than in my teen years are my own Nealean failings. Perhaps I wouldn't explode the way he does in the hotel room, but I've certainly entertained those judgmental thoughts.
When plans involving money, rental agreements and schedules go awry, I fall apart.  I don't necessarily say "fuck" eighteen times in sixty seconds to Edie McClurg (the same actress featured in Mr. Mom's Kotex scene), but my spirit does.
In his review of the same movie, Roger Ebert says, "The movies that last, the ones we return to, don't always have lofty themes or Byzantine complexities. Sometimes they last because they are arrows straight to the heart."
Notwithstanding the clothes, music, and the fact that cell phones would have solved most of the conflicts, Planes, Trains, and Automobiles will stand the test of time because we feel Del's suffering and love, Neal's frustration and redemption. As an adult, I see Jesus walking alongside Neal, helping him lift the handles of Del's trunk.
Our children watched mostly quietly. They laughed at the pillows scene (though my daughter asked me a couple days later what the pillows
really
were). One daughter reveled in the f-word scene while the other cringed. To them, the movie was a pleasant way to pass the time. But I suspect one day it will pierce them.
My father and I watched a lot of movies as I grew up—a lot of his movies. I had my favorites, Airplane and The Graduate (the taped-from-TV versions) memorized. But then there were the Rodgers and Hammerstein flicks and anything and everything involving WWII—long, yawning Saturday afternoons of explosions and helpless women singing for their lost loves.
But his favorite, the one we watched the most, was The Treasure of the Sierra Madre. In adulthood, I've remembered the film as rocky landscapes, grimy faces, and men. Lots and lots of men. And, of course, "We don't need no stinking badges!" But I haven't been able to describe much of the plot. Maybe I just wasn't ready for it as a child.
Last week I rented the movie and watched it without the kids so I could pay close attention. So many familiar scenes came back to me—Howard's crazy dance, the Gila monster, the drowned boy coming back to life. I understood those images as a child. But now, I also understood Dobbs's paranoia as an eerily natural outgrowth of human nature.
And when I saw the empty gold bags blowing in the wind, Curtin and Howard breaking into maniacal laughter at their freedom from money's grip, I too, felt that liberation, in Curtin's profound spiritual truth: "You know, the worst ain't so bad when it finally happens." (Also, Curtin is just plain adorable.)
My dad was on the brink of his teen years when The Treasure of the Sierra Madre came out. He loved it then and wanted me to love it, too. It just took me awhile to get it.
To my kids, the 1980s films of my youth fit in the category of old movies. Hitchcock, Hughes—what's the difference? Perhaps there doesn't need to be one, as long as we offer our children opportunities to find the films that will shoot arrows to their hearts.
I think of my older daughter absorbing every scene of the Hunger Games over and over, my younger, Harry Potter and the Deathly Hallows. Will they show these movies to their children decades from now? Will they watch our grandchildren's eyes and ask, eagerly, "So what did you think?"
Tania Runyan is the author of the poetry collections Second Sky (Cascade Poiema Series), A Thousand Vessels, Simple Weight, and Delicious Air, which was awarded Book of the Year by the Conference on Christianity and Literature in 2007. Her book How to Read a Poem, an instructional guide based on Billy Collins's "Introduction to Poetry," was recently released by T.S. Poetry Press. Her poems have appeared in many publications, including Poetry, Image, Books & Culture, Harvard Divinity Bulletin, The Christian Century, Atlanta Review, Indiana Review, and the anthology In a Fine Frenzy: Poets Respond to Shakespeare. Tania was awarded an NEA Literature Fellowship in 2011. She tutors high school students and edits for Every Day Poems and Relief.
Photo above is the official movie poster of Bill and Ted's Excellent Adventure, used under the Creative Common License.