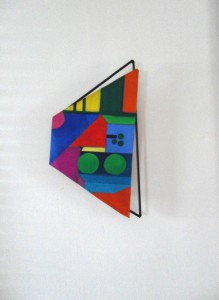 "Have nothing in your houses that you do not know to be useful or believe to be beautiful."
Art collector Roberta Ahmanson quotes this famous challenge by the late nineteenth century British artist William in her interview with Greg Wolfe in the current issue of Image (issue 83). Morris's imperative naturally moves me to make a mental inventory of the stuff in my house.
In my clothes closets, I instantly fail his test; too much there is no longer useful. The hand-woven blouse that I bought in Guatemala and don't wear passes because of its beauty.
On my bookshelves? Well, among all my hundreds (thousands?) of books, many contain beauty and all are certainly useful, though I can't honestly say they're still useful to me.
But on my walls? Yes, there's beauty aplenty. Not prettiness, necessarily, but beauty as Ahmanson conceives of it. She's careful not to define the beauty of visual art narrowly. Art's beauty resides in the spirit in which it was made, the spirit that it imparts to the viewer.
Here on the wall above my desk hangs a sketch that my husband drew for me decades ago. It's of Mary "pondering all these things in her heart" (Luke 2:19). She's pictured as a very young woman, a peasant scarf loosely over her hair, her eyes gazing not at me but beyond.
"Beauty," Ahmanson says, "gives you a window into eternity."
Downstairs on the living room wall is a parallelogram-shaped colorful oil canvas mounted at an angle onto a metal parallelogram. This painting was created by a friend of ours, Ginny Cassetta.
We bought it at one of her shows, because the humor in it makes us smile. The show was called "My House," and in the abstract shapes of our painting, Ginny told us she was representing her house as her own body.
Amid angular shapes, a red half circle joins visually with two large green juxtaposed circles; together they could be, Ginny said, the Trinity of her childhood Catholicism. But those two green balls also look strikingly like boobs. The beauty in this painting lies in its playful joy.
"Beauty," Ahmanson says, "opens a door to hope."
On the wall facing Ginny's painting hangs a small quilt created by a Cambridge, Massachusetts fiber artist. The muted shades of maroons to reds shape themselves into tilted asymmetrical almost-squares: image of the fine line between imbalance and balance.
This quilt was a gift from our son and daughter-in-law after we'd helped out during a family illness. So the beauty of family love hangs in this art object, and the imbalance/balance fragility becomes for us an image of life's fragility, of sickness/health.
I was glad to read that Ahmanson includes folk art in her own collection, because I have several pieces of it on my walls. I'm looking now at the balcon (balcony) given to us by Columbian friends about twenty years ago. They'd taken us to Cartagena, which is famous for the large balcons on the upper stories of houses.
Ours is a miniature, of course, protruding from the wall about eight inches.
But the miniature size doesn't keep it from being chock full of tiny carefully crafted objects: potted plants, parrots, an armoire, and an elderly couple sitting next to each other, she winding a skein of yarn around his hands. This gift was prophetic; George and I do now sit together and knit in the evenings.
Another work of folk art hangs in our guestroom: a large quilt made by the descendants of slaves in the tiny village of Gee's Bend, Alabama. George and I bought it there from one of the quilters during a trip through the Deep South, and I see its beauty as the beauty of hope through long suffering.
It's a testament to the "glory of God" that Ahmanson finds in all beauty.
"Every time the people of Israel are theologically sound, they make beautiful things," Ahmanson says of the Bible's historical books. She explains:
The good kings like Josiah restore the temple—this three-dimensional icon of the glory of God.…God understood something about human beings, both their being created in his image to create glory, and also their need for…tangible evidence of the glory of God. Beauty opens a door to hope. It tells you there is something more, something beyond. It takes you out of yourself.
It takes you out of yourself and into the divine beauty that Augustine famously apostrophizes in his Confessions:
Late have I loved you, O Beauty ever ancient, ever new, late have I loved you! You were within me, but I was outside, and it was there that I searched for you. In my unloveliness I plunged into the lovely things which you created…
You called, you shouted, and you broke through my deafness. You flashed, you shone, and you dispelled my blindness. You breathed your fragrance on me; I drew in breath and now I pant for you. I have tasted you, now I hunger and thirst for more. You touched me, and I burned for your peace.
Roberta Ahmanson persuades me that the Beauty ever ancient, ever new that Augustine longed for makes itself tangible, accessible in works of art:
The temple was God saying, "Yes, there is something else out there, and you can engage with it—because you made these beautiful things that give me glory. And these things bear witness to your gifts and talents, which mean you were created in my image. We're in this together."
To me, art objects bear witness to the image of God in whoever made them.
Peggy Rosenthal is director of Poetry Retreats and writes widely on poetry as a spiritual resource. Her books include Praying through Poetry: Hope for Violent Times (Franciscan Media), and The Poets' Jesus (Oxford). See Amazon for full list. She also teaches an online course, "Poetry as a Spiritual Practice," through Image's Glen Online program.

Painting by Ginny Cassetta. Photo by Peggy Rosenthal.