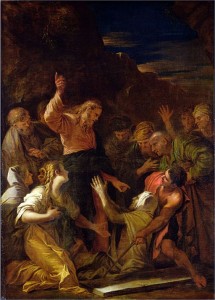 Guest post by Kelly Foster
If you grow up in the South, you learn to write thank-you notes. You write thank-you notes for kind gifts. You write thank-you notes for kind words. You write thank-you notes for kind thank-you notes people send to you.
It's a vicious circle of gratitude, but I suppose there are worse circles to be caught up in, and plenty that don't provide one with an excuse to keep a ready supply of handmade stationery in reserve. So it goes.
When I don't write thank-you notes promptly enough, I am plagued by an intense sense of guilt and personal failing. In my perpetual self-absorption, I imagine the people to whom I intend to send the notes anxiously walking to their mailboxes every afternoon only to sulk back dejected when yet again, I have failed to deliver my postmarked symbol of the gratitude to which they are rightfully due.
I think of thank-you notes when I find myself meditating on Jesus and the ten gospel lepers of Luke 17. If you are unfamiliar with their story, here it is:
On the way to Jerusalem, he was passing along between Samaria and Galilee. And as he entered a village, he was met by ten lepers who stood at a distance and lifted up their voices, saying, "Jesus, Master, have mercy on us." When he saw them, he said to them, "Go show yourselves to the priests." And as they went they were cleansed. Then one of them, when he saw that he was healed, turned back, praising God with a loud voice; and he fell on his face at Jesus's feet, giving him thanks. Now he was a Samaritan. Then Jesus answered, "Were not ten cleansed? Where are the nine? Was no one found to return and give praise to God except this foreigner?" And he said to him, "Rise and go your way. Your faith has made you well."
What strikes me is how often in my lifelong encounters with this narrative, I have reduced it to the absurdity of a mere lapse in etiquette. The nine lepers had bad manners. Their thank-you notes were not merely late, but non-existent.
Lesson learned? You should always thank God promptly just like you thanked Miss Sue for bringing you lemon bars when you were sick last week and had to stay home from school. Lesson learned? Good manners are essential when dealing with the Almighty.
Well, is that really it?
I don't think so.
The more I think about that tenth gospel leper, the more I think that the difference between him and all the other healed lepers was not that he was necessarily any more grateful than they were, but that the faith he displayed in Jesus, the self-same faith Christ lauds, was a faith undergirded by a belief not just that Jesus was able to heal him, but that he had wanted to.
I imagine his faith presuming that Jesus healed not because he was bound to, but because he delighted to. And I believe that openness of faith, as much as his mended body, was what laid him flat at the feet of Christ. He saw in that moment that the very heart of the universe was bent to him not in obligation, but in delight, and that the heart of the universe itself was set on healing not only him, but all the broken world who stood beside him.
As for the nine, I can only imagine that they didn't see things this way. Maybe they were just afraid to. I can't always blame them. What had they learned about the way the world worked up until that point? They looked down and saw new flesh where there had previously been decay, and they scampered away, hell for leather, just praying that whoever it was who had just made them clean didn't just as surprisingly decide to turn again and render them.
I think of the story of another leper asking healing of Jesus, found in the first chapter of Mark. He writes, "And a leper came to him, imploring him, and kneeling, said to him, 'If you will, you can make me clean.' Moved with pity, he stretched out his hand and touched him and said to him, 'I will; be clean.'"
I believe that the distinction between the tenth leper and the nine was his vision. He saw that Christ, in pity and in delight, willed that he be made clean. He willed good, not harm. That's what he willed. The heart of Christ towards him, in pleasure or in pain, was good.
"I will," Christ says. "Be made clean."
It takes faith to absorb the kindness of God, not merely intellectual assent to Christ's divinity or power. If we perceive the faith of the gospel leper in this way, it also ceases to be a story about politeness and becomes a story about hope, not necessarily in better circumstances, but hope in the nature of God.
As I ponder my Lenten disciplines and the infinitude of ways in which I am small and mean and trapped and isolated and hungry, it helps me to remember that Christ extends the invitations to all beloved lepers.
"I will," he says, even to me. "Be made clean."
This post was originally published on February 29, 2012.
A former regular contributor to "Good Letters," Kelly Foster Lundquist was the 2012-13 Milton Fellow. She graduated with the first cohort of the Seattle Pacific Master of Fine Arts in Creative Writing in 2007. Her work has appeared in Image. She lives in Minnesota with her family and teaches English at North Hennepin Community College.
Painting above by Jean-Marie Melchior Doze (1864), used under Wikimedia Commons, accessible through public domain.