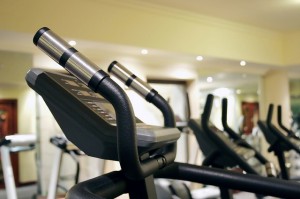 An evangelical mutt, I have only in the past few years discovered the allure of the liturgical season, and I dabble in the traditions as my whims dictate.
This Lent, I told my husband, we shall be giving up all of our little indulgences: coffees and meals out and little snacks. That should set us up for being nice and spiritual, plus it will be hard enough that we feel it, but not so hard that we are actually tempted to despair.
But, despite all of my good intentions, I kept hearing a still small voice telling me to focus on my body, on what is happening within me, for the next forty days.
It started at my gym.
Exercising this winter has been difficult. I am currently six months pregnant, and slipping around on the ice outside while I try and get in a thrice-weekly endorphin rush has been greatly discouraged. Plus, it is just too dang cold.
So I found a place that fits both my commitment to "buy local" and my sparse budget: a tiny, two-room gym set up in a nearby community center. The manager is friendly, and the cost is only ten dollars a month. It is clean, minuscule, and completely awkward, since all of the machines directly face each other.
Even if there are only a few of us working out, there is no way to not stare at a relative stranger while you sweat and huff and work it out to old R&B tunes blasting from a fuzzed-out speaker in the corner (there are no TVs to distract, and I seem to be the only person using the time as a chance to catch up on podcasts). The treadmill makes odd sounds when I start to jog, creaking and whining loudly.
People file in and chat with each other. A few just drape themselves on various weight machines and shoot the breeze; some high schoolers out on a PE pass blatantly stare as I jog in place.
Older folks from the nearby elder housing arrive in a small clump. I know a few of them. Some have mental illness, others a propensity for interrupting the ESL class I teach in their apartment complex, a penchant for kleptomania, or a knack for cornering me in the hallway and telling me their sad stories.
I meet others as we awkwardly take off our winter gear next to the lockers. People remark on how big I am (oh, but you glow—they hurriedly add as they see my face fall), how I really should be working out every day.
I veer from experiencing goodwill at this seemingly perfect solution—working out with my neighbors—to inwardly wallowing in bitterness at how difficult it all seems.
Along with neighbor-love, the gym has highlighted a few issues I have with loving myself.
The other day, I accidentally caught a glimpse of myself in the full-length mirror and gasped aloud. I couldn't believe what I looked like: red-faced, ill-fitting workout clothes, twenty-plus pounds heavier than my normal weight. As someone who has been on the mild-to-moderate side of body positivity issues, this sudden turn towards disgust left me both bewildered and ashamed.
I went home, determined to forget the incident. But the thought that I no longer loved or celebrated my own skin would not leave my mind.
Jesus never lived in my neighborhood, and he certainly didn't have a body like mine.
This is my second pregnancy; with my first, my body developed a rare and life-threatening condition, causing me to deliver my daughter two months early. While we are both happy and healthy now, nearly five years later, the effects of that near-death experience remain.
I no longer can trust my body. I am constantly waiting for it to double-cross me: to bring death instead of the much-hoped-for life inside of me. The doctors warned me that there is a one in four chance it could happen again, so every day I check myself for the signs, and then every day I try and forget.
But Lent is not a time of forgetting. On Ash Wednesday, I couldn't bear to look at myself in the mirror, couldn't bear to go work out next to my neighbors, couldn't bear to be surrounded by the decay and ash of our broken, physical selves.
But I am being called to remember: to live in my body with purpose; to embrace it for the frail and fragile vehicle it is. Not everyone is called to give up something during this time—perhaps others, like me, are being asked to inhabit our bodies more fully as an expression of our longing.
It is the time of the suffering servant, of looking to Jesus my brother, of staring at his broken body and not looking away. It is a time of exercising with my neighbors, so many closer-than-not to the end of their days, bodies and minds decaying in front of my eyes.
For so many, there are so few sweet things left to give up, and so we embrace instead the commitment to love what we have been given. Beautiful bodies, modeled after our Christ.
We do not look like much to the world, but neither did he. We are all just trying to be reconciled to ourselves, to our brothers, and to our God. We are all just waiting, in our own small ways, for the resurrection.
D.L. Mayfield lives and writes in the Midwest, where she currently is a part of a Christian order among the poor. Mayfield's writing has appeared in McSweeney's, Image, Christianity Today, Books and Culture, and The Other Journal. Her book of essays is forthcoming from HarperOne in 2016. Learn more at http://www.dlmayfield.com/.
The photo above is credited to NPE Demo, used under a Creative Commons license.