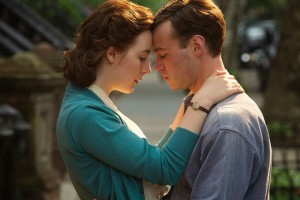 One of the hardest things in life is having two good choices that are completely exclusive of each other. It's not a matter of picking a major in college, regretting it, and changing to another track; not a matter of taking a job at the wrong place and eventually finding your way to another one. Many choices—perhaps most choices—can be undone, however long and laborious the undoing.
But those decisions that are irreversible, unalterable, and unavoidable are the ones that cause the most anguish, especially when there's much to recommend both of the alternatives (of course, at times we're cursed with an array of good options, but for simplicity's sake, we'll keep it to two). In these dilemmas, we have an embarrassment of riches. The stakes are high: Pick one and lose the other forever.
Arguably, in this day and age, such dire consequences are less often the case than they used to be. What were historically lifelong commitments are now temporary engagements; wherever you are, you can get out pretty quickly. Affiliations, careers, and faiths are imminently interchangeable now.
Even marriage, which was once a permanent choice, has hardly the strength of a hair anymore, let alone a chain. You can divorce several times without stigma, though with somewhat more financial burden. And to our eternal shame, even children can be opted out of now, with the backing of a vast secular orthodoxy and the many huge industries that make a profit from it.
But that was not always so. There was a time when choosing meant you made a promise that honor and decency demanded you keep. In one of the loveliest movies to come along in a while, one of the loveliest characters to come along in an equally long while has to make such a choice—between two good things that she could never have predicted would present themselves.
In the film version of Colm Tóibín's novel Brooklyn, screenwriter (and great novelist) Nick Hornby dramatizes the choices facing Eilis Lacey, an Irish immigrant to 1950s New York City. Eilis (portrayed with remarkable sensitivity by Saoirse Ronan) begins her journey to America because she in fact has so few alternatives in her village. Although she loves the place dearly, and is intensely close to her devoted sister and her widowed mother, there is no job for her and no prospect of marriage.
Through the arrangements made by a kindly Irish priest now in New York, Eilis is promised a position in a department store. So she sets out across the ocean in hopes of making a life for herself, just as so many immigrants have always done.
The film could have followed the cliché of that journey, but though there are things familiar to all such tales—the alienation of the newly arrived, the nearly unendurable homesickness, the regrets of having committed what seems from all indications to be a terrible mistake, all balanced against the small joys and slowly-won triumphs of good-hearted helpers—the movie is about much more than that.
For Eilis is not a sad case who finds her way to prosperity, learning that what seemed an error was in fact a triumph—but a case who, because of unforeseen circumstances, finds herself with the option of two lives, each as wonderful and appealing as the other.
One alternative is the new life she's found, the one that began with the future secured for her by the old village priest (who thankfully never becomes a villain in the film). After she withstands her initial trials, Eilis finds her feet through the encouragement of the priest, letters from home, and the kindness of her new acquaintances. She is heart sore, but slowly acclimates to her environs, even attending a bookkeeping class that the priest has steered her toward.
Then she meets a young Italian-American man at a dance. In time, the depth of his devotion to her becomes a thing of wonder, so much so that it takes her words away. The embrace of his love is overwhelming, and the humble but bright future he wants to provide for her is more than she dreamed possible. Everything is working out.
Then she gets news from home; monumental news. A turn of events requires Eilis her to leave the place she has come to love, and a man who loves her, and temporarily return to the place that she first loved, and to those who first taught her just what that word means. What develops back in Ireland is something that, had the timing been different—had the new events transpired before she set out for America—most certainly would have kept her from ever leaving.
All that she'd worked to place in a safe, cordoned-off spot in her heart comes rushing back. Both sides of the Atlantic pull at her with equal force.
When you have allegiances and loyalties and duties on both sides of a question, what do you do? And when the only downside to both choices is that one of them must be surrendered forever, how do you decide?
The need for the power of discernment in such situations is most keenly felt. Highlighting that moral impasse is a unique and beautifully rendered complication in Brooklyn. And when Eilis makes her choice, it is supremely satisfying to reflect upon the basis of that choice, and at what exact point it became clear to her that she had to make it.
A.G. Harmon teaches Shakespeare, Law and Literature, Jurisprudence, and Writing at The Catholic University of America in Washington, D.C. His novel, A House All Stilled, won the 2001 Peter Taylor Prize for the Novel.