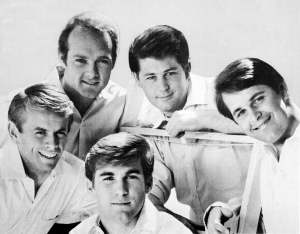 The first church I attended as a teenaged new believer swiftly taught me two doctrines:
There won't be any Democrats in heaven.
Secular music is tantamount to heresy.
The first one was easy enough to get. Reagan had saved us from the devil Jimmy Carter, and now Jesus had the go-ahead to return whenever he wanted. The second proved a little more complicated. What was I supposed to listen to?
The youth pastor's wife took me to a Christian bookstore so I could tell the musically redeemed clerk about my favorite bands and find equivalencies worthy of the kingdom of God. My ears turned pink as I told the twenty-something, crisp-collared man about the Beatles, Erasure, and Siouxsie and the Banshees cassettes rattling around in the passenger seat of my car. He raised his eyebrows, then grabbed a copy of Maranatha Praise, Volume 6, the closest match. I put it in my tape deck on the way to school the next morning, a first step in my journey of spiritual transformation.
It wasn't long, however, before I learned that church leadership made an exception to the ban on secular music. One afternoon, at our Baptist picnic overflowing with potato and Jell-O salads, I heard the familiar references to waves and bushy-bushy blond hairdos whining from the portable radio.
"Why do they have that music on?" I asked my friend Liz.
She smirked. "The Beach Boys are always okay."
"Why?"
She shrugged. "Maybe because they're local. Maybe because they're wholesome. Yeah, right. Like what do they think those 'good vibrations' are really about?"
I laughed with her. I had no idea about the answer.
I was no stranger to the pop group that swept the world in the 1960s. The Wilson brothers, their cousin, and a friend who rounded out the band grew up in Hawthorn, California, just twenty miles from my hometown. Our close family friend, Gary, attended high school with them. I grew up hearing my dad play their greatest hits on LP on at least a weekly basis.
And they really got on my nerves.
The Boys' bright harmonies didn't conjure up fun afternoons of splashing on the beach. They induced head pain, like a glare on the windshield. Even as a little girl I felt put off by "California Girls," that song that categorized women's sex appeal by geography. When my dad turned up the refrigerator-sized speakers and sang along, I felt vaguely ashamed for being a girl, particularly a California girl who had to live up to the expectations placed upon "the cutest girls in the world."
The pressure was real. As one boy said of me in high school, "she's pretty enough. But she's not rad." He might as well have said I was a troll.
Eventually I went back to the Beatles and a couple years later left for college, where I committed to starting fresh with Jesus. For the next two and a half decades, any mention of The Beach Boys set my eyes rolling as I remembered the hypocrisy of my first church leaders and those boppy, cringe worthy choruses.
This past summer, I had the idea to start writing a book about Appalachian fiddle music. Having spent the past several years working on Irish, Scottish, and then old-time tunes, I was fascinated with the deep history and heritage of the music. But I felt like an imposter of sorts, with no roots in Appalachia or Scotland.
"I grew up in the southern California suburbs. What kind of music is my music?" I joked with my musically-inclined poet-friend, Cameron. "The Beach Boys?"
"Maybe," he said. "Listen to their album Pet Sounds. Many consider it groundbreaking. Maybe you can learn one of those songs on your fiddle."
I had never heard of Pet Sounds–no specific Beach Boys albums, in fact, beyond the "greatest hits" compilations–and had a hard time believing anything by these cornballs was groundbreaking or worthy of artistic analysis. I continued along with my tunes, listening to "Wayfaring Stranger" and "Shady Grove" over and over, jealous of generations of coal miners and butter churners who had real stories to tell.
But finally, I looked up 
Pet Sounds. 
I listened on repeat and soon found myself singing about Caroline and Sloop John and heads on shoulders, my surprised heart weaving in and out of the sound of flutes, sleigh bells, bassoons, and dogs.
The movie Love and Mercy (2014) follows Brian Wilson's fragile state of mind while producing Pet Sounds, an album few people believed in, as it strayed from the Beach Boys' usual surf-rock fare. I learned that Brian Wilson is a real, suffering, vulnerable human being. He wasn't a carefree surfer. (The Beach Boys never were). He heard voices. He fought for his father's approval. He turned to drugs. In later life, he struggled at the hands of his abusive therapist, Ed Landy.
Watching the movie, I was almost in tears. At forty-three years old, why was I surprised to learn of the extent of this man's rich inner life? Why was I surprised to realize that the surf music, while fun and catchy and influential in its own right, was a veneer for Wilson's uneasy cocktail of brilliance and mental illness?
I, too, rarely felt at home on the beach. I couldn't swim until I was a teenager. I hated the sand between my toes and the murky mix of mussels and kelp. Anxiety kept me from living the life of a carefree California girl. I didn't feel rad in my bathing suit.
The most powerful moment of the film for me, though, is when one of the guys working on production talks to Brian outside the studio after a challenging recording session. "You've gotta know that you're touched, kid," he says. "You've blown our minds." Brian breaks into a smile, a smile that seems to emanate from some long-lost golden cells in his body. He is finally seen for who he is, for who he was created to be, and for one perfect moment can rest in that truth.
Like Brian, I have fought to stay myself, even when my quirky faith, writing, and body have seemingly fallen short. When I've let others down. It can take a lot of work to realize the work has already been done.
The next morning, I pulled out the fiddle and started to sound out "God Only Knows." The tune is more complicated than I had thought, but Wilson purifies the emotional and musical complexity into a lush, repeating wave that washes over my skin. This is my "Christian music." Not because it is "fun and wholesome" or even mentions God, but because he knew this California girl would find some peace in her Midwestern living room while drawing the bow across the strings.
The image above is public domain.
Tania Runyan is the author of the poetry collections Second Sky (Cascade Poiema Series), A Thousand Vessels, Simple Weight, and Delicious Air, which was awarded Book of the Year by the Conference on Christianity and Literature in 2007. Her book How to Read a Poem, an instructional guide based on Billy Collins's "Introduction to Poetry," was recently released by T.S. Poetry Press. Her poems have appeared in many publications, including Poetry, Image, Books & Culture, Harvard Divinity Bulletin, The Christian Century, Atlanta Review, Indiana Review, and the anthology In a Fine Frenzy: Poets Respond to Shakespeare. Tania was awarded an NEA Literature Fellowship in 2011. She tutors high school students and edits for Every Day Poems and Relief.