By Grace Talusan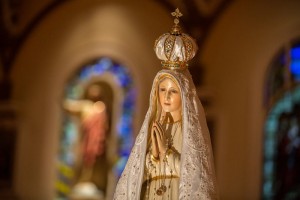 We stumbled onto the bus in Lisbon, sleepy after the overnight flight from New York.
The pilgrimage tour guide handed out rosaries while the priest told the bus driver to play a recording of the rosary prayers on the sound system. I fingered the pink beads, following along with the Hail Marys and Our Fathers. By the time we got to the Sorrowful Mysteries, I had fallen asleep, lulled by the warm bus and the whispers of prayer.
Our first stop on the pilgrimage was the Church of St. Anthony of Padua to see the Bleeding Host. Waiting for our tour guide to organize us in front of the church, I got my first good look at my companions: elderly nuns in the habits of their order, women traveling alone who were not nuns, a priest, married couples, and an extended family.
Except for a six-year-old boy, I was the youngest person there by at least fifteen years.
I had just graduated from college. By then I had traveled to the Philippines, where I was born, and observed Filipino Catholicism at first hand—it's bloodier than the Irish and Italian American Catholicism I grew up with in suburbs of Boston.
When it was my turn to stand before the glass case holding the Bleeding Host, I studied the grayish circle of bread with the glob of congealed blood oozing from it. Everyone gasped after the tour guide told us that the blood type was the same as Jesus's.
Bread is a metaphor for Jesus, the bread of life, but this metaphor had become literal: an actual piece of bread from the twelfth century bleeding from a flesh wound.
Ever since I was born I have spent every Sunday morning and holy days in church. I could recite prayers without thinking, as if a radio station channel inside me played the Catholic Mass on a loop. It was a comfort when I traveled to other countries that I could attend Catholic Mass even when I didn't know the language.
When my mother invited me on a Catholic pilgrimage, I didn't think twice. Growing up in a family of five children and two immigrant parents always working, there was never enough time or attention. I wanted my mother to myself.
The nuns and other elderly women on the trip thought it was sweet that we were traveling together. I feared all the holy people on this trip could see the sinner that I was. I drank. I occasionally smoked pot. I enjoyed premarital sex.
We returned to our seats on the bus and to the audio loop of the rosary, headed for Fatima. In 1917 the Blessed Virgin Mary appeared as an apparition to three shepherd children and revealed three secrets. Now it is one of the most popular Catholic pilgrimage sites in the word.
At night in Fatima hundreds of us paraded behind a statue of the Virgin, praying and holding candles, which dripped wax onto our skin. In the Virgin's crown was a spent bullet which had been surgically removed from Pope John Paul's body after a shooter attempted to assassinate him. The Pope forgave this man his sins.
I stayed behind one day after the tour was over. I needed a break.
Alone, I explored the kiosks selling religious souvenirs on the perimeter of the religious site. I dug through a bin of body parts molded in wax: legs, intestines, arms, hands, hearts, even babies. I bought three pairs of breasts for my aunts who had all come down with cancer in the same year. I threw them one by one into a pyre and stood among all the other pilgrims praying for the reversals of their deepest fears.
I watched the wax breasts melt into smoke and imagined my prayers seeping into God's ears. I didn't know yet that in a decade I would lose my breasts.
Then I stood at the end of a smooth marble walkway which snaked through the esplanade and ended at the site where the Virgin had appeared. Now a chapel stands there, the one where the statue with the bullet in her crown waited.
One by one, pilgrims knelt and made their way toward the Virgin on their knees. Some wore cotton-stuffed pads bought from the kiosks; some tied bandannas or T-shirts around their knees.
The destination was a long way ahead, almost a quarter of a mile from me. From far away, I could see the ones who had finished being helped onto their feet. Their bodies seemed surrendered.
I didn't think, but knelt onto the marble path—a hot plate in the summer heat. I was surprised by how quickly the pain came. I didn't have any cotton pads or rags, not that those would have helped much.
My body rested on two points of pain. I trudged forward. The only words my mind formed were Oh God as I shuffled towards the Virgin.
I didn't ask God for anything specific. I only managed a vague longing for a good life.
I did not stop moving until the Virgin was close, but suddenly, I could not move. My body did not want to be hurt in this particular way anymore. I was afraid to look down at my own knees.
I didn't need to see. I knew by then what it meant to be flayed.
There were hundreds of strangers who had seen me that day, but I was glad my mother had not seen. I felt self-conscious of my sudden devotion, how I had bled in order to pray.
At my side, a man and a woman suddenly appeared. We didn't share a common language, but it didn't matter. They were strangers; they were angels.
They stood on either side of me and held me under the arms and once we reached the end of the path, they lifted me. I was delirious with pain, but I leaned forward to kiss something—the marble altar, the Virgin's smooth feet, the glass case.
All I remember was that it was cold against my lips.
The image produced above is provided by Our Lady of Fatima International Pilgrim Statue, licensed by Creative Commons.
Grace Talusan is a writer and writing teacher in Greater Boston. Her essays have appeared in Brevity, Creative Nonfiction, Post Road, and others. She teaches writing at Tufts University and Grub Street.