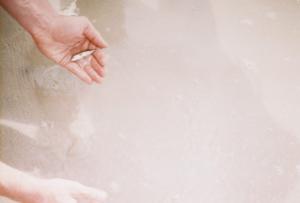 I'm at the beach with my husband, wining and dining on the company dime for a business meeting he has to attend, which can feel like icing on a cardboard cake for all the travel he has to do without me.
I don't vacation well. I've never enjoyed packing, sleeping in beds not my own, and I'm a complete snot about the beach. At resorts I think "this is what's wrong with the world"—that millions of people will spend mountains of money to travel to a coast, any coast, where the food is overpriced and the wine smells like bananas. And the bodies—in the Midwest one can forget that every human being has a butt, but not at the beach.
Here is the reign of flesh and food and dance music, endless skies and sand, but so little soul. My rational capacity gets caught in a feedback loop (this is bad but it's supposed to be good) and I can't eat or drink as much as I'd like, nor make notice in a swimsuit. It all limits my capacity for gratitude and so I come to the beach and I despair.
And my desperation makes me feel lonely and weird, because everyone else seems perfectly happy lying flaccid, half-naked in the sun.
I have similar feelings at the mall. The last time my husband and I went shopping together we went into one or two soul-crushing stores that made me feel existentially miserable—which wasn't my husband's fault, but I blamed him anyway because he seemed to be enjoying himself.
I was in the Anthropologie clearance corner trying to justify buying a dress at 40% off the sale price, rather than waiting for a similar type dress to show up at the thrift store, when he came rolling in with a new pair of noise canceling wireless headphones, in spite of the fact that he already has a very adequate pair, because he just wanted to see what they'd be like…just going to test them out…will probably take them back anyway.
We'd been weeping money for weeks and had declared a Tightening-of-the-Belt-Month. Plus, it was hard not to take the noise canceling headphone feature as a personal insult.
I did not buy the dress. I took the headphones back and the salesman asked, "Is something wrong with them? Are they for him or her?"
"That's irrelevant," I said. "I just want to return them."
On the drive home, our conflict was alternately my fault, and then his fault, and then his mother's fault, and then my mother's fault, and then the children's fault, and then we agreed to quit talking about it, because neither of us want to name the problem, which is probably more in the realm of having ye olde God-shaped hole in our hearts that we want to fill with comfort, glamour, and garden-variety selfishness.
My garden-variety selfishness? I take comfort in my own misery. I love my misery. I've even become somewhat religious about thanking God for my troubles. On our third day at the beach, it rained, and I felt suddenly alive and gracious, sitting on the hotel balcony, with a cup of coffee, and a pack of cigarettes.
"Now you're in your happy place," my husband said as the rain blew over the balcony ledge.
Yes, the rain feels honest. It's not trying to sell me anything. It's a world of trouble and pain. Give thanks! This kind of gratitude I can understand, putting my sorrows into some cosmic economy where personal suffering assists the salvation of the world.
None of the great spiritual writers ever talk about redemptive luxury. I recognize that goodness comes from the hand of God, but hotel goodness? Who am I to fall into a fluffy bed of fine linen and pillows, stuffed to the gills on a gluttonous vacation diet? In Mary's Canticle, God casts down the mighty and sends the rich away empty.
There's a montage in Terrence Malick's film To the Wonder in which a priest serves the poor while reciting St. Patrick's breastplate. I try this exercise on the beach:
Christ before me…a woman in a string bikini lying on her back, knees up, prickly sliver of crotch, an unignorable totem between me and the sea.
Christ to my right…a group of older men, ruddy-skinned and tattooed, American flag swim trunks and trucker hats, sucking on vape pens and side-eyeing the woman, making suggestive comments in gravelly voices.
Christ to my left…three young men sitting fully dressed speaking Arabic under a cabana who rise, walk to the water's edge, take a picture with a selfie stick, and return to the shade.
Christ in the little girl chasing seagulls through the tide pools, lifting her arms and crinkling her nose as clouds of birds flutter up from the sand.
Christ in the boy taking pictures with his phone of his girlfriend in a thong bikini, back arched, prancing in the shallows. He catches her on his hips when she runs and jumps up on him wrapping her legs around his waist.
Can God so love the world?
Therein is the miracle: the hope that there's a love that transcends my understanding, whose judgment is not mine, who looks on this fallen humanity—my own fallen lump of increasing flesh that is still so hungry and unmerciful—with love. There's nothing I can do, there's no exercise to make this love possible.
"He casts down the mighty; he lifts up the lowly.… My spirit rejoices in God my Savior!" The only way it makes sense to me is for all of us to be mighty and lowly, rich and poor—cast down and lifted up.
When we return to the Midwest my husband goes to Confession and for the rest of the afternoon acts as superior and patronizing as I'd been on our shopping trip. This happens. Even our virtues carry the stain of sin. We repent and then treat people like shit.
My soul rejoices—so sadly rejoices.