"O Little Town of Bethlehem" may be among the top ten most beloved hymns of the Christmas season because, of course, Bethlehem is the most beloved little town of Christmas.
Take a break from the wrapping and rushing and rehearsals, and walk with me to Bethlehem.
This Christmas season, we're lingering over a few cherished hymns just long enough to hear the message that we might otherwise sing right past. (Last time, it was Let All Mortal Flesh Keep Silence.)
If you want some background music for this post, here is a lovely a cappella performance of today's hymn; if like me, you prefer instrumental background, this is a nice smooth jazz rendition.
The Bethlehem of our holiday imagination is quiet, with a clear night sky. Shepherds are dozing on a grassy hill and a baby is sleeping quietly. With 2,000 years of hindsight, we know that something cataclysmic happened there one night – but we like to imagine it happened with hardly a sound:
O little town of Bethlehem, how still we see thee lie!
Above thy deep and dreamless sleep the silent stars go by;
yet in thy dark streets shineth the everlasting light.
The hopes and fears of all the years are met in thee tonight.
Of course, if you've ever been present for a natural childbirth (or given birth naturally), or hung out with a newborn, you know the night would not have been particularly silent. If you've spent any time at all on a farm or horse stall, you know there would have been strong, not particularly pleasing fragrances in the air. Bethlehem would probably have been muddy and crowded, and many folks would have remnants of at least one road apple sticking to their sandals.
But we do love to romanticize the Christ Child's birth and his hometown.
For Christ is born of Mary, and, gathered all above
while mortals sleep, the angels keep their watch of wond'ring love.
O morning stars, together proclaim the holy birth,
and praises sing to God the King and peace to all the earth.
Peace to all the earth. "What peace?" we might ask the angels.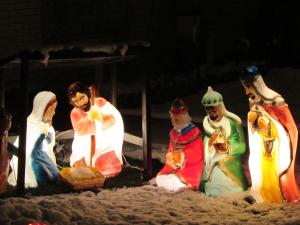 "No," say some Christians, "don't look for peace in the world. Look for it in your heart."
Or, "peace is only for those with whom God is pleased. The rest can't expect to find peace because they choose to reject God's plan."
This enables so-called Christian nations to be among the greatest warmongers in history. If peace is personal and spiritual, and I don't need to concern myself with anyone's peace except my own, then war and conquest and colonization do not pose a problem.
Today, many Christians are un-conflicted about their enthusiasm over the possibility of war with Iran, their love affair with guns, and their support for one of the most militaristic states in the world (Israel).
But – hear me out – Jesus is the Prince of Peace and he called us to be peacemakers. So maybe "peace on earth" is our job.
How silently, how silently, the wondrous gift is giv'n!
So God imparts to human hearts the blessings of his heav'n.
No ear may hear his coming, but in this world of sin,
where meek souls will receive him, still the dear Christ enters in.
Again with the quiet, un-anesthetized birth of the Christ Child, lol. Likewise we have God sort of sneaking into human hearts – those hearts that are "meek" and welcoming, though surrounded by non-meek sinners. Not to overanalyze, but this does suggest that believers were in some way deserving of salvation.
But more importantly, if Jesus lives in the hearts of the meek, shouldn't we seek to be meek? Yet not only do many Christians glorify war and power, but we often despise the needy and marginalized in our midst.
Christmas may be a good time for us to look inward, see if we harbor any anti-peace attitudes, and repent – and the last verse of our hymn leads us in that very act:
O holy Child of Bethlehem, descend to us, we pray,
cast out our sin and enter in, be born in us today.
We hear the Christmas angels the great glad tidings tell;
O come to us, abide with us, our Lord Immanuel!
"Cast out our sin" is not just an entreaty for the newcomer to Christ, but should be our daily prayer.
The heart that is willing to reflect and repent of wrong attitudes and priorities can sing sincerely, "O come to us, abide with us, our Lord Immanuel!"
(If you would like to comment, please pop over to my Facebook page. All of my posts are there and open to constructive comment! I welcome your thoughts. And don't forget to subscribe to my newsletter!)
---
SOME OTHER ADVENT/CHRISTMAS POSTS:
Reflections on "Let All Mortal Flesh Keep Silence" 
Reflections on "O Come O Come Emmanuel"
The significance of Baby Jesus as a person of color
---
FEATURED IMAGE: "Closeup of the manger scene." by rchdj10 is licensed under CC BY-ND 2.0